Written by
Alaka Sahani
| New Delhi |
Updated: December 15, 2015 9:19:27 am
In an exclusive interview with Indian Express, Bollywood superstar Shah Rukh Khan talks about being a regular guy, wanting to play his age and why there are no perfect love stories.
Happy belated birthday. Is there anything that could have made your 50th birthday celebrations better?

Thanks. I don't celebrate birthdays; for me, it's just a day. I come out because people gather to see me and everybody makes a big deal out of it. I know that the 50th birthday is considered to be a landmark birthday of sorts. I had no special plan about how my 50th birthday should be — every day and every year to me is the same as the last and the coming year. So, there is no unfulfilled wish.
With age, how do you see yourself growing as an actor?

I come from a theatre background. Some 10 years ago, I appeared as a 60-year-old in Veer-Zaara (2004). For me, the strangest title is that of 'King of Romance'. When you are the 'King of Romance', so to say, then everyone expects you to be young and chirpy. I'm not like that at all. Even in Dilwale, we have a portion in which Kajol and I are younger. If it is a young character, I am okay essaying it. Personally, do I want to play a 25-year-old? No, I don't. I want to play my age — maybe 40-45 years old. In Maneesh Sharma's Fan, where I have a double role, one of the characters is my age and the other is 25. In Chennai Express, I start with the declaration that "I am 40 years old and I should have been married by now". (Read: Working with Shah Rukh Khan in 'Bigg Boss' a good start: Salman Khan)
The roles will slowly go there because personally, I don't fancy doing romantic roles. Even if I do that, it would nice to play the character of my age. Don is an interesting role — a character which has no age or it could be my age.
Between Dilwale Dulhania Le Jayenge and Dilwale, a lot has changed. How would you describe your journey?

The responsibility has increased. Kajol and I did not know we are making a film which will run for 20 years and which will define so many careers, including mine. Had it not worked, it would have been just one more film that we did. Now that it has become a landmark, the assurance that Shah Rukh-Kajol are coming back raises a certain level of expectation. This does not mean that we are under pressure. But there is a standard to maintain.
As far as changes are concerned, I have always said this: I don't work for posterity or prosperity. It is difficult if I get attached to my work. Then, one continues to live in the past. Art has to be free-flowing. I am a commercial filmmaker and not extremely artistic in that sense. Yet, in its own form, it is an art. I just keep on working towards what hopefully will happen tomorrow.
Can you name the five films that lived up to that expectation?

My expectation is immaterial. I can sign any movie but it does not get the assurance that it's good unless people appreciate it. On that front, Chak De! India (2007) was very nice. Swades (2004), I was told, did not do well, but people liked it. Om Shanti Om (2007) was good in its own mad way. Personally, I like My Name is Khan (2010), even though its storytelling was, maybe, not great. It was a mix of commerce and a different thought. In the popular segment, Chennai Express (2013) was funny and over the top. Kuch Kuch Hota Hai (1998), Kal Ho Na Ho (2003) and Devdas (2002) were good too, and I am not measuring them by their success. However, my life's dream was to make five good movies that my children, not the audience, will remember me by. I have not made a single movie like that yet.
What about your desire to make that one movie that would be universally appreciated?

I won't work on it specifically. I would rather come to it organically. The main thing will be the format. It has to be different from our typical Bollywood film, with the length reduced to 90 minutes. The subject can be anything. If someone has the guts to make it, I am sure I will come across it. I have a long way to go. The world will watch it with subtitles and say: "Damn good". I can be there in any capacity — producer, director or actor.
When you started your career, did you have a goal in mind?

I don't have a goal or a finish line in mind. In the film business, you hope that when we make a film like this, it should do a certain kind of business. Those are not goals, they are business projections, just numbers. My only purpose in life is to work. There is no higher purpose. What you do with diligence, love and care is the higher purpose.
I have a very simple way of leading life, though it might not seem like that from outside. My stardom and its trappings cover the real person in me.
What's the real Shah Rukh Khan like?

I have not kept it hidden. So many names surround me — superstar, King Khan, badshah, marketing genius and second richest actor in the world. Within these names and so many compartments, no one really realises what I must be like. The real me — what my family knows me as — is an absolutely normal person. People who know me very well, my co-actors, they know I am a very regular guy. I have no quirks or strangeness and there's nothing special that I do.
My outside life is very exciting. I work very hard. That's not a quality that's exclusive to me. But I have a lot of patience. I really believe that if you can hold back long enough without losing it, you achieve what you desire.
What about the chemistry between Kajol and you? It's been thriving for nearly 20 years.

We are the only on-screen couple that has worked over the last 22 years. Usually, a pairing gets done in five-six years. For instance, Anil Kapoor-Madhuri Dixit, Juhi (Chawla) and I. Somehow, because of the way Kajol works, we have done only seven films, including Dilwale. Also, we play very regular characters. If you see our films, we stand for the most ordinary love. We have never been larger than life. I never do a break dance or fight to protect the girl. For instance, in Kuch Kuch Hota Hai, they meet after many years and realise it is nice to be in love. We have never been a glamorous couple — we don't look stunning, we don't look bad. We are very ordinary people in extraordinary love stories. The Dilwale love story too is shockingly simple. I play a car mechanic.
What would be your perfect love story?

It may sound cynical, but if there was a perfect love story, you would not like so many love stories. You will always find angst, yearning, sadness and happiness in love stories. That's why I keep reading love stories.
What's the near perfect love story you have come across, either in a book or on screen?

Dilwale Dulhaniya… comes close to being perfect. Boy meets girl. They fall in love. Then they have problems but don't hurt their families. Everything is hunky-dory and god bless you! But what happens after they get into the train could be imperfect.
Even though you don't like to dwell in the past, can you explain why Sunil from Kabhi Haan Kabhi Naa (1994) has remained more popular than Raj and Rahul among a certain section of the audience?

It is my all-time favourite film. Sunil is an honest liar. In the end, when the ring is lost, he still lies hoping that this one lie would get Anna back. I like the impractical belief he has in life. My favourite line in the film is: "Tum khidki se kyon aate ho?" He is a youngster and each youngster should be able to dance to the tune of the music he or she hears, whether people understand it or not. He does not stand for correctness. But he stands for love. According to me, Raj and Rahul are lovers who know how to express themselves. Sunil knows how to love but does not know how to express it. I find that very beautiful, poignant and heart-wrenching. If you ask me, I am more like Sunil in real life.
What about Raju of Raju Ban Gaya Gentleman (1992)?

He is a little too ambitious for me. His simplicity — coming to a big city and becoming big in life — kind of resonates with my story, but I am not as cut-throat as Raju. He is more like the character of Raj Kapoor in Shree 420.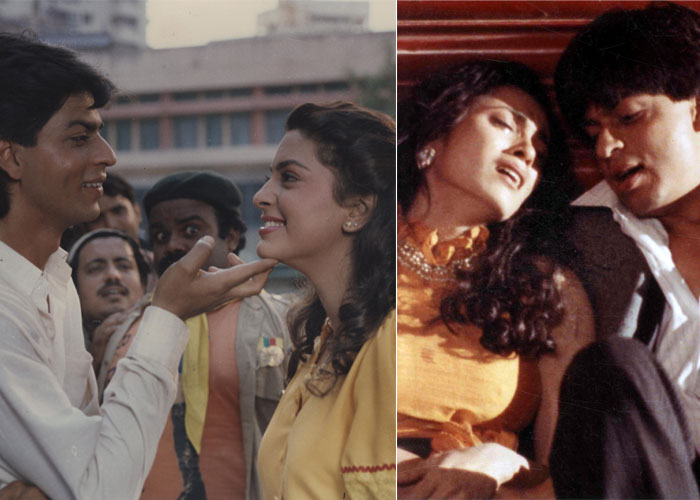 2016 looks like an interesting year for you with Raees, Fan and Gauri Shinde's next in the pipeline.

It is interesting only when the movies come out. Fan is very special. It is also a difficult and physically challenging film. Yesterday, I was at Yash Raj Studios. Aditya (Chopra) and Maneesh called me, I told them I am not shooting anymore and wearing that make-up. To play the young character, I have to wear a lot of prosthetics. We are also using VFX.
Raees is more commercial. Even though it has got lines like 'Baniye ka dimaag and miyanbhai ki daring', director Rahul Dholakia and editor Deepa Bhatia are making it in a very real zone. It's like a biopic of a man who rises from nothing and becomes powerful. And then, power kills him. It is realistically shot with actors like Nawazuddin Siddiqui, Mahira Khan, Zeeshan Ayyub.
How much has your life changed after AbRam? We see him a lot more than Aryan or Suhana.

He likes to come out with me, while Aryan and Suhana were very conscious of the crowd. I have found a great friend in AbRam. He is a little mad like me — he jumps around, shouts and plays stupid games. He will cover his face and say: 'Papa, where is AbRam?' The innocence of his game is very exciting. With kids I have become gentle, with him I have become even gentler.
Sometime ago, there was talk of you adapting Breaking Bad for Indian television.

Not for television. I want to make it into a movie. As a series, it is too evolved to come on Indian television. The Indian audience won't be accepting of meth, drugs and the mafia. But the story of a man who is going to die and takes a chance to save his family is a good premise for a feature film. I have asked some people who have said that they would get me the rights. I am at that age when it will be interesting to take up such a role.
And you will, of course, play the role of Walter White.

Great films don't work without me, darling!
QUICK BYTES

Rahul of Kuch Kuch Hota Hai or Rahul of Dil Toh Pagal Hai?
Rahul of Kuch Kuch Hota Hai.
Vicky of Baazigar or Rahul of Darr?
Vicky.
Who would you choose now, between Anjali and Tina of Kuch Kuch Hota Hai?
When you are me, you can have both of them. I never choose between girls.
Iceland or Switzerland?
I have never seen a place so stunning as Iceland but Switzerland is home.
King Khan or Bollywood ka badshah?
I get awkward with both. I like to be called 'papa'.
Mumbai or Delhi?
I have lived exactly half of my life in Mumbai and another half in Delhi. I will always say, I was born in Delhi and brought up in Mumbai.
The Indian Express website has been rated GREEN for its credibility and trustworthiness by Newsguard, a global service that rates news sources for their journalistic standards.