Attired in an Indigo and rust saree for our Expresso chat, Vidya Balan wears the drape like second skin with the swag of a battle hardy veteran. Accompanied by an infectious effervescence, the sort that immediately puts a smile on the faces of everyone around, the actor is thrilled to be in the enviable space where films with strong protagonists like Sulochna of Tumhari Sulu are still written with her in mind. With accolades for her performance in the film coming in from all quarters, the actor has demolished traces of the debacles in the recent past, confirming that she is an actor who is here to stay.
Happy that she has made the best of opportunities that contemporaries have passed up, she says, "I love being in the center of things. I don't have to be the whole and sole of the film but as long as I have something substantial to do in a film, I'm happy."
It is not surprising that growing up she was inspired by actors like Shabana Azmi, Smita Patil, Rekha and Jaya Bachchan, but after watching classics of Hindi cinema more recently, she has discovered the beauty of Meena Kumari, Nutan, Waheeda Rahman and Nargis admitting that strong female characters central to the narrative have always impressed her.
Watch: Vidya Balan gets candid with Priyanka Sinha Jha in the fifth episode of Expresso
Vidya Balan who arrived with Parineeta in the era when leading ladies resembled Barbie Dolls, put herself in a different league at the very outset with her debut project that came with an author-backed role. Quite the sport, she admits she experimented with formulaic girly roles soon after without much success.
Even though Balan went through a cycle of failure, faith in herself and the universe held her in good stead.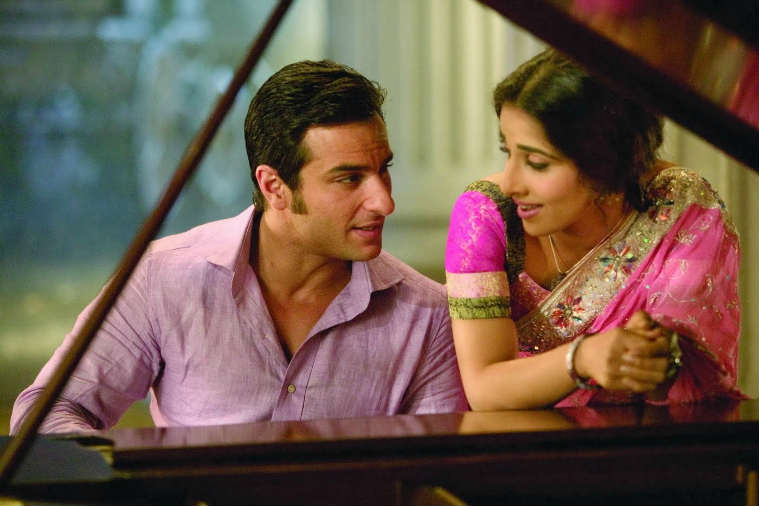 "When you are negative good things rarely happen". She recalls the early part of her career when after facing a lot of rejection in films in South India she became unsure of her choice of career. "On may days, I would not want to get out of bed," elaborates the actor reminiscing about the trying phase.
In a fit of disappointment, Vidya once walked from Nariman Point to Bandra when she got the news of being dropped from K Balachander's films because she was not okay with kissing on screen and thus was judged as having too many "issues". She recalls with trademark humour that she was in a daze but thankfully she was walking on the side of the road "Or I would not be sitting here," she chimes in laughing.
In the face of failure, her sister was a source of constant support cheering her on with examples of people like Amitabh Bachchan and Madhuri Dixit who faced failure in their early career in showbiz. Grappling with disappointments, however, was not easy. The actor recalls fighting a lot with her mother who, trying to be practical for her daughter would advise her to keep other professional options open.
Prayer, she recalls gave her a lot of strength as did the unflinching desire to be an actor and the knowledge that she had the unconditional love and support of her family even though the battles were her own to fight. After Kismet Connection, a film that did little for her career, Balan started saying no to films that offered her flimsy characters and opted instead for a film like Ishqiya which offered her a far more substantial role to chew on.
On a lighter note she says that even though she was very keen to become an actor she refused to get a nose job done when producer Vidhu Vinod Chopra suggested it (for Parineeta). Despite her fear that she might once again be dropped from the film, she stood her ground and made her point to director Pradeep Sarkar. "Main actress banane ke liye naak kata nahin sakti," she says with a laugh adding that she was not open to cosmetic surgery.
The most enduring stars she believes have powerful personalities rather than mere good looks.
Off-screen in her personal life, she counts herself among the lucky few who have the choice to not even attempt striking the work-life balance. She met her husband producer Siddharth Roy Kapur (former Managing Director at Disney India) as part of her work and then Karan Johar played matchmaker inviting her to a dinner with friends at his place. And the rest, as they say, is history.
Now, with her taking on larger industry-related roles such as being a part of jury at Cannes, or her present position in the Censor Board, she immediately mouths an emphatic "No" when asked if she'll gravitate towards production or direction. She declares that she is still happiest when facing the camera, "I like being handled, not handling others," she concludes, her laughter bouncing off the walls as we call it a wrap!
Read: Expresso, Episode 4: I hate taking myself seriously, says Irrfan