Written by
Alaka Sahani
| Mumbai |
Updated: June 6, 2016 8:12:28 am
Twenty-Five years ago, a graduate from the Film and Television Institute of India, Sriram Raghavan, made a video docu-drama, Raman Raghav: A City, A Killer, meant for a VHS audience. It was on a serial killer who stalked the streets of Mumbai in the 1960s and killed 40-odd people by bashing their heads in. The video was never released as the series of crime stories it was a part of was scrapped. Anurag Kashyap, who worked on a film on another serial killer, Auto Narayan, for the same series, watched the film and has been fascinated with the killer ever since. A contemporary take on the killer, Raman Raghav 2.0, directed by him, releases on June 24 after a Cannes premiere last month.
Raghavan, 52, and Kashyap, 43, went on to become filmmakers who changed the idiom of Hindi cinema. They are self-proclaimed "film geeks", who have worked together and tripped on crime fiction and movies. Ahead of Raman Raghav 2.0's release, they come together for a conversation on their fascination for darker subjects and Bollywood's crime stories. Excerpts:
VIDEO: Full interview
What is it about Raman Raghav that fascinated both of you?
Sriram Raghavan: I came to know about Raman Raghav when I was going through the Bombay Police case files to make a video docu-drama for a production company called Media Classics in 1991. Media Classics was started by a builder who made Marathi TV serials and wanted to make video magazines based on real-crime cases. There was not much writing available on Raman Raghav. But there was one account by the head of the Crime Branch, Ramakant S Kulkarni, which I found fascinating. There was also a series of articles by Khushwant Singh, who covered the trial. Luckily, at the time, many of the cops, who had worked on the case, were alive. Raghav was one of the first serial killers in India. Possibly, I got fascinated with it because Silence of the Lambs (1991) had just released.
Anurag Kashyap: The idea that India had a serial killer got me interested. Later on, I found that there were many more, including Thug Behram, who is suspected to have killed over 900 people in the 19th century. I joined Media Classics in the early 1990s, right after Sriram had finished his film. After watching it, I started reading up on Raman Raghav. Later on, while digging into the history of Bombay, I came across Kulkarni's book, Footprints on the Sands of Crime. He was like the first supercop of Bombay and cracked many sensational cases. KK Menon's character in Bombay Velvet (2015) is modelled on him.
When we thought of making it, the title came first. By that I mean, we had to make it contemporary.
Other than the film, you both bonded over crime fiction, didn't you?
Sriram: Anurag used to go to this lovely bookshop called Lotus in Bandra every 15 days or so, looking for scripts of films like Pulp Fiction and crime books which we did not have access to. He would come back with 10 books at a time. We talked about books all the time.
Anurag: It was Sriram's brother, Sridhar, who introduced me to 'noir'. Before I met him, I had no idea about Dashiell Hammett, Raymond Chandler, Robert Parker and others. Suddenly, I discovered this whole new world.
Sriram: When Anurag worked on Satya (1998), I told him that I would love to meet Ramu (Ram Gopal Varma). It is Anurag who gave the Raman Raghav VHS to Ramu, who later produced my first film Ek Hasina Thi (2004).
Also read: I have survived seven years of ban, seen more failures in life than most others and nothing affects me anymore: Anurag Kashyap
How did Ram Gopal Varma, with Shiva (1990) and Satya, change the way we looked at crime films?
Anurag: Shiva was still within the mainstream format of robust action movies like Pratibandh (1990), except the way it was shot. It was a different phase in cinema. For us, it was Bandit Queen (1994) and then Satya which brought in those changes.
Sriram: They showed things as they were — raw and ugly. There was drama and they were also very cinematic.
Anurag: Bandit Queen was still banned when Sriram sourced a VHS copy of it for one night. We watched it on a small television set in a packed room, with some people standing.
Did the changes become more perceptible over the years?
Anurag: Bandit Queen had a deep impact on me. I was too much of a beginner to understand how it impacted others. I do remember Shekhar Kapoor went to an award function in handcuffs in protest when it was banned. Sudhir Mishra was working on a film called Iss Raat Ki Subah Nahin (1996). Somewhere, because of Bandit Queen, a lot of filmmakers began exploring that zone. Had Bandit Queen and Iss Raat Ki Subah Nahin not been made, Satya wouldn't have happened.
Sriram: Watching the kind of movies that were releasing earlier — I don't want to name names — I used to wonder: I don't like this but the public seems to be enjoying it. Was I wrong? When Bandit Queen and Satya were loved by the public as well as me, I realised this is a path I can follow.
Anurag, you had mentioned earlier that Indian filmmakers always infused crime stories with melodrama.
Anurag: Cornell Woolrich's novel I Married a Dead Man was adapted into a Hindi novel Kati Patang by Gulshan Nanda and was later made into a movie by Shakti Samanta. But Kati Patang is not a crime movie — it was very emotional and melodramatic —but its source is a crime story.
Sriram: Our filmmakers are experts in taking a very specific genre piece and turning it into our kind of film —a musical thriller. Gumnam (1965) would have one murder and one song. Similarly, Rebecca was adapted into Kohraa (1964).
Anurag: We did the same with Korean movies later on. After songs are added, they become nice, wholesome Indian films. The darker edges are gone and they become our films.
You have been influenced by the West but make movies for the Indian audience. How does that work out?
Sriram: It is basically my Indian sensibilities added to whatever I know about foreign movies. I grew up on Hindi cinema. I believe every movie I make is mainstream. Other than Vijay Anand, of course, Guru Dutt and Raj Khosla have also given us lovely crime films. There was a filmmaker called Brij Sadanah, who is forgotten today. He used to make terrific films. He made films like Victoria No. 203 (1973), Ek Se Badkar Ek (1976) and Bombay 405 Miles (1980).
Anurag: I used to watch a lot of Indian films but you don't realise what impacts you until much later in life. I always believe that the starting point for me was Media Classics. I learnt my film production skills there when I worked on Auto Narayan, a film on the serial killer Auto Shankar. It was made with less than Rs 1 lakh with various short cuts in production. From there, I moved to Hansal Mehta's Jayate (1999) and Satya. Both were made on low budgets. My takeaway was: You are not going to have money to make a film.
Barring Bombay Velvet, do you still make movies on a low budget?
Anurag: If I have a story to tell, I have learnt from them how to tell it from nothing. The important thing is to go and shoot. I had a lot of drive. I was always running around. Sriram and others ask: "Tu itna sab kuch kaise karta hai? (How do you manage to do so much?)"
Sriram: I asked him that this morning too.
Is that the reason why Anurag has been more prolific than Sriram?
Anurag: I am the David Dhawan of indie films.
Sriram: I have watched a lot of movies. When I realise there is some problem in the story I am making, I try to think afresh. I am hoping to make movies faster now. Ramu had the kind of drive Anurag has. When Satya finished, we thought for three months we would have fun. But then he shot Kaun (1999) in 15 days.
Anurag: It is very important that when a film flops, you immediately start making another film. That was also my thought after Bombay Velvet. When everyone denounces the film, you should denounce it too and move on. That's why I made Raman Raghav 2.0.
Sriram, you have worked with popular actors. Has it worked to your advantage?
Sriram: I never had a big budget except for Agent Vinod (2012). When I was making Ek Hasina Thi, Urmila Matondkar was a big star but Saif (Ali Khan) was getting there. Johnny Gaddar was with then debutant Neil Nitin Mukesh, though I had Dharmedra.
Anurag: With Ek Hasina Thi, Saif was reinvented. I remember your fascination with Saif, much before you worked with him.
Sriram: I never liked Saif in films but found him interesting and intelligent in interviews. I used to wonder why was he doing ridiculous movies. By the way, he told me Ek Hasina Thi was his 44th film.
Sriram, you have watched Raman Raghav 2.0. Would you like to comment on it?
Sriram: I am very happy that he has finally made a film on it. He has got a very smart take on it.
Anurag: I wanted to give a nod to his Raman Raghav. Though I had not watched it for a long time, there is one haunting shot in the film that I remembered. It is a long single take. We were shooting, one night I called Sriram for permission to recreate that. His response was: bindass kar.
Sriram: I am sure I must have been influenced by Touch of Evil or one of those movies.
Where do female characters fit in your films?
Anurag: The world of Raman Raghav 2.0 is very different from Gangs of Wasseypur. The latter had space for a woman to be a matriarch and have her own identity. Raman Raghav 2.0 is about the killer and the cop. It is a more patriarchal world and they are mostly victims. It changes from film to film. They have to be real in the world they inhabit.
Sriram: It changes from film to film.
You approach your stories very differently. How would you describe each other's work?
Anurag: I am more character-driven and Sriram's films are more about plot.
Sriram: I am trying to get away from that. When it is character-driven, you don't have to worry about plot so much. People remember characters.
Anurag: Someone told me that when Jewel Thief (1967) first released, it did not work as there was no 'thief'. They reshot it and got a jewel thief.
Sriram: My Jewel Thief story is that there is a movie called Kala Bazar (1960), which was also directed by Vijay Anand.
In one sequence, Dev Anand sells tickets in black outside the Metro cinema, Bombay, for North By Northwest, which is about a man who does not exist. These are two different films but the premise is the same. Perhaps, Vijay Anand was influenced by North By Northwest while making Jewel Thief.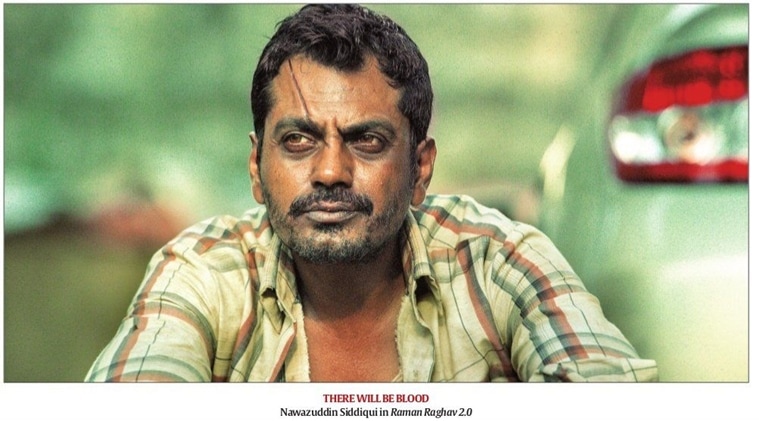 You both have great taste in music and use it beautifully in your films.
Sriram: I love music in films. In Guide (1965), if you remove the songs, the movie will collapse. The songs do the work of seven scenes in it. However, my inhibition is to make the actor break into a song the way Dev Anand and Hema Malini do in Johny Mera Naam (1970). When I want to use a song, I find my way. In Badlapur, I felt music fitted in well, barring that song in the end.
Anurag: Guru Dutt and Vijay Anand are the two directors who shot song sequences like no other director did. You can see Vijay Anand's influence even in a Sanjay Leela Bhansali film. The 1942 A Love Story song of Ek ladki ko dekha is influenced by Johny Mera Naam's Pal bhar ke liye. Earlier, songs were a part of the narrative, for instance, the suspense built around Hothon mein aisi baat main daba ke chali aayi in Jewel Thief. The older mystery films used to have a pre-climax song, there would a Mumtaz or Helen on screen and all the players of the movie would come together in anticipation of something big going to happen.
Anything you miss from that world?
Sriram: They are all there. You can do it again. However, you have to find the right idiom to do it.
You both are known to improvise a lot on the sets and play mind games.
Sriram: It is not a mind game — you give different briefs to different actors and you are hoping for a moment. In Badlapur, I could give pointers to Nawazuddin Siddiqui and Radhika Apte.
Anurag: In Ugly, the scene at the police station was improvised. I had one very experienced actor in Girish Kulkarni, Vineet Singh had some experience and Rahul Bhat, who was a complete outsider. So I gave different instructions to each of them. I was depending on Girish, who is an improviser, to see to it that the conversation remains on track, to play with everything that his co-actors were saying.
You are both film geeks. What is the craziest thing you have done?
Anurag: In August 2008, London's Curzon Theatre was playing Mesrine, a French gangster movie directed by Jean-François Richet — Part 1 and Part 2 back to back. I took a night flight to London, watched the films and flew back that night. I did not tell anyone for a while as I thought they would think I was stupid to spend Rs 35,000 on watching movies. Somewhere, maybe, this film has a role to play in Gangs of Wasseypur releasing in two parts one after another.
Sriram: I have a similar, but low-budget, story. When I was in school, I came to know about Red Rose, which also happened to be about a serial killer. That time, new releases used to come to Pune around four weeks later. I was desperate to watch it. At home, I said that I was going to a friend's house to study and would come back late. Carrying my books, I took a train to Bombay and watched the movie at Chitra, Dadar, had pav bhaji for lunch and returned by an afternoon train. Unfortunately, I did not like the film.
Who was Raman Raghav?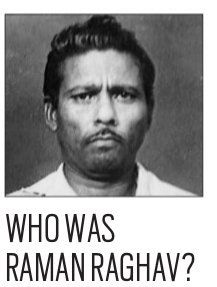 A serial killer in Bombay who terrorised the city between 1966 and 1968. Later diagnosed with chronic paranoid schizophrenia, Raghav, a migrant from Tamil Nadu, confessed to the murders of 23 people in 1966, and about a dozen (if not more) in 1968. According to the police, his casual attitude to violence and murder was most likely the reason he did not remember the exact number of victims.
*His victims were usually poor slum-dwellers, and people who slept on the streets. On one of his rampages, Raghav killed a six-month-old.
*His modus operandi was rudimentary: he used a hard, blunt object to bludgeon his victims to death. He operated under several aliases — Sindhi Dalwai, Talwai, Anna, Thambi, and Veluswami.
*There are few details about the man, but in his interrogation he displayed delusions of persecution and grandeur. Some of the recurring ideas that surfaced was his belief that he was shakti and the idea that homosexual intercourse would convert him into a woman. His favourite: he was 101 per cent man.
*Raghav was sentenced to death in August 1969, which was later reduced to life imprisonment after he was diagnosed with schizophrenia. He lived till 63 at the Yerawada prison in Pune, and died on April 7, 1988 from kidney failure.

The Indian Express website has been rated GREEN for its credibility and trustworthiness by Newsguard, a global service that rates news sources for their journalistic standards.