The trailer of Janhvi Kapoor and Ishaan Khatter starrer Dhadak is out. Directed by Shashank Khaitan, the Hindi remake of National Award-winning Marathi film Sairat is co-produced by Karan Johar and Zee Studios.
Dhadak marks the Bollywood debut of late actor Sridevi's elder daughter Janhvi. The romantic drama is also Ishaan's first Bollywood film. He made his acting debut with Iranian filmmaker Majid Majidi's Beyond the Clouds.
Talking about Dhadak's plot, director Shashank had said, "The basic premise (of Dhadak and Sairat) is same. But there are variations. My story is based on another setup. It is set in Rajasthan. It comes with its own challenges, conflicts and style of a love story."
Also Read: Dhadak trailer: Janhvi Kapoor and Ishaan Khatter give us an innocent love story
Janhvi Kapoor and Ishaan Khatter's Dhadak releases on July 20.
Live Blog
Dhadak movie trailer launch updates: Read our blog for all the updates about the Janhvi Kapoor and Ishaan Khatter starrer Dhadak.
That's all, folks!
The trailer of Dhadak was released today by the film's team. The movie is a remake of the Marathi blockbuster Sairat. Dhadak stars Sridevi's daughter Janhvi Kapoor, and Ishaan Khatter in the lead. It has been directed by Shashank Khaitan, who has previously helmed films like Humpty Sharma ki Dulhania and Badrinath ki Dulhania. The movie has been produced by Karan Johar's Dharma Productions, Hiroo Yash Johar, and Apoorva Mehta. The trailer has received mostly a positive response from Bollywood as well as the general audience. Dhadak will hit the big screen on July 20.
Shahid Kapoor urges people to watch the Dhadak trailer
Sophie Choudry says Dhadak trailer is 'love'
Preity Zinta thinks Dhadak trailer is 'awesome'
Here's everything you need to know about Janhvi Kapoor's big Bollywood debut
1. Janhvi Kapoor and Ishaan Khatter headline the movie
With Dhadak, moviegoers will watch the new generation of Bollywood spilling its charm on the 70mm screen. Debutante Janhvi Kapoor, daughter of Bollywood's starlet Sridevi and filmmaker Boney Kapoor, will be seen romancing one film old Ishaan Khatter. After the sudden demise of Chandni aka Sridevi, all the eyes are on her elder daughter Janhvi who is expected to carry forward the legacy of her mother.
2. Adaptation of Marathi film Sairat
Filmmaker Karan Johar bought the rights of Marathi superhit film Sairat and decided to give the cinephiles a Bollywood version of it. Directed by Nagraj Manjule, Sairat starring newbies Rinku Rajguru and Akash Thosar, explored the caste dynamics of rural Maharashtra. It brought to the canvas the tragic story of star-crossed lovers. The film became a trendsetter in the Marathi cinema as it made it to the coveted Rs 100 crore club.
Also read | Dhadak trailer unveiled: Everything you need to know about Janhvi Kapoor's Bollywood debut
Hichki director Siddharth Malhotra on the Dhadak trailer
The filmmaker took to Twitter to share his wishes for the Dhadak team and wrote, "Innocence and first debuts have its own charm #JAHNVI & #ishaan bring that alive in every frame and are so watchable http://bit.ly/Dhadaktrailer many congrats @karanjohar @apoorvamehta18 @ZeeStudios_ @ShashankKhaitan looking forward to this one."
Filmmaker Punit Malhotra on the Dhadak trailer
I Hate Luv Storys director Punit Malhotra, who will be directing Student of the Year 2, congratulated Dhadak director Shashank Khaitan on the trailer release and shared a post which read, "Superb stuff. Congratulations my brother!"
Tanishaa Mukerji found the Dhadak trailer stunning
Actor Tanishaa Mukerji is in awe of the recently released Dhadak trailer. She took to Twitter to share her opinion on the same and wrote, "Wow. What a stunning trailer! #DhadakTrailer @karanjohar @ShashankKhaitan amazing chemistry between the 2 #JhanviKapoor & #IshaanKhattar u guys have rocked it."
Shraddha Kapoor on Dhadak trailer
Bollywood star Shraddha Kapoor recently took to Twitter to express her views on the promo of the Janhvi Kapoor and Ishaan Khatter starrer. She wrote, "The #DhadakTrailer looks so so so good!!! So excited for Janhvi & Ishaan. @DharmaMovies @ShashankKhaitan you rock. All the best to the entire team! @karanjohar."
Janhvi Kapoor on comparisons with Sairat actor Rinku Rajguru
"What Rinku did with that character, I don't think any other actor can even match up to it. But my character is very different from her character. I tried from the beginning that I portray my character with a lot of honesty," Janhvi Kapoor told reporters at Dhadak trailer launch.
Kushan Nandy on Dhadak trailer
My dil is going full Dhadak, Dhadak and Dhadak, says Gauri Shinde
Gauri Shinde tweeted, "My dil is going full #Dhadak Dhadak Dhadak. I can almost hear Sri's heartbeat!!! #Jahnvi #Ishaan you both are rockstars. Love u guys. Bravo @ShashankKhaitan!!! Thank you so much @karanjohar."
Missed watching the trailer of Dhadak? Watch the trailer here
Arjun Bijlani on Dhadak trailer
Director Shashank Khaitan on Dhadak
At the trailer launch of Dhadak, director Shashank Khaitan said, "It (Sairat) blew my mind. It was a story waiting to be told. I wanted to pay the best homage to Sairat. Really proud of Dhadak and these two kids."
When Karan Johar asked him if he is nervous about showing the film to Sairat director Nagraj Manjule, Shashank said, "I am excited. I started out with a remake of DDLJ, so not really scared."
Amruta Khanvilkar on Dhadak trailer
Raazi actor Amruta Khanvilkar shared on Twitter: "Congratulations @karanjohar @DharmaMoviesand @ZeeStudios_ on the absolutely "zhingaat" #DhadakTrailer ... http://bit.ly/Dhadaktrailer. Wishing the entire team loads of success"
Bhumi Pednekar on Dhadak trailer
Anil Kapoor on Dhadak trailer
'The new stars of Bollywood have arrived!! Looking at Janhvi & Ishaan in this trailer, you'd never guess that they're new at it! I can't wait to see their story unfold! #DhadakTrailer,' tweeted Anil Kapoor.
Neha Dhupia on Dhadak trailer
Neha Dhupia posted on Twitter: "This looks like everything one wants to rush to the cinemas for. Beautiful , fresh, funny , romantic and intriguing ... congrats team #Dhadak #janhvi #ishaan @karanjohar @apoorvamehta18 @ShashankKhaitan @ZeeStudios_"
Amitabh Bhattacharya on Zingat
'People know the original songs by heart. It was a challenge. Happy that it has turned out so beautiful,' said lyricist Amitabh Bhattacharya.
Karan Johar on Dhadak music
"The film has two songs from Sairat - Zingat and Yag Lagla," Dhadak producer Karan Johar told reporters at the trailer launch.
Karan Johar to launch Hindi version of Zingat
Karan Johar will unveil the Hindi version of Sairat's hit track Zingat today.
A source says, "The track is both offbeat and commercial at the same time. When Karan saw the video, he instantly knew he wanted to show it at the trailer launch because it recapsulates the flavour of the movie. Janhvi and Ishaan look smashing in it. They have danced well too."
Sridevi's tip for Janhvi
On being asked about the tips late actor Sridevi gave to Janhvi Kapoor, the debutant said, "The biggest tip is to work hard and feel every emotion."
Sonam Kapoor on Dhadak trailer
Janhvi Kapoor on watching Sairat
At the trailer launch of Dhadak, Janhvi Kapoor said, "I saw Sairat with mom at home and I remember telling her 'I wish that this was my first film and I could do something like it.' Me and mom had this big discussion about how even she wanted a role like this for me and then you (Karan) called and it happened."
Photo: Janhvi and Ishaan at Dhadak trailer launch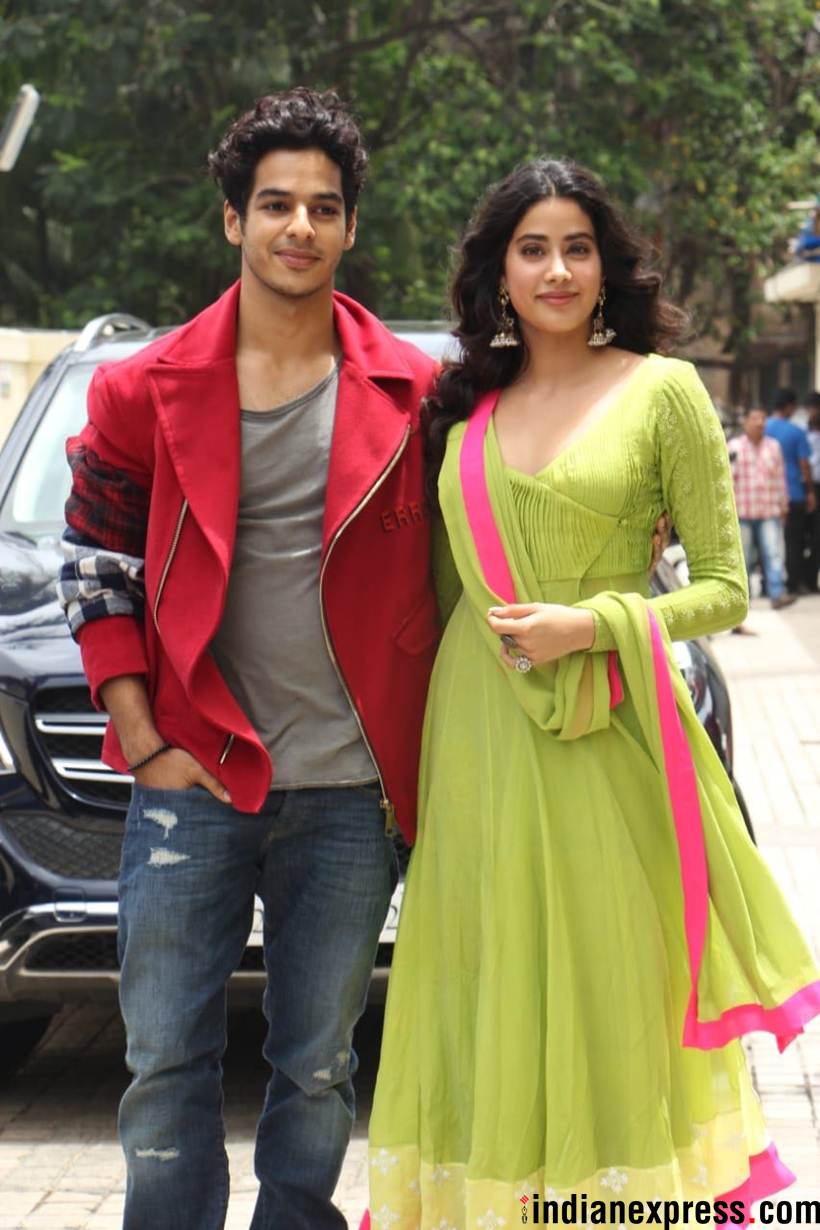 Janhvi Kapoor and Ishaan Khatter arrive for the trailer launch of Dhadak.
Alia Bhatt on Dhadak trailer
"Make way for these two sparkling ACTORS ❤️❤️ #jhanvi & #Ishaan are pure magic in the dhadak trailer!!! And my dear friend @ShashankKhaitan you are just the best.. I am soo excited for this one. And if I may say so.. Super proud if you," Alia Bhatt said via Twitter.
Varun Dhawan on Dhadak trailer
"Here it is @ShashankKhaitan #Dhadak. This film is gonna be amazing and #jhanvi and #Ishaan totally light up the screeen. So proud of your journey Shashi this is your best film. @karanjohar makes films from the heart and #Dhadak shows that. http://bit.ly/Dhadaktrailer @apoorvamehta18," tweeted Varun Dhawan.
Watch the trailer of Dhadak
Sharing the trailer on Twitter, Dhadak producer Karan Johar said, "Here it is, with love and a thumping heartbeat. The trailer of #Dhadak #Janhvi #Ishaan @apoorvamehta18 @ShashankKhaitan @DharmaMovies @ZeeStudios_ @kuttysujay"
I'm by your side, Arjun Kapoor tells Janhvi Kapoor
Before the trailer launch of Dhadak, Arjun Kapoor shared an emotional message for Janhvi Kapoor on Twitter. He wrote, "Tomorrow you will be part of the audience forever #JanhviKapoor cause your trailer comes out... Firstly, sorry I'm not there in Mumbai but I'm by your side, don't worry. I just wanted you to know this profession is amazing if you work hard, be honest, learn to take the accolades with the brickbats, respect opinions, yet follow your own path & instinct. It's not gonna be easy but I know you are ready for all the madness that will ensue. All the best for #Dhadak! I'm certain that my friends @ShashankKhaitan & @karanjohar have presented you & #IshaanKhatter as the modern Romeo & Juliet with elan!!!"