Sudhir Mishra directorial Daas Dev starring Richa Chadha, Rahul Bhat, Aditi Rao Hydari, Vineet Singh, Saurabh Shukla and Vipin Sharma releases today. The film is a retelling of Sarat Chandra Chatterjee's famous novel Devdas. Daas Dev was earlier scheduled to release on April 20 and was postponed by the makers to avoid a clash with films like Beyond the Clouds, Nanu Ki Jaanu and High Jack. But now it faces Marvel's mega-crossover treat Avengers: Infinity War at the theatres.
Presented by Storm Pictures and produced by Saptarishi Cinevision Production, the film follows a path contrary to the plot of the classic novel Devdas and is set against the backdrop of Uttar Pradesh.
Also read| Daas Dev movie review: The Sudhir Mishra film has lofty ambition but not enough impact
Sudhir Mishra who is known for films like Hazaaron Khwaishein Aisi, Khoya Khoya Chand and Yeh Saali Zindagi had said about the film, "We didn't want people to misunderstand Daas Dev as a political drama. Politics is the conflict in the love story and music is an integral part of the film."
Live Blog
Read all the highlights about Richa Chadha, Aditi Rao Hydari and Rahul Bhat starrer Daas Dev:
Pooja Bhatt to watch Daas Dev
Dipannita Sharma on Daas Dev
Richa Chadha on her preparation for Daas Dev
Richa Chadha who portrays Paro in Sudhir Mishra's film Daas Dev had said, " As an actor, I work hard to get into the skin of every character I play. Paro resonates with me personally and I find many of her traits true to mine. An interesting challenge was learning and absorbing how to play a woman politician and to this end, I did a fair amount of research. The look, however, is always crucial and so part of my research was on how to comprehensively look like a young woman politician who would be taken seriously. Along with the costume design team we decided on incorporating Indian weaves, Khadi, Cotton and elegant sari's after researching the look extensively. 'Paro' has always been an iconic character, but with Daas Dev 'Paro' can once again become the icon of today".
Sudhir Mishra on Daas Dev actor Rahul Bhat
Rahul Bhat plays the iconic role of Dev in director Sudhir Mishra's Daas Dev which is touted to be a reverse take on Devdas. Sudhir Mishra who has coined the term Chameleon from Kashmir for Rahul says, "Rahul is distinctly different in every role he plays. In Ugly, the equation his character had with his wife and kid was so unlike the way he is in real life. Every actor always has the choice to either work for himself or for the script. Rahul always takes decisions that make the script better."`
Filmmaker Anubhav Sinha on Daas Dev
Special screening of Daas Dev
On Thursday, the makers of Daas Dev held a special screening in Mumbai which saw close friends of Sudhir Mishra and some Bollywood stars in attendance. Prakash Jha, Bejoy Nambiar and Imtiaz Ali graced the special screening.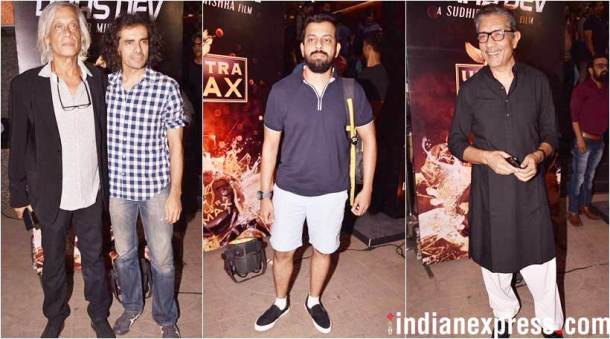 Also read | Mallika Sherawat, Imtiaz Ali and Prakash Jha attend Daas Dev screening
Shubhra Gupta's verdict on Daas Dev
Film critic Shubhra Gupta in her review of Daas Dev writes, "Fashioned more as a political thriller than a tale of doomed love, Mishra's film puts us in mind of his memorable Hazaaron Khwahishein Aisi, which also had three youthful characters, stinging romance, and astute recreation of an India during the Emergency. That film has legs; it still feels as true and trenchant as it did when it came out."
Also read | Daas Dev movie review: The Sudhir Mishra film has lofty ambition but not enough impact
Pooja Bhatt wishes luck to Daas Dev team
Pooja Bhatt took to her Twitter handle to wish the team of Daas Dev on the release of the film today. She wrote, "Best wishes & more to the cast and crew of #DaasDev for their release today! Am going to watch it in the theatre! So should you! 🙏."
Best wishes & more to the cast and crew of #DaasDev for their release today! Am going to watch it in the theatre! So should you! 🙏 pic.twitter.com/ympfkNfI3G

— Pooja Bhatt (@PoojaB1972) April 27, 2018
Daas Dev Trailer
On the fence about watching Daas Dev? Watch the trailer of the Rahul Bhat, Richa Chadda and Aditi Rao Hydari starrer.
Richa Chadda on Daas Dev
"What attracted me most to Daas Dev was the fresh portrayal of women in Sudhir's adaptation. I love the fact especially about Paro that she doesn't wait for her love. She, in fact, locks horns with him and takes him on in politics to seek revenge," Richa Chadda said in a statement.
Daas Dev box office prediction
Film trade analyst Girish Johar predicts the opening collection for Daas Dev to land somewhere between Rs 75 lakhs to Rs 1 crore. He added, "Daas Dev faces tough competition from Marvel's Avengers: Infinity War. Being a mega-budget superhero outing, Avengers has created unprecedented buzz around its release. Even though Daas Dev serves a very niche multiplex kind of audience, it may struggle to find its space."
Also Read | Daas Dev box office prediction: Sudhir Mishra's film expected to collect Rs 75 lakhs on day 1
Planning to watch Daas Dev? Here are some reasons to watch the Sudhir Mishra film
1. Another retelling of Devdas
Daas Dev is Devdas set against a political backdrop. When it comes to retellings of Devdas, we have had Anurag Kashyap's Dev.D and Sanjay Leela Bhansali's Shah Rukh Khan, Aishwarya Rai and Madhuri Dixit starrer Devdas. In the past, Dilip Kumar has also played the role of Devdas in Bimal Roy's 1955 film. In 1936, K.L. Saigal played this role in P.C. Barua's film.
2. Cast
While Rahul Bhat will play Dev Pratap Chauhan, Richa Chadda will be seen as Paro in Daas Dev. The film also stars Aditi Rao Hydari as Chandni, a modern-day version of Chandramukhi's character. Daas Dev also stars Saurabh Shukla, Vineet Kumar Singh and Dalip Tahil.