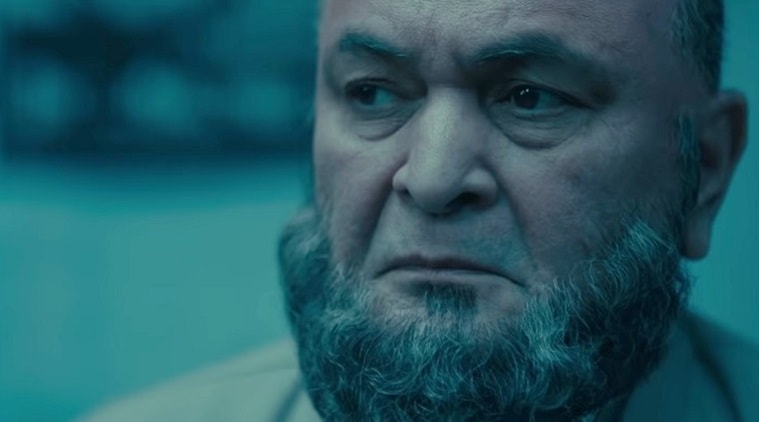 Mulk box office collection Day 2: This Rishi Kapoor starrer tackles sensitive topics.
One of the three Bollywood releases of the week, Mulk has earned Rs 4 crore at the box office, according to Bollywood Hungama. Directed by Anubhav Sinha, this film stars Rishi Kapoor, Taapsee Pannu, Prateik Babbar, Rajat Kapoor and Ashutosh Rana in pivotal roles. The film earned Rs 2.40 crore on its second day. It had opened at Rs 1.60 crore.
Mulk tackles topics that have become sensitive in recent times like religion, terrorism, communal hatred and violence and thus, it has been a bone of contention ever since its trailer released. It is basically about a Muslim family that is trying to reclaim its lost honour after one of its members is revealed to be a terrorist. Since it has received mostly positive reviews, Mulk should pick up on Sunday and the following weekdays.
Girish Johar said while speaking to indianexpress.com, "If I have to place my money, I will place it on Mulk. Whatever they are trying to convey is a strong message and it is a strong content film backed by deadly performances by Rishi Kapoor, Taapsee Pannu and Ashutosh Rana. In my opinion, the film might earn Rs 2 crore on its first day."
Also Read: Mulk movie review: The Rishi Kapoor starrer is an important film
The Indian Express film critic Shubhra Gupta gave a glowing, 3.5 star review to Mulk. She said, "It has a solid cast, and each plays their part. Kapoor is stolid but effective. Pannu starts out tentative but grows into her part as she goes along, and has a terrific climactic turn. It's good to see Babbar back on screen. Neena Gupta is just so good, and on a roll these days. Ashutosh Rana, all wiggly brows and smirk and flourish, chews up the scenery as a bigoted public prosecutor, and Kumud Mishra's finger-wagging but fair judge does his job well. Rajat Kapoor's cop, conflicted about his identity and pressured to prove his loyalty, is an interesting addition. But the one actor who really makes a meal of his role, that of the unlettered, worn Bilal Mohammad, Murad's younger brother, who has no trade nor money, and who is too proud for handouts, is Manoj Pahwa. He will haunt me."
For all the latest Entertainment News, download Indian Express App