2017 was a year for content driven and small budgeted films. Despite more misses than hits, the year left us with many scenes that are going to be etched in our memories. What really made them stand out? A major credit goes to certain sequences which were either a slice of life giving us a deja vu about real situations, or had a screenplay making the scenes the high point of these hits.
The year gone by saw big banners bombing while experimental films doing well. From Bareilly Ki Barfi to Trapped, Rajkummar Rao swept through the box office. We even had Irrfan Khan with two hits – Hindi Medium and Qarib Qarib Singlle. Adding to the list is other films like Badrinath Ki Dulhania, Secret Superstar and Tumhari Sulu, all of which left a mark with one thing memorable or the other.
Here, we list down 10 of the most remarkable scenes from various hits of 2017, which either drove the film towards some amazing performances or became the turning point in its plot.
(The order of films is not as per ranking)
1. Trapped
This entire film was full of intense moments. And given his talent, it was only Rajkummar Rao who could pull off the movie entirely on his performance. He did, and how! However, special mention goes to the rat scene. Rajkummar speaking to the animal not just shows his loneliness an desperation but also need of a man in general to vent out his feelings, even if it means conversing with a rodent.
Trapped is a movie that cannot have only one scene in this list. Another memorable moment was when Rajkummar, thirsty for days, finally manages to collect rain water. His happiness in days of despair was evident and it surely made for one of his strongest performances.
2. Tiger Zinda Hai
You seriously need to be someone with either great talent or simply lucky to find your share of screen space in a Salman Khan film. But one person who managed to do that was Katrina Kaif. Even if the film was all about Salman's Tiger swag, it was one particular action sequence Kat pulled off, which turned out to be better than everything combined in this mega film. The way Katrina fights her enemies, while rescuing a bunch of girls, was well choreographed. And no body-doubles please, she performed this long scene all on her own. Applause and respect!
3. Hindi Medium
Nobody plays a common man like Irrfan Khan! And Hindi Medium opened with a high as Irrfan sold sarees and lehengas in a typical Old Delhi shop. It was not just his salesman instinct but even the way he drapes the attire on himself to appease his customers and ensure they get the best deal. He brilliantly balanced his shopkeeper act with that of a businessman.
4. Badrinath Ki Dulhania
The film had a strong message of women empowerment, something unusual keeping in mind its prequel Humpty Sharma Ki Dulhania which was a masala entertainer. In the climax, as Badri tries to convince his family to accept Vaidehi, he even confronts his father for disrespecting women. This might be a monologue but the message was conveyed loud and clear.
5. Secret Superstar
This Aamir Khan production had a strong plot. But apart from the struggles of Insia, it was also the fight of her mother Najma who was both weak and strong at the same time. One of the scenes of the film, which otherwise also had several happy sequences between mother-daughter, was when Najma has to protect Insia's dreams in front of her husband Farookh, even if it meant getting beaten up. The scene showed no direct physical violence but the way it was set up, the audience could feel the pain of a mother.
6. Bareilly Ki Barfi
Rajkummar had a split personality, so to say. He was two men in one! Those who've seen it will know what I mean. The actor aptly played his character of Pritam Vidrohi, with Pritam and Vidrohi as two different people. As Pritam he was the most vulnerable and coward guy around. But as Vidrohi, he was literally the rebel. This makes us remember his "Babua" scene where he switches personalities in a flash. The way he takes on a group of roadside Romeos was as shocking for Chirag aka Ayushmann Khurrana, as it was for us!
7. Tumhari Sulu
This Vidya Balan starrer was full of adorable moments. And one such memorable scene was Sulochana aka Sulu's voice test. While she kept erupting in laughter reading out her lines, we as viewers couldn't hold back our smiles too. Call it her onscreen ease or getting into the skin of her characters, Vidya knows how to make a mark in her films.
8. Kaabil
How will a man take revenge when he cannot see anything, that too in a building under construction? As much as the setting sounds Hollywood-ish, Hrithik Roshan pulled it off well in Kaabil. The ultimate fight scene between him and Ronit Roy was smartly done.
9. Toilet: Ek Prem Katha
Akshay's monologue in all his films become its highest point. And things were no different in Toilet: Ek Prem Katha. The way he expresses his helplessness and anger after his own father becomes the villain of his life is a well made scene. While the demolished toilet becomes symbolic of many societal restrictions, Akshay's feelings could well be felt in his shivering yet stern voice.
10. Sachin: A Billion Dreams
What happens when a historic moment like India's 2011 World Cup victory gets recreated, that too on 70 mm? You stand up, shout, rejoice and celebrate as if it just took place in front of you! This was exactly what happened in every theater when this Sachin Tendulkar biographical docu-drama released. It was reliving the big cricketing moment for every Indian and they all celebrated, this time not in a stadium, but a cinema hall! The claps echoed in our hearts one more time!
Special mention – Baahubali: The Conclusion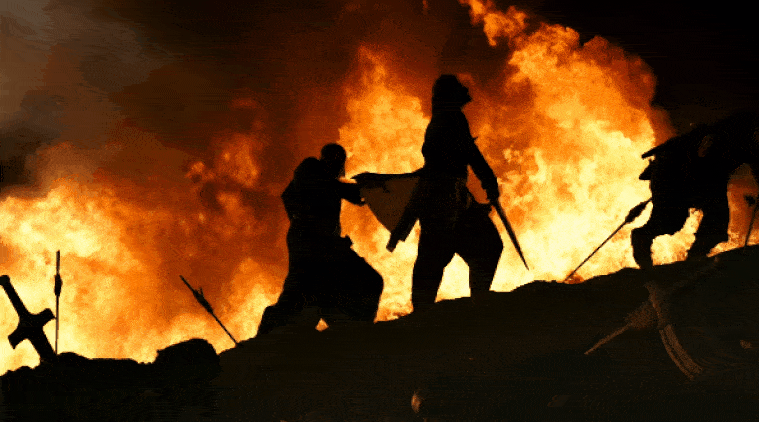 And finally, we had the most popular scene of not just Bollywood, but Indian cinema as a whole – "Why Kattappa killed Baahubali?" The Telugu film won hearts of even the Hindi speaking audience, hence, a special mention to it. Yes, we got our answers, but more than that the way it was delivered, was both heart wrenching and powerful. This film actually requires a separate list all together, for it was full of sequences which will go down in the history of Indian movies. After all, they don't make Baahubali everyday. They won't do it for a long long time!
Did you find any other scene from a 2017 film interesting? Let us know in the comments section below.