At exactly 1.15 minutes into the Befikre trailer, a jaw-dropping sight greets you when Ranveer Singh walks out in nothing but a V-shaped red coloured Playboy underwear while showcasing an apparent act of striptease. A little while later the heartthrob gyrates with gay abandon performing some uninhibited pelvic thrusts while still in his briefs.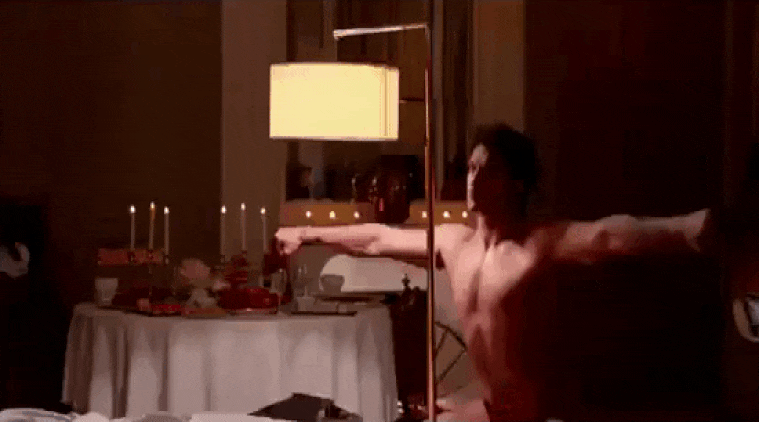 That's Befikre for you and the only actor who could have pulled it off with total panache was Ranveer. If Bajirao Mastani had the actor covered from head to toe in thick battlefield armour mouthing war cries, Befikre sees him entering uncharted terrain stripping, kissing and romancing with glee.
Read: It's surreal, says Ranveer Singh on Befikre trailer launch at Eiffel Tower
The 2.40-minute long trailer has Ranveer and Vaani Kapoor throwing caution to the wind and indulging in blissful lusty no-strings-attached acts. The fast-paced trailer shows the duo as two carefree souls who are not inclined to get emotionally involved with each other and prefers enjoying sex even if it is inside a car parked on a busy highway.
What else can one expect when you are in Paris and are as Befikre in matters of love as Ranveer and Vaani's characters are in the film. And their chemistry is crackling, to say the least. While Ranveer's boldness was never in question, Vaani has gone the extra mile this time from donning a bikini to matching Ranveer's half Monty act with her own sexy striptease.
Filmmaker Aditya Chopra makes a comeback to direction after a long hiatus and the movie along with its theme is a welcome change from the age-old morally correct romances that Yashraj has portrayed over the years and raked money in. Aditya has moved along with times and ventured into something bold and topical.
Watch: Befikre trailer with Ranveer Singh and Vaani Kapoor
While the movie is most certain to ruffle the feathers of the conservative family lot that have long formed the ticketed audience of Yashraj's cliched romances, it would be interesting to see the way Aditya has dealt with the 'lust over love' subject. If it has the quintessential Aditya Chopra's refreshing take, the movie will be a winner. If not, then it will be nothing but old wine in new bottle.
More about Befikre
Eight years after he made Rab Ne Bana Do Jodi, Aditya has directed Befikre. This is also the first time he has directed any other actor in the lead than superstar Shah Rukh Khan.Befikre will release on December 9.
Ranveer Singh on Befikre
"This feels surreal. I am having the launch of my film's trailer at the Eiffel tower, and this is an Aditya Chopra film! I can hardly believe what's happening to me. That's why my Twitter bio says that I am living the dream,"
Vaani Kapoor on Befikre
I am nervous, I am jittery, I am excited and I can't wait for the evening to begin. I don't think else can beat this feeling that I have right now. And it truly is the most
historic thing in my life."
📣 The Indian Express is now on Telegram. Click here to join our channel (@indianexpress) and stay updated with the latest headlines
For all the latest Entertainment News, download Indian Express App.
The Indian Express website has been rated GREEN for its credibility and trustworthiness by Newsguard, a global service that rates news sources for their journalistic standards.