After working in the film industry for 15 years, the beautiful and vivacious Kareena Kapoor frankly admits that she does not like to be pitted against anyone. Hailing from a family of actors, the actress says she's not here to run a race but fulfill her love for acting. "I look forward to acting, getting on to a movie set and I enjoy the atmosphere of getting into my character. Honestly, I don't know anything else."
Seated in a hotel on a rainy day, Kareena Kapoor spoke about her forthcoming film 'Bajrangi Bhaijaan' opposite Salman Khan, her ongoing career and striking a balance between doing serious content driven cinema and big commercial entertainers.
In Pics: Sushmita Sen spotted with daughters Renee, Alisah; Kareena, Shruti busy around town
"I play a school teacher from 'Chandni Chowk' in 'Bajrangi Bhaijaan'. My character helps Salman through his journey as he reaches out to this child who comes to India from Pakistan. It's a very different kind of film because usually people are used to seeing Salman in comedies like 'Kick'. However, I think this is a story with way more depth. People love seeing Salman and me together, so it's definitely for the masses."
Though the first trailer is yet to be released, Kareena Kapoor is confident that 'Bajrangi Bhaijaan' will be the biggest hit of the year. "Yes, it's not 'Jurassic Park' or 'Jaws', but it's going to be the biggest hit, whether anybody likes it or not. Firstly, it has Salman, it also has Salman and me together after 'Bodyguard', Kabir Khan after 'Tiger' and Nawazuddin Siddiqui after 'Kick'. There are some films that have this destiny, the dynamics just come together and there's nothing wrong with that. I hope people will enjoy this story though because it is not a usual Salman Khan film – it does not have action and comedy. It is a story with song and dance."
Salman and Kareena share a great onscreen chemistry and somewhat romantic sweetness that was clearly evident in 'Bodyguard'. The actress prides herself in being his somewhat lucky charm as she has been roped in to be a part of Salman's maiden production venture.
"It was great that Salman offered me a role in his first production. I have worked with Aamir Khan in his production, 'Talaash' and with Shah Rukh Khan in his production – 'Ashoka' and 'RA.One'. So, it is always nice that they feel comfortable to work with me and they feel dependable."
Being one of the top actresses in her own right with string onscreen roles in films including 'Chameli', 'Omkara' and 'Jab We Met', Kareena has seen incredible success with the ruling Khans of the industry – Shah Rukh Khan, Aamir Khan and Salman Khan.
Read: Salman Khan keeps his promise, tweets about 'Bajrangi Bhaijaan' in Hindi
"I think it's important to work with the Khans because every top heroine of their generation has worked with their top stars – whether it was Sharmilaji who worked with Rajesh Khanna, Rekha worked with Amitabh Bachchan, Hemaji worked with Dharamji and Amitabh Bachchan in so many films. It's great because they are the ones ruling and fans enjoy seeing us together."
While most actresses put films on the back-burner for a while after tying the knot, Kareena Kapoor has been quite the opposite. "People generally think that Salman Khan and all would like to work with a younger actress, but he is working with a married actress and I think that's a compliment," she says.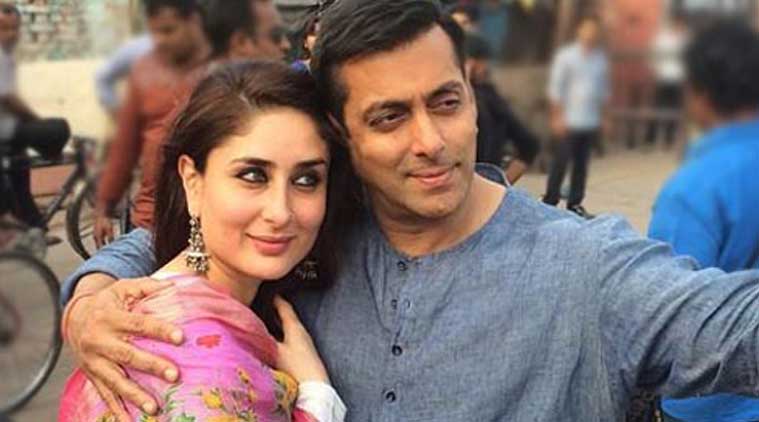 Kareena Kapoor and Salman Khan on the sets of 'Bajrangi Bhaijaan'.
With major focus being drawn to strong women-oriented roles Kareena Kapoor says good content will always work, irrespective of the cast. "When you look at films like 'Queen' or' Tanu Weds Manu Returns', it's the content that was strong. No matter who was in the film, it was bound to work. So in terms of content, we are getting better, but there was great content back in the day as well. Like in the 70s and 80s we had films like 'Amar Prem' and 'Seeta Aur Geeta'. It was only in the 90s and 2000s that there was not."
The actress also went on to say that she is entertainer and that's what she is here to do for her fans.
"We are not politicians, but actors and we are here to entertain people. We should not take things so seriously and start giving lectures on women empowerment. I have done content driven films as well like 'Omkara', but, I want to maintain a balance between doing women-oriented and commercial cinema because masala films are in my DNA and that's not going to change," said Kareena Kapoor.
"I don't care what people say but I love to dance. I'm doing a song in 'Brothers' because I enjoy it. If I'm good at dancing and I look good, then I think its great. Trust me, everyone wants a huge commercial film," she added further.
Kareena Kapoor shot for last few sequences of 'Bajrangi Bhaijaan' with co-star Salman Khan immediately after the verdict in the 2002 hit-and-run case was announced. When asked if the actor was emotional or disturbed on the sets, Kareena says, "I think Salman Khan is an actor who is very unfazed. He is unfazed by his success and he's completely unfazed by his failure. He's an amazing strong-headed person. It's just that he doesn't show it. He's emotional, yet he is strong. Tough times only make you stronger and I think it has really done that with Salman. He has come up the hard way – whether in his career, his personal life or his in case, Salman has always risen like a phoenix. He is the biggest superstar in the nation and the best part is that he doesn't know it nor does he show it."
It's no secret that Shahid Kapoor and Kareena Kapoor were romantically involved back-in-the-day. As the news of Shahid's forthcoming marriage is making headlines, Kareena did not shy away from talking about the wedding and even went on to say that she will surely attend the celebrations if she is extended an invite.
"I wish him all the best and I'm sure he's in a happy space because he's in a good place in his professional life. It's the perfect time for him," she said. Talking about Shahid's last onscreen performance in Vishal Bhardwaj's film, she said, "I haven't seen 'Haider' but my sister did. She said it was wonderful and he was absolutely brilliant. And I always knew he is a very good actor and always had that spark. Shahid was waiting for that one film and I think he got that with 'Haider'.
Kareena and Shahid will be joining Alia Bhatt and Diljit Dosanjh for Abhishek Chaubey's upcoming 'Udta Punjab'. It was in fact none other than Shahid Kapoor who recommended Kareena for the film. "There are no scenes together as it is a three-track story. Our paths never really meet but of course we're all in the same film as it is a drug drama, but everybody's roles are very different from each other. I never even shot with Shahid. I am paired opposite Diljit (Dosanjh) and that I'm very excited about it because I am a big fan of his. His videos are amazing and he's the surprise package of 'Udta Punjab'. Shahid has a deadly role as well and I'm sure he's pulled it off," said the actress.
Read: Kareena Kapoor is happy for ex-beau Shahid Kapoor, might attend his wedding
However, Kareena did not rule out working with Shahid Kapoor in the future. "Of course! If there is a good role and a script, I would love to work with him."
And talking about onscreen pairings, though Kareena and Hrithik Roshan were initially announced as the lead pair for Karan Johar's 'Shuddhi', things did not go as planned. "Karan is a great director and he will make a lovely film. People have been dying to see Hrithik and me onscreen. It's sad that it didn't work, but maybe you'll see us in something else," said Kareena.
On her new film with R. Balki, where she will be seen playing a career-driven wife opposite Arjun Kapoor, Kareena said: "I'm very proud to say that I was once Anil Kapoor's wife and now I will be paired opposite Arjun."
And finally, the actress who is at a comfortable stage in her career talked about how she has discovered travelling as a means to unwind. "It lets you spend time with yourself since it's difficult to constantly be in this Bollywood circle, where everybody is breathing and talking movies all the time. It's nice to chill out a little bit, read a book and get away. I have worked for 15 years and my mom keeps saying that now you should also give time to family and I enjoy it."
The Indian Express website has been rated GREEN for its credibility and trustworthiness by Newsguard, a global service that rates news sources for their journalistic standards.