Written by
Kriti Sonali
| New Delhi |
Updated: January 1, 2017 12:06:57 pm
Anushka Sharma, Virat Kohli are a much talked about couple at the moment. For a while now, we have seen the two holding hands and attending various events together. With a few reports claiming that this Bollywood-meets-cricket couple is all set to take their relationship to the next level and getting engaged on January 1 at Uttarakhand's Narendranagar, Virat had to step in and clear all the confusion.
The Indian Test captain tweeted this morning, "We aren't getting engaged & if we were going to, we wouldn't hide it. Simple… (1/2) 2/2)Since news channels cant resist selling false rumours & keeping you confused, we are just ending the confusion :)."
Well, we see how beautifully Virat, without naming Anushka, cleared this whole confusion. The actor also retweeted Virat's post.
Check Virat Kohli's recent post on speculation of his engagement with Anushka Sharma:
" we aren't getting engaged & if we were going to,we wouldn't hide it. Simple… (1/2)

— Virat Kohli (@imVkohli) December 30, 2016
(2/2)Since news channels cant resist selling false rumours & keeping you confused, we are just ending the confusion :)

— Virat Kohli (@imVkohli) December 30, 2016
Also read | Anushka Sharma, Virat Kohli are not getting engaged. Virat ends all confusion
Well, all these rumours are put to rest for now but Anushka-Virat relationship is no stranger to rumours. In fact, theirs is a relationship which can be interpreted through their social media accounts and the play of rumours.
How Anushka Sharma, Virat Kohli love story began:
Anushka and Virat met each other in 2013 when they worked together for a TV commercial. They were spotted together at various places and in no time, the rumours about these two dating each other started doing the round too.
Addition to Anushka Sharma, Virat Kohli love story:
What made the speculations alive were times when Virat came in limelight of spending time with the Sultan actor. It was South Africa tour in January 2014, when team India arrived at the Mumbai airport and instead of going with rest of the cricket team, Virat went to Anushka's apartment. The fact that the two started following on social media was also noted.
Virat Kohli at Anushka Sharma's film sets:
Virat was also in the news as he gave a surprise visit to Anushka in Sri Lanka, while she was there busy shooting for her film, Bombay Velvet. When Anushka was shooting for Aamir Khan-starrer PK in Udaipur, Virat was again seen on the sets and this time it was to celebrate her 26th birthday.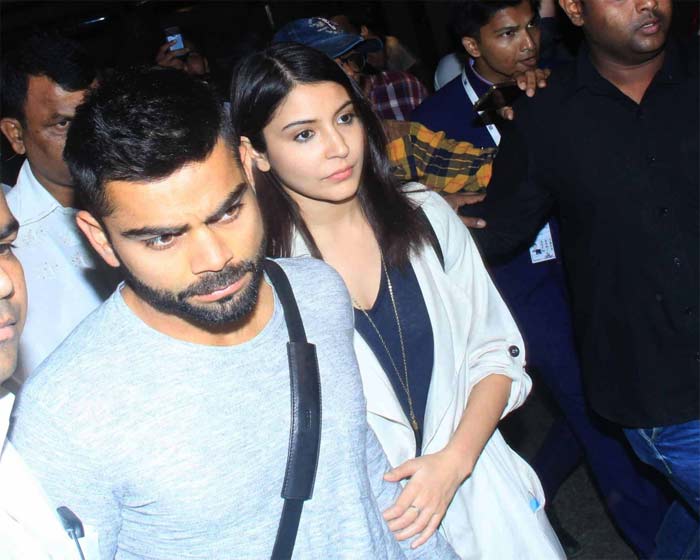 Anushka Sharma, Virat Kohli's public appearances
They made their first public appearance in October 2014, where the two went to watch an Indian Super League game together. Post this, we saw the many times. Be it at the airport or as among the spectators in the cricket grounds.
Virat Kohli's flying kiss
Well, we cannot miss to mention the incident when Virat, after achieving a milestone in a match against Sri Lanka in November 2014, blew a flying kiss towards Anushka, who was watching the match.
Soon, Virat even admitted to his relationship with Anushka at an event, and said, "Whatever is there is out in the open, I have nothing to hide." Anushka also accepted their relationship and gave a similar statement at another event. The actress said, "We are not hiding anything. We are being two normal young people in a relationship."
The rocky roads in Anushka Sharma, Virat Kohli love story
Like any love story, Anushka Sharma, Virat Kohli too faced controversies. During the promotion of NH10 in the year 2015, Anushka lost her cool as she was being grilled on questions relating to her relationship with Virat. Some time later, Virat too went ahead and verbally abused a journalist. Virat later apologised.
Virat also appreciated Anushka and her film NH 10 on social media. He had tweeted, "Just watched #NH10 and i am blown away. What a brilliant film and specially an outstanding performace by my love @AnshkaSharma. SO PROUD :)". In reply to this Anushka too posted, "@imVkohli Thank You. So happy."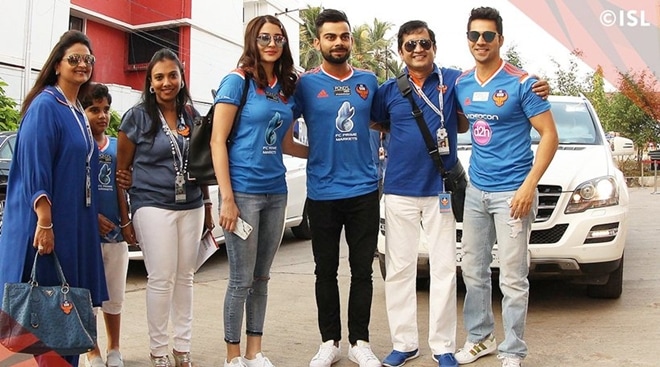 When Anushka Sharma got addressed as Virat Kohli's wife
The moment when Australian commentator, Michael Slater, mistakenly addressed Anushka as Virat Kohli's wife during the final day of the third test match between India and Australia, on December 2014, in Melbourne.
Anushka Sharma, Virat Kohli's rift
As per various reports, Anushka's sexy photoshoot for a men's magazine cover did not go well with Virat. It was reported then that Virat showed his displeasure towards this. Reportedly, they had a major fight on this over the phone.
Anushka Sharma, Virat Kohli's first red carpet appearance together:
Virat and Anushka made their first official red carpet appearance together at the Vogue Beauty Awards, on July 21, 2015, in Mumbai.
Anushka Sharma, Virat Kohli's breakup
Reportedly, Virat was keen on settling down with Anushka, but she wanted to focus on her career, leading to the two calling it quits and unfollowing each other on social media.
Anushka Sharma being trolled, Virat taking it up
Anushka received a backlash whenever Virat failed to perform on-field. However, they both did not comment about it in public ever. Post their breakup, Virat Kohli was seen performing well and thus people went on posting insane memes and offending posts about Anushka Sharma. There were comments like– 'thanking her for breaking up with Virat'.
But this did not go down well with Virat and the aggressive cricketer took to social media to show his displeasure. Take a look at his SHAME post.
Anushka Sharma, Virat Kohli patch up
The duo was out of the limelight and was seen busy in their respective work. But love beckoned and the duo followed each other back on social media. We saw Virat receiving Anushka at the airport and also as the cricketer's date on his 28th birthday party.
In recent months, this couple and surprised their fans with their frequent appearances together. Be it the lovebirds attending cricketer Yuvraj Singh's Goa wedding with Hazel Keech together, or Manish Malhotra's 50th birthday bash, where they entered hand-in-hand and posed for the shutterbugs.
For now, the couple has taken off to Uttarakhand together, and will reportedly celebrate the New Year together with each other's parents.
And we wait to see more of this love story, in the coming time.
For all the latest Entertainment News, download Indian Express App