Mulk has become one of the sleeper hits of the year. While a lot has been said and written about the film, its director Anubhav Sinha feels, "it stuck with the people. They agreed with the film. And this shows the maturity of the country."
Mulk tells the story of a Muslim family which fights to reclaim its honor in the society after a member of the household takes to terrorism.
Anubhav, who hails from Allahabad and has lived in Varanasi and studied at the Aligarh Muslim University, shared how the idea of such a story came to him. "The plot is one thing, but the basic idea to think of a story like that must have been inside me for years and it must have disturbed me. It must have all accumulated. Fortunately, a story came out which became a great vehicle for me to say it," he said in an exclusive chat with indianexpress.com.
Given the kind of restrictions and backlash several filmmakers face for depicting certain things in their films, was there a point when Anubhav felt he might not be able to reach the finish line? "This came up from time to time, but it never lasted for more than a few minutes. I had belief in the people of this country that they are extremely secular and will agree with the film. But every now and then there was this apprehension that have we changed as a country, as a nation and will people agree with my film? But it seems to have struck a chord with everyone," the director shared.
Also read | Anubhav Sinha's Mulk seeks to decode the meaning of both patriotism and terrorism
The courtroom drama also has a powerful supporting cast including Ashutosh Rana, Manoj Pahwa, Neena Gupta, Rajat Kapoor, Kumud Mishra and Prachee Shah Pandya. Talking about the talented ensemble cast, Anubhav said, "I always wanted to have a surprising casting. We have Manoj Pahwa, a mostly comic actor, playing a role like that and Neena ji, we found her because of her Instagram post. Taapsee was the first actor to be cast."
Elaborating on how each actor ended up on the same page for Mulk, Anubhav added, "You will be surprised that they were all very alike. I individually spent time with them before we went on floors and then all of us got together, for two days we read the script together. When we reached the set, they were all on the same page."
Mulk has been made on a humble budget, and one can see that given it has been shot in real locations, and under actual lighting. "It is a lot of hard work, but that was how this film was supposed to be. All of us knew from day one that we will be in those real locations and we wanted to be as organic as possible," the filmmaker revealed.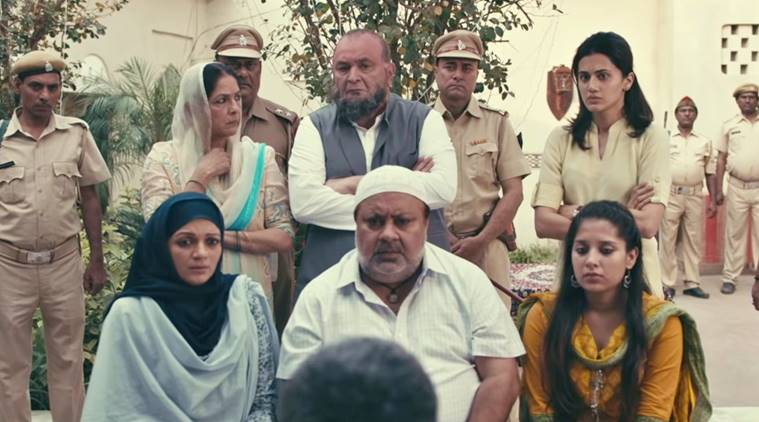 Despite getting love in India, Mulk has not been able to see the light of day in Pakistan. Talking about its ban in the neighbouring country, Anubhav shared, "I really wanted it to release in Pakistan. Because it's not only about Hindu-Muslim, it's about majority-minority. Muslims are a minority here and there Hindus are a minority. And how we can co-exist and work for the country and how the country is more important than anything else."
In an open letter recently, Anubhav slammed the trolls saying the film has "not been funded by either Dawood Ibrahim, the Congress or the RSS, and neither is it about Hindus or Muslims." Sharing what forced him to put out such strong words, he said, "For some part of society, love between the two communities, they don't like it. And when they see you promote love, they get upset and then they become trolls."
Anubhav, who began his career by making music videos, turned a director with 2001 hit film Tum Bin. He later also gave us Dus, Cash and Ra.One, while producing films like Gulaab Gang. With Mulk it seems he has entered a completely new territory of storytelling. So is this change a conscious plan? "There isn't any design behind it. I am just evolving as a human being and that will depict in my work. Whatever I get excited for, I go ahead and make it. When I retire, we will look back and see if there is a pattern. I am sure there is. But right now I am not aware of it," the filmmaker said.
Also read | Mulk calls out Islamophobia, but raises valid questions for Muslims too
Revealing that he would like to make a horror film or a mythological film someday, he added, "Maybe six months later I would like to change something in Mulk. That's evolution."
Mulk's screenplay has also been released in the form of a book at 'Talk Journalism' in Jaipur recently. "Some friends were sitting together and Rajkamal (publication) suggested it. The dialogues of the film were being appreciated a lot, so they gave the idea to convert this film into a book. And I said why not. So now I have a book in my name, which I never imagined," Anubhav shared with a smile.
The Indian Express website has been rated GREEN for its credibility and trustworthiness by Newsguard, a global service that rates news sources for their journalistic standards.