Written by
Shaikh Ayaz
| Mumbai |
Updated: November 12, 2017 10:03:20 am
Most discussions about Amjad Khan tend to start and end with Gabbar Singh and Sholay, which is tragic. An evil incarnate who brought Ramgarh to its knees and triggered terror even among children ("So jaa beta nahin toh Gabbar aa jaayega," goes one spooky line), Gabbar Singh was played with a cool ruthlessness by a man who was much more than just Bollywood's ultimate baddie. But he could never fully realise his potential. Ramesh Sippy's Sholay (1975) made – also unmade – him. Whatever future work Khan would do, and this would include excellent turns in Shatranj Ke Khiladi, Muqaddar Ka Sikandar, Qurbani, Parvarish, Laawaris, Suhaag, Yaarana and Chameli Ki Shaadi, faded in comparison with the behemoth called Sholay.
Hindi cinema's greatest blockbuster, Sholay's line up of stars is unprecedented. Never before has the audiences seen such heavyweight cast as Amitabh Bachchan, Dharmendra, Hema Malini, Jaya Bhaduri and Sanjeev Kumar and nor has any relatively unknown actor been propelled into such sudden national fame as Amjad Khan. Compared to the rest of the mega stars of Sholay, Khan, the son of star character artiste Jayant, was a mere rookie and yet, his strapping and thickset frame made him look like a veteran looming large over the arid landscape of Ramgarh.
Legend has it that Khan wasn't the original choice for the dreaded dacoit. Danny Denzongpa was homed in but the actor, known for his slick villainy on screen, walked out just months before Sholay was to slip into production. Writers Salim-Javed who had crafted Gabbar Singh and his grimy gang from the harmonica-scented remains of the Spaghetti Westerns introduced the idea of having Amjad Khan for what many even then believed was a role of a lifetime.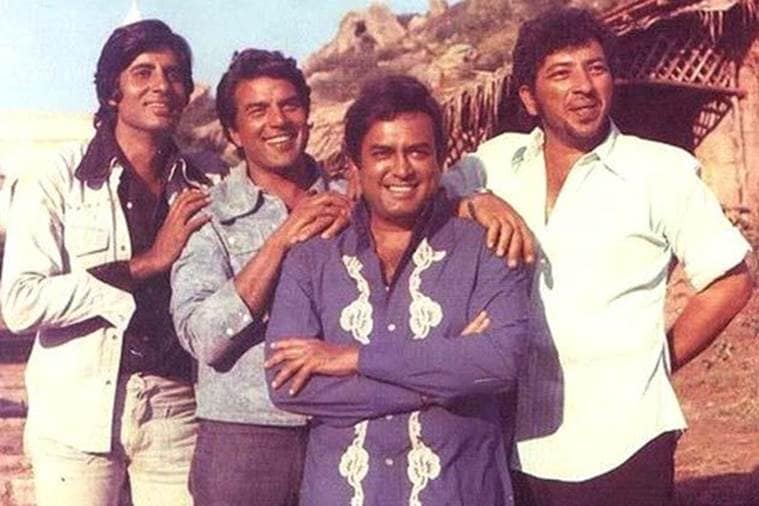 Amitabh Bachchan himself was said to be keen on playing Gabbar Singh. Salim-Javed, who prided themselves on realistic casting, felt Khan may not have the required experience to pull off Gabbar but at least he fitted the role physically. "Amjad had grown a beard and blackened his teeth. His diction was right, his language was perfect. He was confirmed for the role," reveals Anupama Chopra in Sholay: The Making of a Classic.
Having no credentials on cinema (he had acted in Hindustan Ki Kasam and assisted K. Asif on Love and God) Khan was, however, a rising star in the theatre circle. Within the Sholay unit, there were growing doubts whether Khan was the right choice for a character that was Sholay's bedrock. If he fails, the film sinks. From Chopra's Sholay: The Making of a Classic, we know that Khan had started preparing for the role by reading Abhishapth Chambal, a book on Chambal dacoits by Jaya Bhaduri's father, Taroon Coomar Bhaduri. In a bid to flesh out his character, Chopra suggests that Khan brought his own interpretation to Gabbar. "He remembered a dhobi from his childhood who used to call out to his wife: 'Arre o Shanti.' The lilt in Gabbar's ''Arre o Sambha' came from this dhobi," she writes.
After initial hesitation, it was clear that Khan would carry this film. Unfortunately, a misunderstanding had arisen between Khan and Salim-Javed, who had initially backed him as Gabbar Singh. Khan never worked with Salim-Javed again. However, after Khan passed away in 1992, Salim Khan met his son Shadaab and buried the hatchet. Shadaab told rediff.com, "Salim saab said, 'What happened between your father and me happened a long time ago. Now your father is no more. Let's put it behind us.'"
That was all about Sholay. An interesting question worth asking is, what if there was no Sholay? What would have been Amjad Khan's best film? Some critics point towards Shatranj Ke Khiladi (1977), Satyajit Ray's take on the decadent Nawabi culture. Khan plays Wajid Ali Shah, the Awadhi ruler whose poetic disposition and poignant melancholy makes him more of a forceful patron of the arts than an able king adept in statecraft. One passionate review on a blog hails Shatranj Ke Khiladi as Khan's "finest" performance. "One wonders," the blog gushes, "if this man is really Gabbar, the death spewing snake of Sholay, whose dialogues are now proverbs. In the hands of director Satyajit Ray, Amjad is transformed into an effete, dance loving, poetry composing, bemused Wajid Ali Shah, born to be a puppet-king, if king at all."
Khan acted in over 120 films, forming a formidable pairing with Amitabh Bachchan. Incidentally, Shatranj Ke Khiladi is narrated by Bachchan. The theme of male friendship and camaraderie and father-son estrangement pervaded several of the Bachchan-Khan starrers of the 1970-80s. Incidentally, the two were said to be close friends off screen. In Muqaddar Ka Sikandar, he puts up a tough challenge to Bachchan's title character, eventually killing him in the climax before having a change of heart. He is Bishan to Bachchan's Kishan in Yaarana, the childhood friends who are straight out of a melodramatic Indian country setting. Bishan introduces the bumpkin Kishan to urban sophistication and ultimately, musical superstardom. In Parvarish, he is the standard 70s bad guy, a bandit-turned-businessman who discovers Amit (Bachchan) is his son. A similar father-son moment occurs between Khan and Bachchan in Laawaris.
Besides being the bad guy and a friend's friend, Khan was a hugely under-appreciated comic talent. He flexed his comic muscle as a gum-chewing cop in Feroz Khan's jazzy Qurbani. Years later, Kumar Gaurav's launch-pad Love Story saw him as a buffoonish policeman in mad pursuit of the eloped couple, played by Gaurav and Vijayta Pandit. More unsung is his performance in Chameli Ki Shaadi, which fortunately and aptly is only beginning to gets its due thanks to a cultish fan following.
Khan himself was rather cocky about his versatility. He vehemently rebuffed a suggestion from an interviewer in 1987 that he was typecast as a villain in the aftermath of Sholay. "My directors took risk, giving me comic and emotional roles. That saved me from getting typecast. When audiences come to see my film, they can never guess what I will do. It's like Chandrashekhar's (leg spinner) googly," he explained.
(Shaikh Ayaz is a writer and journalist based in Mumbai)
The Indian Express website has been rated GREEN for its credibility and trustworthiness by Newsguard, a global service that rates news sources for their journalistic standards.