Written by
Priyanka Sharma
| Mumbai |
Updated: December 5, 2017 11:43:14 am
Iconic is the only word that comes to the mind when one thinks about Yash Chopra's Deewar and its scene between two of India's acting legends – Amitabh Bachchan and Shashi Kapoor – where they wage a war of words and emotions with each other. And even as the they played two siblings turned against one another, the audience could only notice the ease, the comfort and a natural chemistry between the actors on screen.
Luckily, that camaraderie made its way on the big screen repeatedly throughout the 1970s-80s – Suhaag, Trishul, Kabhi Kabhie, Namak Halal – to name a few. But not many, particularly the current generation, knew a lot about the real life friendship, that how even long after Kapoor bid adieu to the arclights, the warmth between the two actors lived and grew.
So, as Kapoor breathed his last on Monday evening, it was natural of Amitabh Bachchan, four years younger than his frequent co-star, to reach his residence at the earliest and spend hours with the family. And it was after some time with the Kapoor family that Amitabh sat down to pen a moving tribute to the actor.
Photos | Live updates from Shashi Kapoor's funeral: Sanjay Dutt, Anil Kapoor and others pay last respects
The megastar begins his post (on his blog) by describing a picture of Kapoor on a film magazine cover just before his Bollywood debut, and admitting that looking at the "terribly handsome" man, Amitabh Bachchan thought he stood no chance in the industry.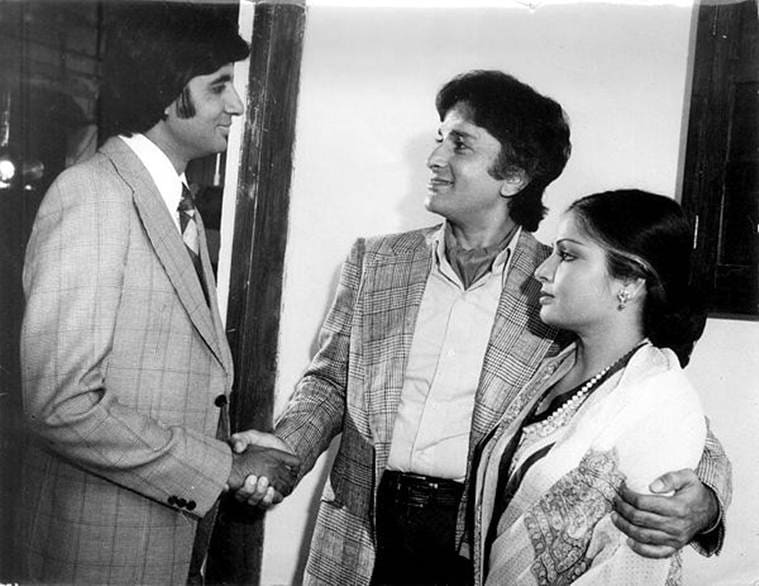 "Standing elegantly without a care in the world, I saw him standing by a Mercedes Sports car, a convertible, a smart trimmed beard and moustache, adorning involuntarily, the face of this incredibly handsome man. It was a picture that filled almost an entire page of a magazine. Shashi Kapoor … son of Prithviraj Kapoor, younger brother to Raj Kapoor and Shammi Kapoor, making a debut in a forthcoming film, is what the caption read .. And I said to myself, as very uncertain thoughts raced through my mind of wanting to become a film actor, that, with men like him around, I stood no chance at all…," the post begins.
Also read | Shashi Kapoor: Handsome star, modern lover, he sought to be different
He, then, goes on to describe his meeting with Kapoor and the biggest takeaway from that meet – always introduce yourself. Amitabh Bachchan says while people find this quality impressive in him but he can't take credit for it as he imbibed it from the veteran star.
Also read | Veteran actor Shashi Kapoor dies at 79
"1969, and those early years of efforts to join the Industry were also the times when there was a close proximity, to the area of an atmosphere, that swivelled around this most attractive man. On and off, common friends in the Industry, which I was just getting acquainted with, would introduce me to him at select social gatherings. 'Shashi Kapoor!' was what one heard as he extended a warm soft hand out to you in introduction; that devastating smile complimenting the twinkle in his eyes. He needn't have done so. Every one knew him. But this was his infectious humble self. When he spoke, there was a mischievous, gentle, almost inaudible, delicate, yodel, in his voice – most endearing and comforting to the one he was introduced to. The self introduction habit was a gem. The one being introduced to, was, quite obviously, prompted to say his or her name as well, when they heard his. It was a remarkable tool to come to know the other persons name .. and .. if and when there was to be another meeting after many forgettable years, the same technology was most helpful in remembering the other persons name, in case you had forgotten it..!!" Big B writes.
T 2731 – To Shashji from your 'babbua' .. !! https://t.co/MFYeeR1Sbb pic.twitter.com/rfzDdDtiBk

— Amitabh Bachchan (@SrBachchan) December 4, 2017
In an endearing portion from the post, the actor shares that he went for a haircut – that involved the hair covering his ears – only after taking inspiration from Shashi Kapoor, whose hairstyle was emulated by men around the country.
Also read | A Bollywood icon, champion of alternative cinema and theatre doyen, Shashi Kapoor was more than just "Mere paas maa hai"
"The next .. was his semi curly hair on head, falling carelessly over his forehead and ears, not quite covering it .. and my upper story mumbled again : 'hey ! maybe you should think of covering your ears as well ..' and off I went to Hakim the hair dresser at Taj Hotel with my plan .. and executed, it remained till date."
Soon, the two actors became co-stars, then friends and their equation later resulted in a family relation, as Amitabh Bachchan's daughter Shweta got married to businessman Nikhil Nanda, who is the maternal grandson of late Raj Kapoor, brother of Shashi Kapoor. Sharing about the growth of their bond, Bachchan writes, "What followed .. is a documentation of very intimate association, personal exigencies .. collective professional camaraderie .. ending in family bindings…"
The most emotional bit comes towards the end where Amitabh Bachchan talks about Kapoor's failing health after the demise of his wife Jennifer in 1984.
"He had been ailing… Somewhere he had let himself go after the passing away of his dear wife Jennifer .. I had visited him on occasion in Hospital during some of the times he had been hospitalised earlier .. but I never went to see him again .. I would never have .. I never ever wanted to see this beautiful friend and 'samdhi' in the state I saw him in hospital… and I did not today, when they informed me that he had gone," Bachchan writes.
Closing the tribute, the actor shares with the fans that Shashi Kapoor used to fondly address him as 'Babbua'. "He fondly addressed me as 'babbua' .. and with him have gone many incredible unread chapters of his and my life…," the post concludes.
Shashi Kapoor died aged 79 after suffering from kidney problems. His funeral will be held today afternoon.
For all the latest Entertainment News, download Indian Express App