Amitabh Bachchan has written a letter to his two granddaughters — Abhishek and Aishwarya Rai Bachchan's daughter Aaradhya and Nikhil and Shweta Nanda's daughter Navya Naveli. Indeed, as he says it himself, it is a letter to all granddaughters. From gender issues to marrying for love, from making your own identity to listening to your heart, the letter penned by Big B talks about it all and more.
On Monday (September 5), the Pink actor shared the letter he had penned for Navya and Aaradhya on the internet. With gender issues getting so much play in India and yet crimes against women being at all-time high, the letter assumes significance.
Not happy with just writing it, he also read it aloud to them on a video, which he shared on Twitter. Talking to Aaradhya and Navya Naveli, he said, "Namaste Aaradhya, I don't know when you will see this but this is how I looked in year 2016." He then spoke to Navya Naveli, "Hi Navya Naveli, namaste, I have written a letter to both of you and I am going to read it and I am going to put it on internet because I feel that it is a letter meant not just for you but every granddaughter."
He makes it clear that it is not just the faceless that women are at risk from, but also people they know, even friends and family at times. Big B talks about all the issues in the letter. He tells them both to "make your own choices in the light of your own wisdom" and "never worry about log kya kahenge".
What makes the letter pertinent for every young girl out there is its wisdom. Amitabh accepts that "privilege your name, your surname offers" will not protect Navya and Aaradhya "from the difficulties you will face because you 're a woman".
Watch: Amitabh Bachchan reads out letter to Aaradhya, Navya Naveli and all granddaughters.
T 2370 – I write a letter to my grand daughters, Navya Naveli & Aaradhya .. indeed to all grand daughters .. !!https://t.co/XVzEGESLSE

— Amitabh Bachchan (@SrBachchan) September 5, 2016
While it is a difficult world to be a woman, he says, the reality can be changed by girls like his granddaughters. He says if that can happen, it would be an honour to be known as Aaradhya and Navya's grandfather.
Big B tells his granddaughters not to be bogged down, not let others dictate their lives for them. He wants them to marry the ones they choose or let others make their decisions for them. Because, in the end, their decisions will decide what they face in life.
Amitabh tweeted:
T 2369 – I write … a letter .. because I wanted to .. !! pic.twitter.com/l2xUPf1TBa

— Amitabh Bachchan (@SrBachchan) September 4, 2016
Read Amitabh Bachchan's letter to his granddaughters Aaradhya and Navya Naveli in his own handwriting…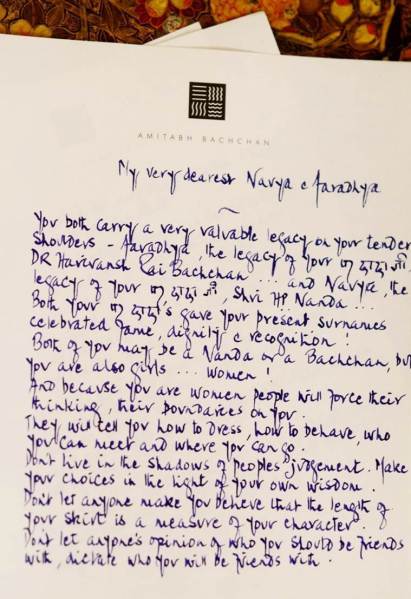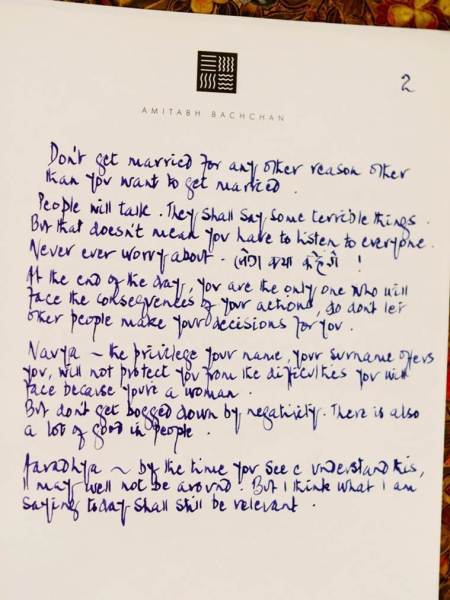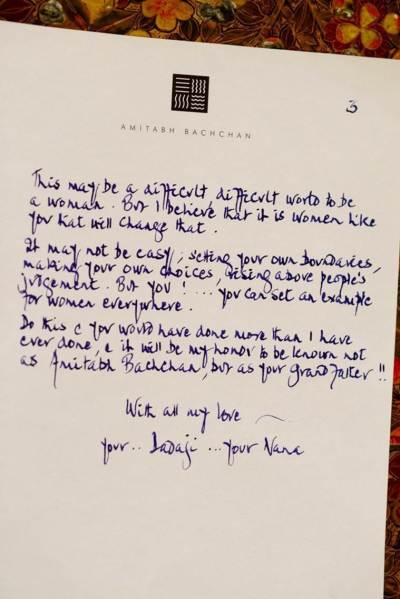 Read the complete letter from Big B to Aaradhya and Navya here…
My very dearest Navya & Aaradhya
You both carry a very valuable legacy on your tender shoulders – Aaradhya, the legacy of your pardadaji , Dr Harivansh Rai Bachchan…and Navya, the legacy of your pardadaji , Shri H P Nanda….
Both your pardadaji ' s gave your present surnames celebrated fame, dignity and recognition !
Both of you may be a Nanda or a Bachchan, but you are also girls…women !
And because you are women people will force their thinking, their boundaries on you.
They will tell you how to dress, how to behave, who you can meet and where you can go.
Don't live in the shadows of people's judgement. Make your own choices in the light of your own wisdom.
Don't let anyone make you believe that the length of your skirt is a measure of your character.
Don't let anyone's opinion of who you should be friends with, dictate who you will be friends with.
Don't get married for any other reason other than you want to get married.
People will talk. They shall say some terrible things. But that doesn't mean you have to listen to everyone. Never ever worry about – log kya kahenge.
At the end of the day, you are the only one who will face the consequences of your actions, so don't let other people make your decisions for you.
Navya – the privilege your name, your surname offers you, will not protect you from the difficulties you will face because you're a woman.
Aaradhya – by the time you see and understand this, I may well not be around. But I think what I am saying today shall still be relevant.
This may be a difficult, difficult world to be a woman. But I believe that it is women like you that will change that.
It may not be easy, setting your own boundaries, making your own choices, rising above people 's
judgement. But YOU !…you can set an example for women everywhere.
Do this and you would have done more than I have ever done, and it will be my honor to be known not as Amitabh Bachchan, but as your grandfather !!
With all my love
Your ….Dadaji ….your Nana.
Amitabh Bachchan-starrer Pink, a courtroom drama-thriler film, also features Taapsee Pannu, Kirti Kulhari, Andrea Tariang, Piyush Mishra, Angad Bedi, Dhritiman Chatterjee in pivotal roles, is scheduled for release on September 16, and has Amitabh in the role of a lawyer.
Praise for Amitabh Bachchan and his letter started pouring in immediately. The actor shared this on Twitter.
T 2370 – #ABletter .. my letter to my grand daughters .. so humbled to receive all your responses .. !! Thank you !! pic.twitter.com/bd3NdI7vrD

— Amitabh Bachchan (@SrBachchan) September 5, 2016
Now, this is a letter which should be mandatory reading for every woman everywhere.
📣 The Indian Express is now on Telegram. Click here to join our channel (@indianexpress) and stay updated with the latest headlines
For all the latest Entertainment News, download Indian Express App.