Alia Bhatt's much-appreciated performance in the dark drama Udta Punjab alongside Shahid Kapoor won her the Best Actor Female (Popular Choice) at the 62nd JIO Filmfare Awards. This being her second win after her Best Actress Critics Choice Award for Highway, Daddy Mahesh Bhatt was almost giddy with joy at his daughter's success.
Late Sunday, he shared her picture with the Filmfare black lady from the awards' night with the caption, "Once you become fearless, life becomes limitless."
According to Alia, Mahesh Bhatt does not attend award shows unless he is presenting an award to one of his close friends. But with hopes of his little girl Alia winning the trophy, he made arrangements that he doesn't miss the moment. Alia in an interview to TOI said, "He had asked my manager, Grishma, to put her cellphone on speaker if I won. He texted me later, saying he'd loved my speech. When I wondered how he had heard it, I learnt this. Dad later posted on our WhatsApp family group that he was excitedly doing cartwheels all night,".
Mahesh Bhatt share these pictures of daughter Alia Bhatt:
@aliaa08 Once u become fearless life becomes limitless. Congratulations to u my little big girl!! pic.twitter.com/Ypn63hPyXp

— Mahesh Bhatt (@MaheshNBhatt) January 15, 2017
The morning after ! pic.twitter.com/xf332xUUJE

— Mahesh Bhatt (@MaheshNBhatt) January 15, 2017
Mahesh Bhatt also shared a sneak peek of "The morning after!" with his darling daughter Alia Bhatt sleeping alongside the Filmfare trophy on her pillow and it looks total adorbs.
Also read | Alia Bhatt's powerful performance in Udta Punjab gets her Best Actor Female award
Alia also delivered a sizzling performance at the Filmfare this time by paying a tribute to her favourite Bollywood ladies — Sridevi, Madhuri Dixit, Aishwarya Rai Bachchan, Karisma Kapoor and Kareena Kapoor — and danced to their memorable numbers. Alia reveals that she was so busy practicing the dance routines and handling the last minute alterations that she had apparently forgotten that she was also nominated for the coveted award. Recalling her special moment, Alia added that she felt surreal at receiving the award from one of her inspirations, Sridevi.
More from the world of Entertainment:
See a few pics of Alia Bhatt as she arrived at the red carpet: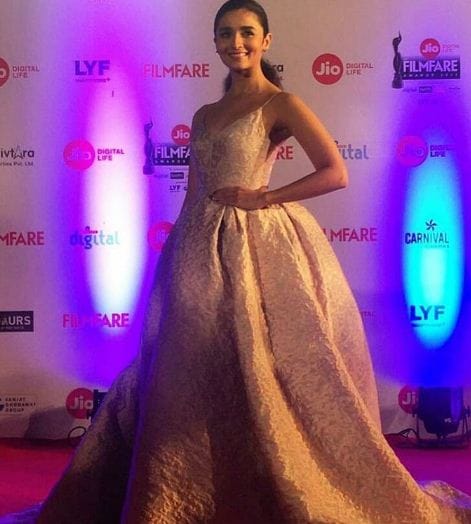 Alia, acting the mature grown-up, congratulated Sonam on her win for Neerja, calling her speech very moving and even lauded her performance in the biopic. Udta Punjab bagged four wins at the Filmfare 2017, including Alia Bhatt's award. Shahid Kapoor won Critics Choice Award for Best Actor (Male), Diljit Dosanjh won the Best Male Debut Award and the Best Costume Award.
Well, here's congratulating Alia on her amazing win and a load full of good luck for her future endeavours!