Amitabh Bachchan and Rishi Kapoor starrer 102 Not Out has hit the screens. Audiences can't wait to see Amitabh and Rishi don the unusual roles of the elderly father-son duo. Based on a play written by Saumya Joshi and helmed by Oh My God director Umesh Shukla, 102 Not Out also stars actors Mukesh Hariawala and Jimit Trivedi.
Also Read | 102 Not Out director Umesh Shukla: Amitabh Bachchan and Rishi Kapoor were like students on sets
Talking to indianexpress.com about 102 Not Out, director Umesh Shukla said, "Just like the subject of Oh My God! was very universal, I felt that the story of 102 Not Out was also very universal. It is almost like a love story between a father and his son. I found the idea that a 102-year-old father would be willing to send his son to an old age home because he is too boring, very unique. The character of 102 is so vital in the sense that he still wants to live life to the fullest. You know, the idea that age is just a number."
Live Blog
Read this blog to know about 102 Not Out, starring Amitabh Bachchan, Rishi Kapoor, Mukesh Hariawala and Jimit Trivedi.
102 Not Out movie review
Shalini Langer in her movie review of 102 Not Out writes, "No doubt it's great to see a film about two old people with unseemly paunches, bad hair, heavily wrinkled faces, dressed in slept-in clothes and not doing much, as all old people, if lucky, should get to do. But we have seen both Bachchan and Kapoor in that avatar in better films (Piku especially, and in Kapoor & Sons) before this. Here, they are used first to underline the point about living life to the fullest, and then to double-underline how mean sons who migrate to the Big, Bad West can be. But there are no middle grounds, no grey areas, no medical scares, no money issues, and even very little tension as the 102-year-old Dattatraya (Bachchan) threatens to send his 75-year-old, pessimistic son Babulal to an old-age home."
Read More | 102 Not Out movie review: The Amitabh Bachchan starrer is happy making old age seem all sunshine
Amitabh Bachchan on where he draws such deep understanding of human emotions
During the live interaction, on being asked from where he draws such deep understanding of human emotions, the legendary actor Amitabh Bachchan credited it to his late father Harivanshrai Bachchan. "I would like to give the credit for this to my father. People say that you have stars in your family (my wife, son, daughter-in-law) but I feel my father was my biggest star. The things I learnt from him, I still believe in them and will continue to do so."
Amitabh Bachchan on his relationship with his children
After the screening of 102 Not Out, in a live interaction with fans, Amitabh Bachchan revealed that unlike the film he has never raised his voice on Abhishek and Shweta Bachchan. He said that both of his children have immense love and respect for him and their mother Jaya Bachchan.
Sanju director Rajkumar Hirani at 102 Not Out screening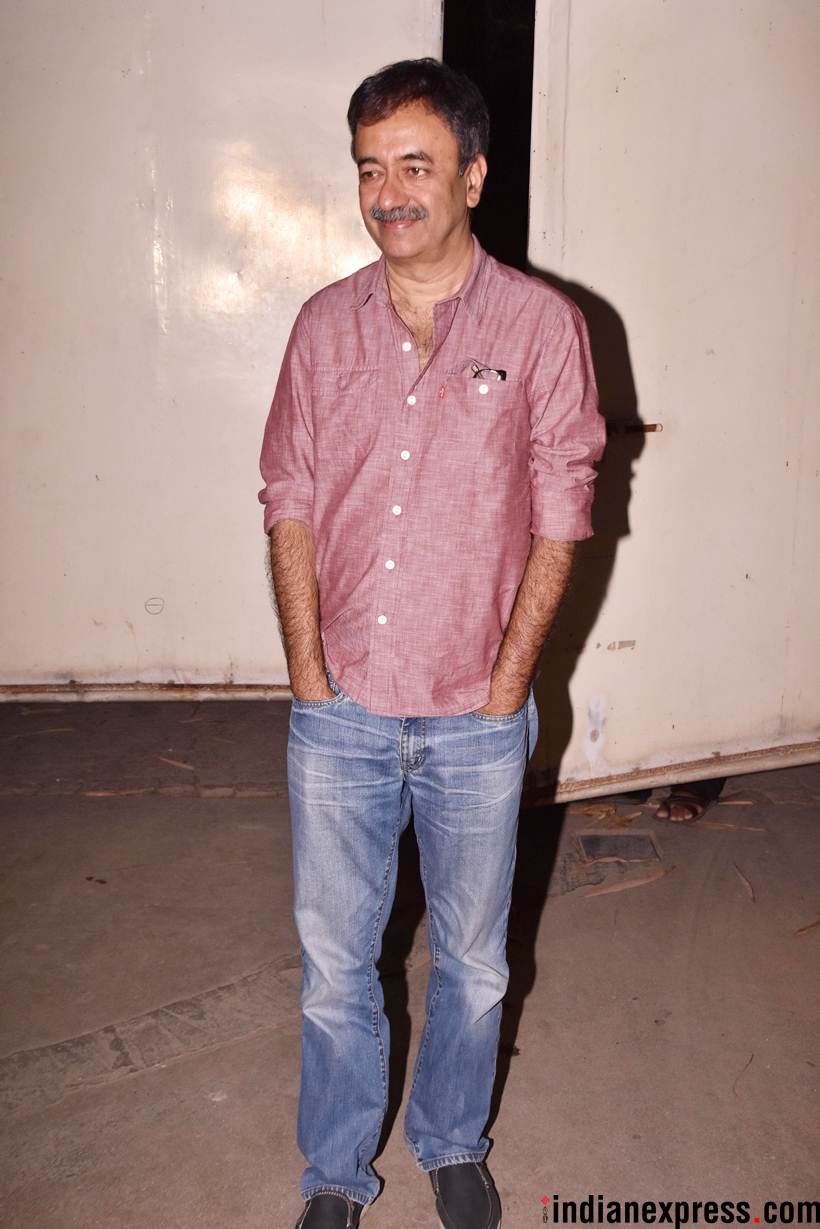 (Photo credit: Varinder Chawla)
Director Umesh Shukla on Amitabh Bachchan and Rishi Kapoor's characters in 102 Not Out
Umesh Shukla told IANS, "For the first time, Amitabh and Chintuji (Rishi) are essaying Gujarati characters. We have seen them as friends and brothers, but not like father and son. People will love them. After watching the film, people would like to take them home (in their mind) and not leave them behind in the theatre."
Director Umesh Shukla on 102 Not Out
Director Umesh Shukla told PTI, "I want to tell the audience – live life to the fullest and deal with problems as and when they come. At the age of 80, you can live like a 20-year-old and vice versa. At any age you can be a happy person."
Amitabh Bachchan on his relationship with son Abhishek Bachchan
Sanju actor Ranbir Kapoor at the screening of 102 Not Out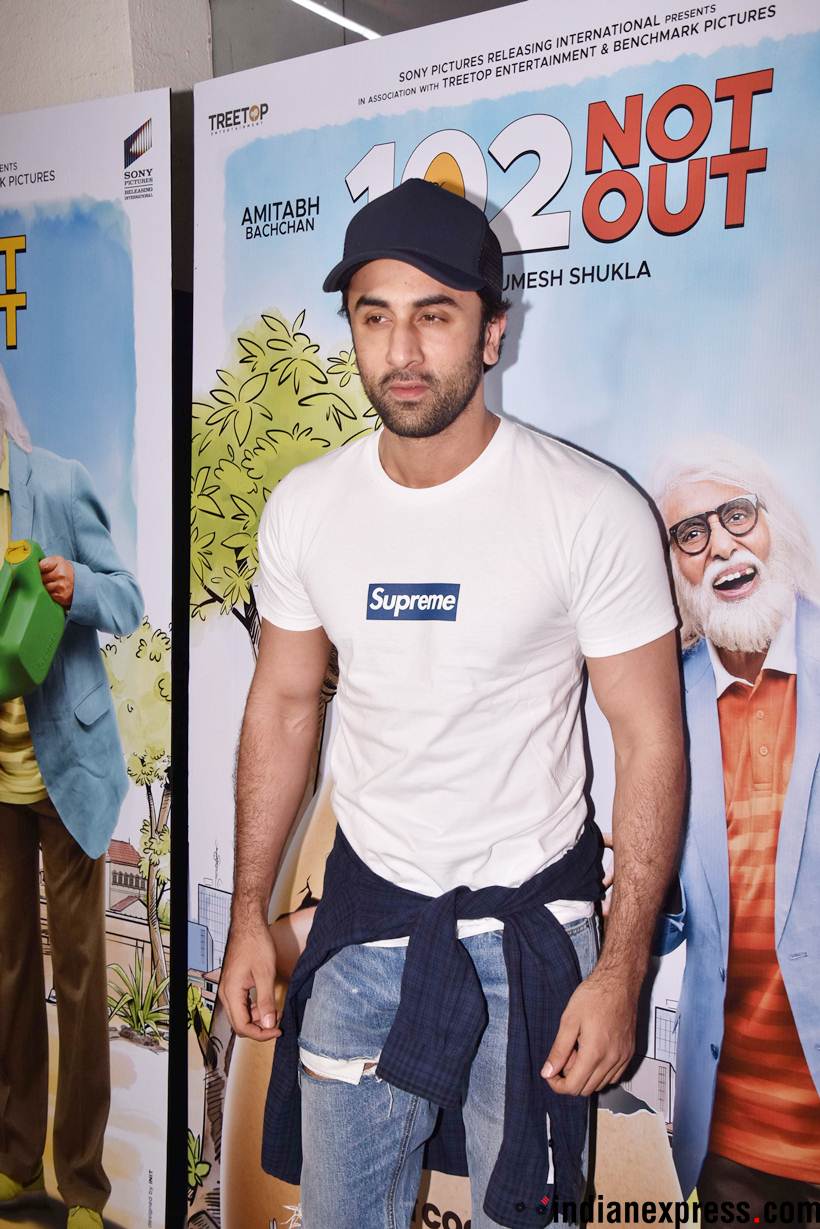 (Image credit: Varinder Chawla)
Abhishek Bachchan & Aishwarya Rai Bachchan at the screening of 102 Not Out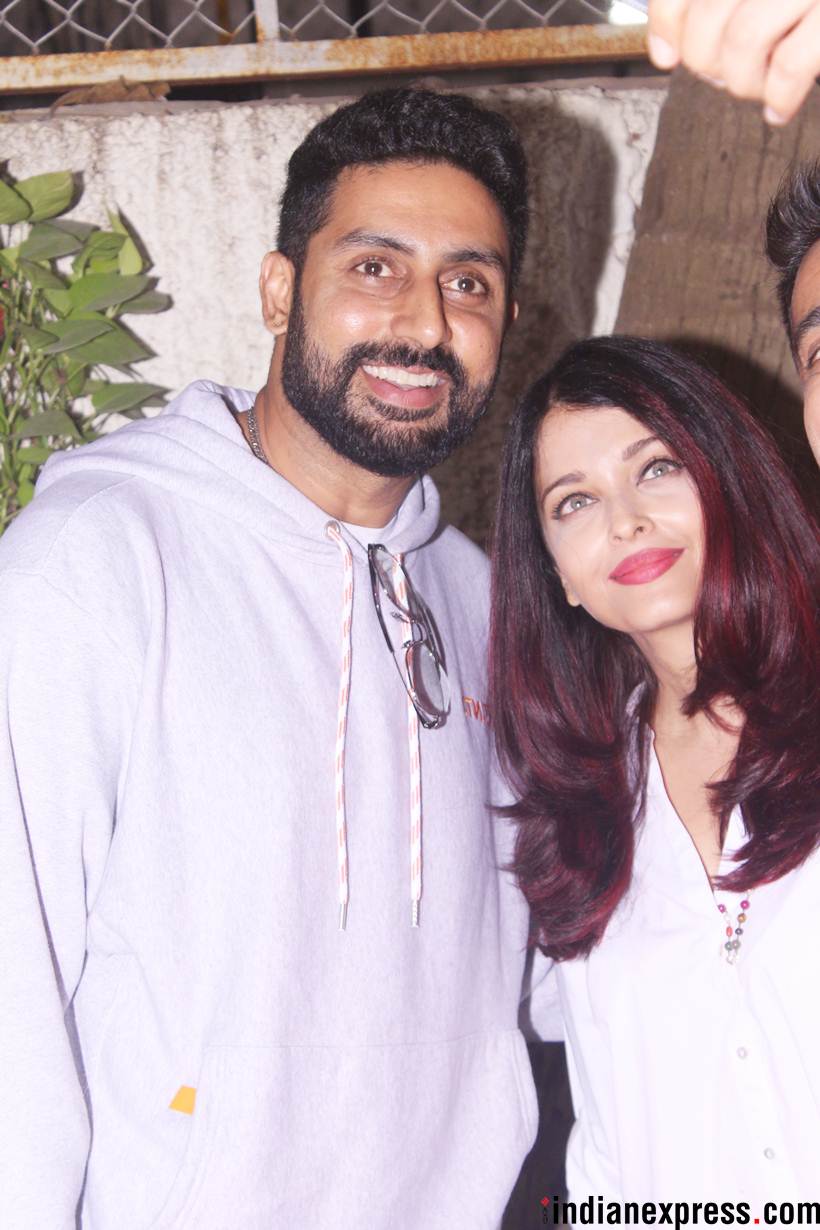 (Photo credit: Varinder Chawla)
Amitabh Bachchan on 102 Not Out
Badumbaaa will now be a part of 102 Not Out
Director Umesh Shukla told IANS, "We are overwhelmed with the response that 'Badumbaaa' has received. We got a lot of requests from fans all over saying that they want the song to be a part of the film. Hence, now we will add the song to the end credits of the film."
Amitabh Bachchan sings Badumbaaa for 102 Not Out
Listen to 102 Not Out's "Bachche Ki Jaan" voiced by Arijit Singh
Shilpa Shinde wishes Amitabh Bachchan all the luck for 102 Not Out
@SrBachchan Sir, it felt awesome to meet you in person on JioDDD sets, though we couldn't shoot. Not sure if my dream to work with you would ever come true. You hve set examples for centuries to come with your work. Wishing you all the best for your most awaited film #102NotOut

— Shilpa Shinde (@ShilpaShindeG) May 4, 2018
Director duo Abbas Mustan on 102 Not Out
Amitabh Bachchan gives his voice to the classic "Waqt Ne Kia" for 102 Not Out
Hichki director Siddharth Malhotra on 102 Not Out
#102NotOut teaches u how to make each moment count..will leave u with a smile on ur face & a tear in the eye ! @SrBachchan and @chintskap are brilliance in every frame they truly show & teach this &every gen what and how a performance shd be delivered 👏 as amit uncle says Yo 👌

— siddharth malhotra (@sidpmalhotra) April 26, 2018
102 Not Out early rections
Indianexpress.com's Arushi Jain shares, "102 Not Out is a pleasant 102 minutes watch. The two actors Amitabh Bachchan (Dattatraya Vakharia) and Rishi Kapoor (Babulal Vakharia) very efficiently raise varied emotions as the narrative of the film unfolds. Jimit Trivedi who plays the role of a domestic help to Amitabh and Rishi maintains his own in the film led by two superstars. The actors and the director of the movie have refrained from the caricaturish interpretation of the Gujarati accent. The plot is crisp and the director succeeds in bringing forth the plight of parents who send their offsprings abroad but are left alone back home."
Vindu Dara Singh on 102 Not Out
Tomorrow, release of the movie #102NotOut of @SrBachchan - the Living Legend Of India Cinema!
A movie for families! 👌
I wish all of US will live happy & full of LIFE like the Big B Character in the Movie! 👍

— Vindu Dara Singh (@RealVinduSingh) May 3, 2018
Director Umesh Shukla on working with Amitabh Bachchan
102 Not Out box office prediction
Film trade analyst Girish Johar told indianexpress.com, "With industry stalwarts like Rishi Kapoor and Amitabh Bachchan starring in the movie, 102 Not Out has generated quite the buzz around its release. But the fact remains that the film will have a fairly limited release as it only caters to the tier-one cities and the so-called multiplex audiences." 102 Not Out is expected to collect Rs 2 to Rs 2.5 crore at the box office.
Still on the fence about watching 102 Not Out? Take a look at the trailer of Amitabh-Rishi starrer
Emraan Hashmi on 102 Not Out
Hearing such awesome things about #102NotOut. We need more gems like these in hindi cinema.
Ps. And as Always...such an inspiration to see @SrBachchan @chintskap create that magic!!

— emraan hashmi (@emraanhashmi) May 4, 2018
Rishi on working with Amitabh in 102 Not Out
"Our journey began 42 years ago with 'Kabhi Kabhie'. Thereafter, we have played brothers, friends and now, father and son. When I heard the story idea, it was very exciting to see how a father sends his son to an old-age home. Later, when I heard the whole script, I was bowled over. To have Amitji as a co-star is always a dream. I don't even need to say it; he is such a wonderful co-artiste, friend and relative. We worked together after 27 years, but the moment we rehearsed, we knew that we were on the same wavelength. Of course, we are older and our reflexes might have jaded, but I learnt another lesson from Amitji while working on this film. Generally, when I am working, I tend to learn from my seniors and juniors. Every time, I take a lesson home from some actor or the other, and this time, it was him. It is amazing to see how he enters into a character, and how he romances and flirts with it. That is how he fine-tunes it and brings out the nuances. After the first few shots, it is bingo," Rishi Kapoor told Times of India.
Amitabh on working with Rishi in 102 Not Out
Planning to watch 102 Not Out? Here are five reasons to watch the Amitabh-Rishi starrer
102 Not Out early celeb reviews
Rajkumar Hirani
It's a very sweet charming film. We've grown watching them together in many films earlier. It was absolutely wonderful to see them together again and they both were fabulous.
Hema Malini
102 Not Out is a very different film. Very interesting and two great actors here are performing at their best.
Kartik Aaryan
I love the film. The kind of relationship and the bond between Amitabh sir and Rishiji in the film is amazing. It's a very well written film. After so long, you have a family film jis mein aapko kaafi relationship ke baare mein, ek father-son waali relationship ke baare mein usko relish karne ka ek film mein entertaining aur thoda sa emotional way mein dikhaya jaa raha hai. I am in love with the film. Umesh Shukla sir ka bahut bada fan hu. It's an amazing film.
Taapsee Pannu
I have just been so lucky and blessed to work with both of them first of all. So this film was definitely in my must watch list. Of course, it will leave you in tears and joy when you leave the theatres. I am just so so proud of myself that I got to work with them and so lucky that I got to see the both of them on screen like I couldn't see Amar Akbar Anthony but at least I could see this film in theatre and I'm just happy about that. I think that you should not miss this opportunity, just do a favor and watch it on the 4th of May.