Voting-related violence claimed its first life in West Bengal Thursday with a CPM supporter killed in Murshidabad's Domkal, one of 62 seats that went to polls in the third phase. On the most violent day of voting yet, 10 persons were injured in various places.
The turnout was high at 79 per cent but followed a trend that has marked polling in Bengal so far — in every batch of seats that has gone to polls, the turnout has fallen successively from the 2011 assembly elections through the 2014 Lok Sabha polls to 2016. CPM polling agent Tahidul Mondal, 38, died after crude bombs were hurled, allegedly by Trinamool Congress workers, outside booth 173 of Sirpara in Domkal.
READ | West Bengal elections, Phase three Live updates
The constituency, which has elected a CPM MLA for 39 years, has a long history of political violence between the CPM and the Congress, which have not tied up here as in other seats. In Thursday's killing, however, it was Trinamool Congress activists who were allegedly involved. Eyewitnesses said the bombing grew out of a quarrel between TMC and CPM activists. "Tahidul was struck by splinters of a bomb. He ran but TMC supporters chased, caught and hacked him to death with a dagger. Everything happened in front of police and RAF officials," said a voter.
"Mondal was our worker and polling agent," said Domkal MLA Anisur Rahman of the CPM. "The Trinamool Congress knew defeat is inevitable and unleashed terror. We had anticipated this and kept the Election Commission informed but all talk by the EC about the preparedness was of no use." Anuj Sharma, IG (law and order), said a case under various sections has been lodged against 20 persons. "According to the complaint, the deceased is a CPM supporter and the accused are workers of the Trinamool Congress. There have been no arrests yet and the matter is being investigated," he said. CPM MP Md Salim held Chief Minister Mamata Banerjee responsible for this death as well as one Wednesday.
"Mamata is responsible for the killing of Noor Islam Mistry at Haroa in North 24-Parganas Wednesday and of Tohidul Mondal in Domkal Thursday," Salim said. "She had said that she would take revenge 'inch by inch' and that is what she is doing. Sensing that she doesn't have popular support any longer, she had cut her goons loose on CPM supporters." Trinamool Congress leaders, however, maintained they were not involved in the Domkal incident. "The death was the result of a clash between CPM and Congress workers who didn't like the alliance between the two parties. The Trinamool Congress has nothing to do with it," said Saumik Hossain, the Trinamool candidate from Domkal.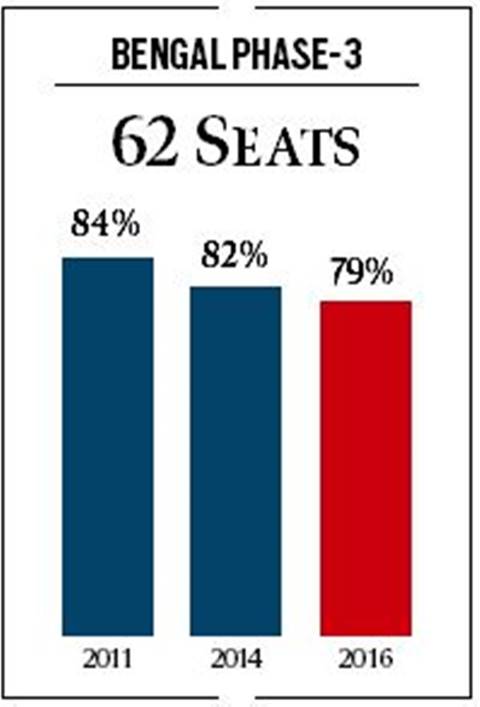 Elsewhere in Bengal, one seat that saw strong violence was Burdwan's Ketugram, where a CPM worker's ear was slashed and another party supporter broke a leg in a scuffle in front of a booth. Two other CPM workers were injured at another booth when bombs were hurled at them. District election officer Soumitra Mohan said four persons have been arrested. In Kolkata, TMC leader Anwar Khan was arrested following instructions from chief electoral officer Sunil Gupta after the former was shown on TV abusing the EC while talking to a party worker over phone.
Also in Kolkata, TMC supporters made comments that offended BJP MP Babul Supriyo at his polling booth, after which he chased and caught one of them. And in Bhangar, the returning officer filed an FIR against Rezzak Mollah, TMC candidate there, for allegedly abusing BJP leader Roopa Ganguly. "He has been booked under section 509 of IPC (word, gesture or act intended to insult the modesty of a woman)," said Sharma, the IG.
WATCH INDIAN EXPRESS VIDEOS HERE