Over the weekend, even as Nitish Kumar was proposing a grand national alliance against the BJP in Patna, here in poll-bound Kerala two candidates who would love the idea were battling a different reality. Not that the state is in any splendid political isolation. Far from it, as Kanhaiya Kumar's comrade Mohammad Mohsin realised when he came to file his papers as the Left Front candidate in Pattambi. Within days of his campaign, a local called him to his face desh drohi. "Far away from the heated Delhi debate, where the verbal abuse was bad enough but understandable. Here in my own hometown where I grew up, went to school…"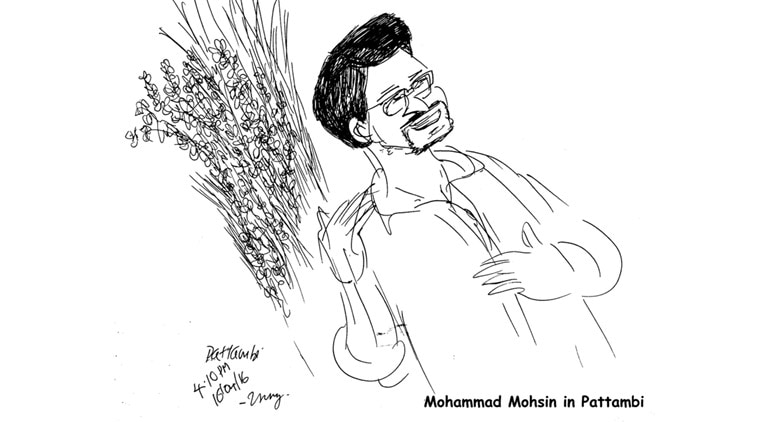 He stops to meet his schoolteacher on his way to street corner meetings and connects to voters with no qualms of an electoral newcomer. This upbeat PhD scholar is however a bit taken aback by the personally offensive campaign that is being unleashed against him on social media and elsewhere — his (secret) marriage photograph and another Photoshopped image with a tilak on his forehead. "A Hindu marker for a Muslim and a known AISF activist?" Anything to confuse the voter, he says, the undertone is communal or moralistic, not political. He doesn't finger-point but makes it abundantly clear that the BJP is keener to make the place JNU-mukt rather than Congress-mukt.
No, the BJP isn't his main rival. No one expects the saffron party to win here but a Mohsin aide whispers that it can shift votes strategically to the Congress candidate C P Mohammed, a practising Muslim with a penchant for breaking into Sanskrit verse at cultural gatherings. A considerable presence in his own right, the sitting MLA has won the last three elections from here and has assiduously nursed the constituency. He can match the young Mohsin, plank for developmental plank, and is taking no chances with ideology either. You see this Congress veteran in sizeable colour posters looking up from a book by the late Marxian icon M N Vijayan.
Voters in nearby Kunnamkulam have to similarly choose between two secular rivals. To be precise, two leftists. A C Moideen of the CPI(M) and C P John, the prodigal comrade who deserted the party decades ago. "Over the very same political cause Nitish Babu is espousing now," reminds John, the candidate of the Congress-led front. "I left the party along with my leader M V Raghavan in 1986 over the Muslim issue. We wanted the party to engage and mainstream Muslims. That would have been the best bet against communal polarisation." Having lost the last election here for a mere 481 votes, John doesn't underestimate the BJP's spoiler potential, nor does he overestimate it.
His good old parent party and now his rival, CPI(M), he feels is desperately wooing Hindu votes little realising that voters are changing. Not necessarily just one way. "Attitudes aren't invariably hardening." He finds on the ground a new bonding: "HMC (Hindu, Muslim, Christian) groups are increasingly running local community events, particularly religious festivals. In fact, such shared interests have for long backed big-ticket festivals like Thrissur Pooram. What is new is that the model is spreading to neighbourhood mosques, temples and churches. Right down here in my own constituency."
Driven by trade?
Pat comes the Marxian retort, "Economic interests drive social change."
And eventually political. Can Nitish babu wait till then?
WATCH NEWS PLAYLIST