What the 14-year-old always feared has come true. One of an astounding 887 failures this year in Class IX at Government Girls Senior Secondary School in Delhi's Karawal Nagar — among the Capital's most crowded government schools — she may not return to school. "My parents won't send me to any other school, so I am at home now," the girl says, refusing to be identified.
When the results came, she and her friends went on a rampage at the school. "Protest kiya, Education Department ko letter likhe, par mera result change nahin hua (We protested, wrote letters to the Education Department, but my result didn't change)," she says.
The Capital has been witness to at least two similar protests this year by students who have failed in Class IX and XI. But, for the state Department of Education, the shocking pass percentage was not a surprise. "Because of the no-detention policy, students manage to make it past Class VIII, but standards IX and XI have tougher subjects. Some of them have submitted blank answer sheets. How can teachers give marks?" a senior officer asks.
[related-post]
However, as the 14-year-old says, failure for her doesn't just mean repeating a year. Most families with daughters like hers see it as a reason to discontinue studies.
Stemming such dropouts was the main reason the Right to Education Act included the no-detention provision, considered the law's backbone. Amid reports of failures in Class IX and falling learning levels, it has now become the RTE's most-contested provision.
As many as 18 state governments want this policy repealed. In its report on a new education policy submitted to HRD Minister Smriti Irani on Friday, a five-member committee headed by former Cabinet secretary T S R Subramanian suggested that the government bring back the pass-fail system from Class VI.
The no-fail provision, Section 16 of the Act, prohibits schools from detaining or expelling any student up to Class VIII. Compelling a child to repeat a class, it was felt, was demotivating, often forcing him or her to abandon school learning altogether. Similarly, the notion of "expulsion", the architects of the legislation felt, was not compatible with the concept of "right".
The public and political sentiment at that time, Professor Krishna Kumar recalls, was enthusiastic. "This (no-detention) was one of the points on which there wasn't much disagreement. The idea was to have a minimum educated citizenry," says the former NCERT chief who was on the team of academicians entrusted by the UPA government to draft the law.
"No child is a failure at everything. This is based on sound principles of pedagogy, recognised world-wide. You and I could be good in English, but bad at mathematics. The rationale was to allow each student to excel at his or her forte in those eight years of elementary education," he adds.
Moreover, the concept of no-detention wasn't alien to schools at the time. As many as 28 states were already following it in some form or the other. For instance, West Bengal, Tripura and Punjab were not detaining students up to Class IV when the Act kicked in, and Rajasthan, Tamil Nadu, Uttarakhand and Jharkhand up to Class V. Andhra Pradesh had introduced no-detention up to Class VI as early as 1975 and extended it to Class IX well before the RTE.

But by 2012, voices against no-detention had started rising. At the 59th meeting of the Central Advisory Board for Education (CABE) held in 2012, under the chairmanship of then HRD minister Kapil Sibal, states collectively registered their dissent saying schools were reporting huge failure rates in Class IX. The ministry set up a sub-committee headed by then Haryana education minister Geeta Bhukkal to look into their concerns. The panel submitted a report in 2014 and had recommended a phase-wise roll out of the no-detention policy; its findings though were put on the back burner after the change of government.
The HRD ministry instead sought feedback on the no-detention policy last year and of the 22 state governments which wrote back, 18 — including Delhi, Bihar, Himachal Pradesh, Rajasthan, Uttar Pradesh and Haryana — sought a review. Only Maharashtra, Andhra Pradesh, Telangana and Karnataka were in favour of it. Rajasthan and Delhi have also passed Bills to reverse the no-detention policy. These are waiting for the governor's assent.
"The state is suffering ever since it (the no-fail policy) was implemented. Earlier we never faced complaints about Class VI and VII students being unable to read and write simple sentences," says Gujarat Education Minister Bhupendrasinh Chudasama, pointing to the state's poor show in Class X state board exams. Pass percentage this year stood at an embarrassing 55 per cent.
Gujarat backs its claims with the findings of its Gunotsav survey, which revealed that nearly six lakh students in Class VI, across all its government primary schools, failed to write words and simple sentences in their mother tongue, Gujarati.
Says Delhi Education Minister and Deputy Chief Minister Manish Sisodia, "In 2015-16, 36.68 per cent of Class VI students were promoted under the no-detention policy even though they didn't score the minimum 33 per cent pass marks. They shouldn't have been in Class VII. No-detention is a noble way of teaching, but it's not a very practical one". His advisor and AAP leader Atishi Marlena feels no-detention has dented accountability. "You now have a system where students don't come to school regularly and where parents are given the impression that their child is learning because he has gone to the next class. And then, they get the shock of their lives when their child fails Class IX. By doing away with detention, you have also removed the system by which you judged the accountability of teachers. If you have to detain a child in Class IX, why this criticism of detaining him earlier?"
The Geeta Bhukkal panel of 2012 acknowledged some of the above concerns. It observed that the no-detention policy had exacerbated the challenge of motivating students and teachers as well as affected the "the drive to excel or perform".
In words that get repeated again by again by experts, the panel said the policy was "implementable in an ideal system" but not immediately in the current circumstances.
But the answer isn't as simple, say other teachers and principals. Instead of one or two exams, what the no-detention policy entailed was regular assessment of the child, so as to identify those who needed help and to motivate them. Many schools misinterpreted the policy to mean "No assessments" or "No relevance of assessment". HRD Ministry officials who spoke to The Sunday Express on condition of anonymity clarified that Section 30 (1) of the RTE Act, 2009, states that "No child shall be required to pass any Board examination till completion of elementary education". In other words, the law prohibits only examination by a State/ UT level Board, not evaluation by the school.
In fact, Section 29 (2) (h) of the Act makes comprehensive and continuous evaluation (CCE) mandatory, wherein schools are expected to use test results to improve teaching and learning of the child. Unlike traditional board examinations, the CCE visualises evaluation as a diagnostic tool to improve learning. "It is critical to measure learning outcomes to improve the quality of education. You can't improve what you don't measure," says an official.
The Centre reiterated this to all state governments in a circular sent last month.
Abhijit Banerjee, Ford Foundation International Professor of Economics at the Massachusetts Institute of Technology and one of the directors of the Abdul Latif Jameel Poverty Action Lab (J-PAL), says, "Detention can be good for the child but in a different pedagogic system, where you identify and help him. There have to be tests, assessments at different levels. The US, for instance, has them. The point of these tests is not to shame the child, but to identify schools that do well. It's a way to monitor the system. There's no reason for testing to be punitive".
The CCE system poses another challenge in a government school environment, where crowded classrooms and stretched teachers don't always make it possible. Mani Sharma, vice-principal of a government school in Rohini, Delhi, says that for no-detention to work, schools such as hers need certain "minimum requirements". "The pupil-teacher ratio and classroom sizes are huge factors. The ideal classroom strength is 35 or 40, but here you have teachers handling up to four classes, each with 50 to 60 students. It's almost impossible then to do any kind of assessment, forget CCE of the child".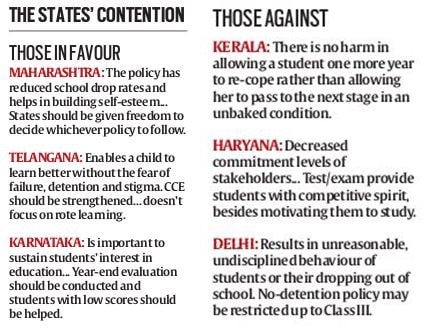 The principal of a leading private school in Delhi, with 1,160 students, agrees, "Is education just about sending a child from Class I to VIII or is it about equipping them with certain essential skills? What stops that from happening in government schools is the resources and numbers they deal with".
Schools like hers, she says, let teachers work on children who are falling behind. "We would have identified such a child by July and would have given him special papers, re-exams."
What the debate also misses out on is how, in a country of unequal opportunities, detention could be another scale weighing down the under-privileged — those who send their children to government schools that are low on resources and resolve.
"If you bring back detention and make such a student repeat a grade, there's a strong chance he or she will discontinue learning. Also, there is no research anywhere in the world which establishes that repeating a year helps children perform better. But research does say that repeating has adverse academic and social effects on a child," says Professor Kumar.
The annual dropout rate for primary education, in fact, has dropped considerably since the Act kicked in, from 9 per cent in 2009-10 to below 5 per cent in 2013-14.
Andhra Pradesh, which implemented the no-detention provision way back in 1975, in its feedback to the HRD Ministry, has argued for the policy on the same lines as Kumar, saying that scrapping this rule would lead to a spike in dropout rate and, therefore, hurt the aim of universalising education.
In fact, even the argument of huge failure rates in Class IX and deteriorating results of Class X Board exams doesn't hold water against government data. An analysis of the District Information System for Education (DISE) findings of 2011 and 2015 for the 20 largest states of the country shows that with the exception of Himachal Pradesh and Chhattisgarh (see box), the remaining have witnessed a decrease in the percentage of students made to repeat Class IX.
Similarly, for Class X, with the exception of Rajasthan, Chhattisgarh, Himachal and Assam, the remaining states saw an increase in pass percentage from 2011 to 2015.
As for falling learning levels, Kumar argues, the onus should not be on students but state governments, for not addressing the acute shortage of teachers. "State governments need to ask themselves how did they create such a huge backlog of learning? When we drafted the law, the country was short of around 12 lakh teachers, but nobody expected the states to neglect this problem for another five years after that. Take Delhi. The AAP government hasn't recruited permanent faculty for its schools. What good are CCTV cameras when teacher recruitment is not being expedited?"
Nandita Banerjee, head of Capacity Building at ASER Centre, the research wing of Pratham, makes the same argument. "The demand of scrapping no-detention stems from poor management. So while most states have taken care of the infrastructure mandated under the rules — toilets, classrooms — there is still no process to monitor teachers on a daily basis," Banerjee says. An autonomous body, ASER is the only source of current data on schooling and learning for all states in India.
Even as the debate rages, some state governments have undertaken course correction. Since late last year, Chhattisgarh has started holding "assessments" in government schools. "These are quarterly, half-yearly and final assessments, but not examinations. Students are not held back based on these results. However, it helps them experience what is it to sit for an examination, gives them an idea of where they stand, and a record is maintained," says Subrat Sahoo, Chhattisgarh Education Secretary.
Punjab, too, has once again started 'external' exams as part of a 'Learning Outcome Evaluation System (LOES)' for Classes V and VIII under the State Council of Educational Research and Training.
The HRD Ministry is yet to take a call on whether no-detention should stay or go. According to sources, the government will study recommendations of the TSR Subramanian panel on reinstating detention beyond Class V before taking any decision.
The ministry has also sought Attorney General Mukul Rohatgi's opinion on whether the government can issue orders under the RTE Act to ensure students meet some 'Minimum Standards of Academic Performance (MSAP)', prescribed in all subjects from Classes V to VIII, before they can be promoted to Class IX.
The ministry's note proposes that students be assessed through CCE from Classes V to VIII and, at the end of each year, schools award a certificate stating whether he/she has attained the MSAP for the particular class.

No child, the note adds, would be detained for not meeting the MSAP and the backlog would be carried over to the next year till Class VIII. Such students will receive additional instructions from teachers to cope with the backlog of learning. However, promotion to Class IX will only be possible if the student has completed his/ her backlog of learning.
Kapil Sibal, under whose tenure the RTE came into force, wishes the Act is seen beyond "the prism of the no-fail policy". "The Act made a whole range of other promises such as upgrading infrastructure, upgrading quality of teaching and regular assessment through CCE. It has to go hand in hand. You can't implement only the no-detention in letter and spirit and not adhere to other parameters. If the understanding of the Act remains limited to 'pass and fail' then all states will continue to face problems and learning levels are bound to go down," he says
The Indian Express website has been rated GREEN for its credibility and trustworthiness by Newsguard, a global service that rates news sources for their journalistic standards.