PSEB Class 12th result 2018: The Punjab School Education Board (PSEB) has released the results of Class 12 Monday at 12:15 pm. Candidates can check their scores at pseb.ac.in. While the Education Minister, Aruna Chaudhary, had earlier confirmed the result date by April-end, she has, however, called a press conference to release the merit list. The exams for Class 12 commenced from February 28 and concluded on March 24. Class 10 results date is, however, not released yet. The last exam for class 10 was held on March 31 and for class 12 was conducted on March 24.
Read | PSEB Class 12th results 2018: Ludhiana girls top the exam
Once released, students are required to visit the official website – pseb.ac.in or examresults.net. They should then click on the link for the result. In the provided fields, they will then be required to enter their roll number and other details. After clicking submit, their result will be displayed on the screen. They are required to download the same and take a printout for future reference.
Live Blog
Here are the live updates for PSEB Class 12 results 2018
PSEB previous years' results data
Notably, in 2014, 2015, 2016 and 2017, the overall pass percentage was 81.09 per cent, 76.24 per cent, 76.77 per cent and 62.36 per cent respectively. Pass percentage in commerce group was 84.95 while in humanities it was 65.11. Pass percentage in science group was 58.79
PSEB Class 12 results 2018
In 2017, Gurdaspur emerged on the top among all districts with 76.14 % pass percentage, Tarn Taran stood at number two with 72.31 per cent while Amritsar recorded 71.08 % pass percentage. Pathankot and Ferozpur districts recorded 64.10% and 64.33% pass percentage respectively.
But this year, Tarn Taran, Gurdaspur and Pathankot could not garner even 50 per cent over all pass percentage. The three districts have recorded 31.60%, ( a fall of over 41 per cent), 46.73% (a fall of 30% in overall percentage) and 47.89 % (a fall of 17%) pass percentage respectively. Amritsar too recorded 50.78 per cent result while Ferozpur recorded 58.81 per cent.
PSEB has given grace marks
PSEB secretary Hargunjit Kaur said up to five marks were given to students who failed in two subjects. "They have not been given to those who failed in three or more subjects," she said. "The MHRD had left it to the state boards to decide to use policy or not. Last year, we did not use it but this year we have as several reforms were introduced. External centres for all candidates were established for the first time and online marking was introduced. Question papers were also tough," she said.
Marks moderation policy
Later in October 2017, Ministry of Human Resource Development (MHRD) issued an 'advisory' for state boards and CBSE that there should be no 'spiking or inflation' of marks for Classes 10 and 12 in order to improve overall results. However, MMP for students who were on 'borderline' was allowed to continue with a condition that boards must declare it on their websites whenever used.
PSEB Class 12th sports merit list
In sports students merit list, Prachi Gaur with 100% marks and Pushwinder Kaur, also scoring 100%, stood first and second respectively. Both are from humanities stream and from BCM Senior Secondary School, Focal Point, Ludhiana. Third rank went to Mandeep Kaur from Sant Mohan Das Sr Sec School, Faridkot, who scored 99.56% in humanities. 72.77% of urban and 65.26% of rural candidates have cleared exam.
Puja Joshi is PSEB Class 12 topper
In academics-only merit list, Puja Joshi from Teja Singh SutantarMemorial Senior Secondary School, Ludhiana, topped the state with 98% in humanities. Vivek Rajput from the same school stood second with 97.55% in science. The third rank went to Jasnoor Kaur from Dashmesh Public Girls Sr Sec School of Muktsar. She scored 97.33% in commerce.
PSEB Class 12 results data
A total of 68.42 per cent (%) students have cleared exam in regular category and 40.07% in open category, taking overall pass percentage to 65.97%. Girls have performed better than boys again. 78.25% girls cleared exams compared to 60.46% boys. Of 1,22,784 girls, 96,079 cleared exams and of 1,51,748 boys, 91,752 have passed.
Pass percentage of PSEB schools
Pass percentage for the government-run meritorious schools is the highest at 96.19% whereas only 68.24% students from government schools have passed. 67.93% students from affiliated and Adarsh schools, 65.90% from associated schools and 69.07% from aided schools cleared exams.
Punjab Board district-wise data
Punjab has 22 districts but only Patiala, Ludhiana, Jalandhar, Bathinda, Fazilka, Hoshiarpur, Faridkot, Fatehgarh Sahib and Muktsar have their students among top 10, while remaining 13 districts do not have any students in this list. PSEB had released the results of Class 12 on Monday at pseb.ac.in
PSEB Chairman happy with Class 12th results
According to Manohar Kant Kalohia, the chairman of PSEB and a former IAS officer, "The result this year has relatively improved. The board this year intends to give five extra marks as grace to the students who are failing marginally. This decision was taken keeping in mind the benefit of the students who were failing as it was brought to our notice that some of the question papers were very difficult
Punjab Class 12 Board results 2018: Top 3 list
For the first time the board released total three lists of top 10 positions, including one overall list, and separate top 10 lists for boys and girls. The cut off percentage for top 10 girls list was 96.89 per cent and for top 10 boys list was 95.33 per cent.
PSEB government schools performance
Only one government school student made it to the list of 16 students who were placed on top 10 positions. Only one student, a girl Nitul of Government Girls Senior Secondary School Jalalabad (West) Fazilka, made it to 10th position by scoring 97.33 per cent marks in the overall toppers list.
PSEB Class 12 results 2018: Overall pass percentage
The overall pass percentage of Class 12 has improved by over 3 per cent in the state. But five districts have recorded a fall of 6 per cent to 40 per cent in just one year. Among the five border districts include Amritsar, Gurdaspur, Tarn Taran, Pathankot, which was carved out of Gurdaspur and Ferozpur.
Punjab Board Class 12 results out
PSEB Class 12 results 2018 declared
Punjab Board has released the results of Class 12 on April 23 evening. Students who have been waiting to check their scores can now view it at pseb.ac.in. The Board officials have announced the merit list and result data today at 12:15 pm. However, it is only now that the result link of Class 12 has been activated. Students can scores from indiaresults.com as well. This year topper is Puja Joshi from Ludhiana.
PSEB verification updates
For verification, duplicate certificates, transcript certificates and migration certificate inquiries, candidates can contact the single window number 0172-5227423.
PSEB results 2018
Students can check their results on the official website in the evening as the Board has announced the merit list and pass percentage but have not uploaded it. PSEB will publish the results in the evening at pseb.ac.in. Candidates can check their scores by using their roll number.
PSEB Class 12 results 2018: Non-sports category topper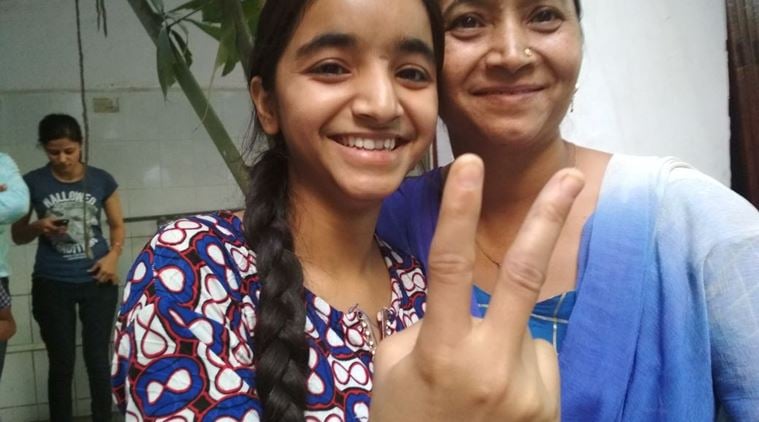 Pooja Joshi of Teja Singh Swatantar Memorial School in Ludhiana has topped the Punjab Class 12 exams from non-sport category, with 98 per cent. (Express photo by Gurmeet Singh)
PSEB practical exams 2018
The District Education Department had conducted practical examinations of Class 10 and 12 students in their own school. Punjab School Education Board (PSEB) conducted the examinations from April 1-4. Reports suggest that the schools that have less than 20 students have been merged with nearby schools.
PSEB Class 12 previous years' result data
In 2014, about 2.99 lakh students appeared in the Class 12 exam of which, 84.42 per cent overall students passed the examination. In year 2015, the overall pass percentage had gone down with 76.24 per cent. It slightly improved in 2016 with 79.55 per cent. In the year, 2017, the overall passing percentage was 62.36 per cent.
PSEB chairman, Manohar Kant Kolahia, has said that although the merit list has been published, the results will only be out by evening. Also, results for the vocational courses have not been declared yet as the exams are still going on.
PSEB Class 10th result 2018
The Board will also release Class 10 board exam results in May. The exams for class 10 commenced from March 12 and were conducted from 10 am to 1:15 pm. The last paper was held on March 31. As per reports, around 406,200 students had appeared for 10th exams.
Punjab Class 12 results 2018: What next?
As the results are now out, students may be applying for admissions in various universities for undergraduate courses, including the famous Delhi University. Earlier, the university was planning to begin the registration process for admission under UG courses, for Indian students, from the first week of April this year. Last year, the process had started mid-May. DU is also deliberating on having centralised online counselling.
PSEB results 2018 declared early this time
The Punjab School Education Board (PSEB) has this year announced the results earlier as compared to previous years. PSEB used to release results usually in May. A delay in the declaration of results had posed problems for students who complained that they don't get time to submit applications for university admissions.
PSEB Class 12 Board results 2018: Top 10 rank holders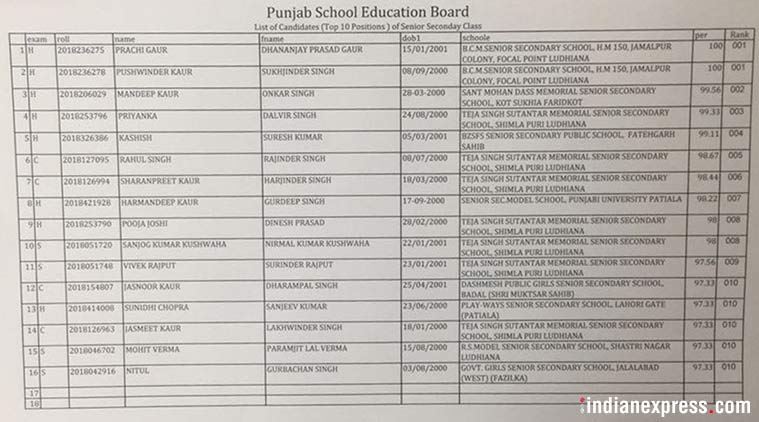 The first and second rank has been obtained by Prachi Gaur and Pushwinder Kaur both from B.C.M Senior Secondary School, Ludhiana. Most of the students who have made it to the top 10 list are from Teja Singh Sutantar Memorial Senior Secondary School, Ludhiana.
This is just the beginning of the cheerful countenance entering the realm of wrinkled care! Amen!#PSEB #BoardExams

— Rupsas Gujun (@GujunRupsas) April 23, 2018
Punjab Class 12 results 2017: Security measures taken
This year to avoid malpractices, the Punjab Board identified 56 hypersensitive centres and had installed CCTV cameras in these centres. The hyper-sensitive examination centres were identified in 15 districts of Punjab out of 22. Earlier, there was a proposal to install CCTV cameras in all 2,800 examination centres, but the plan had to be shelved due to lack of time.
PSEB Class 12 Board exam result 2018 declared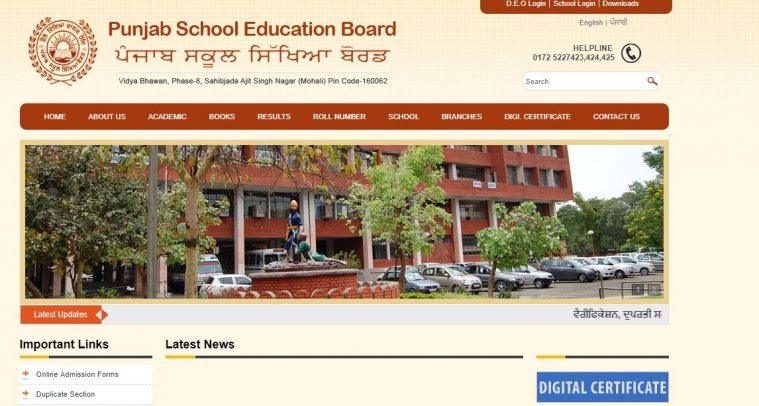 PSEB 12th results 2018: District with the highest pass percentage
The district with the highest pass percentage this year is Muktsar with 79.64 per cent. For some schools of Tarn Taran PSEB class 12 results have not been announced as mass copying took place and their re-exams are going on.
Punjab Class 12 results 2018: Previous year pass percentage
In 2016, the results were declared on May 13 and the pass percentage stood at 76.77 per cent, which was higher than the previous year's 76.24. About 2,44,487 students passed the 2016 exams out of the 3,18,453 students who appeared for the paper. In 2016, girls scored a pass percent of 84.3 per cent, faring better than boys who scored 71.12 per cent.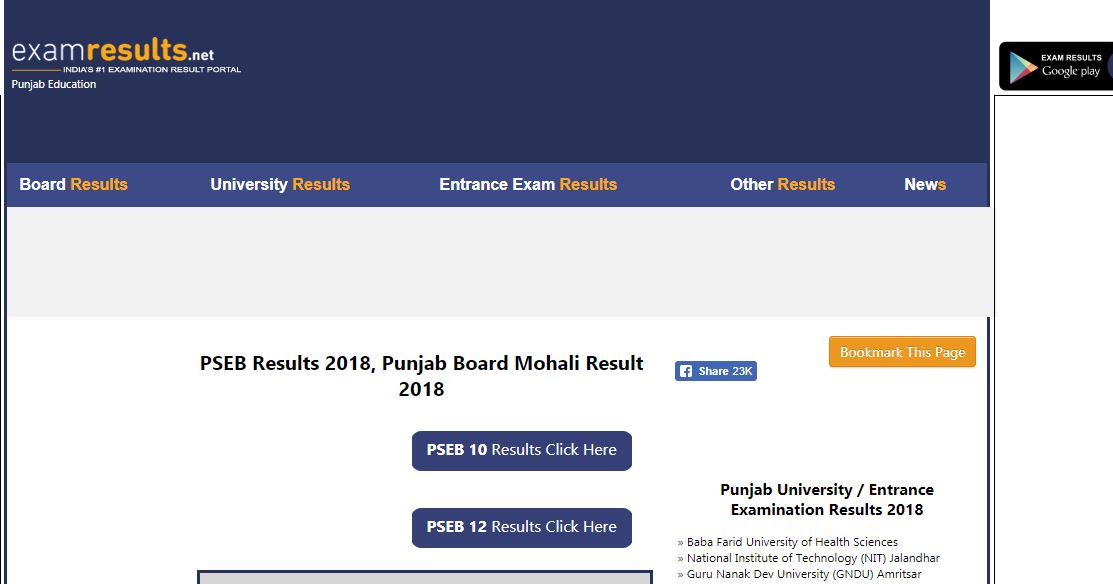 The PSEB class 12 exams started on February 28 and ended on March 24, 2018.
PSEB Supplementary or compartment exams date
All those students who have flunked in the main exams have one more opportunity to clear the same. They can sit for the compartment exams that are held in June and the results are then declared in July.
PSEB Class 12 pass percentage improves
This year's pass percentage stands at 65.97, which is about three per cent higher than the previous year. In 2017, lowest pass percentage was recorded in three years for class 12 examination. It dropped to 62.36 per cent from 76.77 per cent in 2016.
PSEB Class 12 toppers: Check out the list
From this year, the Board decided to issue two merit lists, one for 'with sports' and the other 'academics'. In sports category, Prachi Gaur from Ludhiana and Pushwinder Kaur also from Ludhiana had both scored 100 per cent whereas Mandeep Kaur from Faridkot had obtained the third rank with 99.56 per cent.
The results which were scheduled to be released on April 28 were announced today, on April 28, unexpectedly.
PSEB 12th results 2018: Stream-wise data
Stream-wise, as many as 31,364 students had appeared for the exam from commerce stream and 26,643 have passed taking the pass percentage to 84.95. In the humanities stream, 2,12,945 had registered for the exam, of which 13,8,643 have successfully cleared the 12th exam (65.11 pass percent). In the science stream, the pass percentage is at 58.79 with only 32,907 students, out of 55,976 having qualified the exams.
Students made to sit on floor
The Board received criticism this time as students who had their examination centre at the Government Senior Secondary School, Talwandi Rai in Raikot, had to sit on the floor on mats as no benches were available for them to sit. Authorities who had to fit 534 PSEB Class 12 students from private schools in its 10 classrooms also had to declare a half-day holiday for its other students as there was no extra space left. Several schools were forced to borrow benches from primary schools as they did not have enough benches of their own.
How to check 12th results on other websites
Due to rush, many candidates might be facing issues opening the website due to heavy rush. They need not worry and can visit indiaresults.com and examresults.net to check their respective scores. They can follow the below mentioned steps to get their results.
Step 1: Log on to the any of the above mentioned websites

Step 2: On the homepage, click on the link to the class 12 board results 2018.

Step 3: Enter your roll number and details in the fields provided.

Step 4: Download your results and take a print out of the same for further reference.