JEE Advanced 2019 LIVE updates: The Indian Institute of Technology (IIT), Roorkee is conducting the entrance exam to the IITs – Joint Entrance Examination (JEE) Advanced 2019. The exam is being conducted today on May 27, 2019 (Monday) in two shifts. The paper began at 9 am and concluded at 12 noon and paper II is begin conducted at 2 pm and end at 5 pm. The tests will be conducted in computer-based testing (CBT) mode.
The total number of questions (54 questions) remains the same as last year however total marks of Paper-2 has changed from 180 to 186 marks this year.
Read| JEE Advanced answer key 2019
In total, JEE Advanced had to 186 questions divided into two parts. Based on the students' reaction, the JEE Advanced paper I was tougher as compared to paper II. In paper 1, chemistry and mathematics were moderately difficult, and Physics was reportedly the most difficult section. In paper II, Physics questions were more concept based and covered all chapters. In Mathematics, there were more questions from Calculus and Algebra. In Chemistry, questions from all chapters were covered and were easy.
"As per students in physics questions from all chapter of class 11 and 12 were asked. In mathematics, there were more questions from algebra and coordinate geometry. In chemistry, few questions on organic chemistry as compared to inorganic and physical chemistry," informed Rames Batlish, head, FITJEE Noida.
Read| Result on June 14, cut-off to lower
According to Navin C Joshi, academic head and VP (JEE and NEET), Gradeup, "The overall difficulty level of paper 1 was moderate. The Physics section was of moderate difficulty, Maths was moderate but lengthy, while Chemistry was the easiest of the three sections. A few questions asked in Physics were based on the conceptual understanding of the topics. There were many application based questions asked on this subject."
The overall difficulty level of JEE Advanced paper 2 was Moderate, as per Joshi. "As per the feedback received from the students, the Mathematics section was difficult, however, relatively easier than paper 1. Questions were highly conceptual and required good time management skills. The Chemistry section was easy and in line with the trend, while the Physics section was moderate and somewhat easier than Paper 1," Joshi added.
Read| JEE Advanced response sheet 2019 released: How to download, what next?
A total of 54 questions were asked in the JEE Advanced 2019 paper I with the breakdown as follows: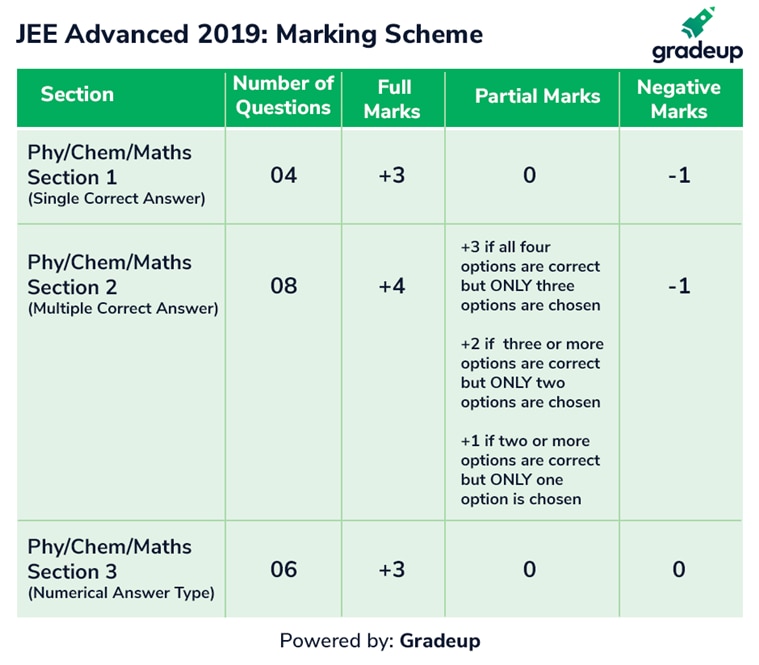 Read| List of top-engineering college that enroll based on JEE Mains rank 
The JEE Advanced paper has a mixture of various types of questions. There are multiple choice questions with either single or multiple correct answers. There could be comprehensions followed by two or more objective-type questions. The matrix match type questions may involve matching two or three columns. The integer type questions involve a subjective type question with the answer an integer or could be asked to two decimal places. The exam also has negative marking. Check how to attempt each question here.
Talking to indianexpress.com, JEE Advanced 2019 chairperson informed that out of 11.47 lakh candidates who appeared for the JEE Main, only 2.45 lakh students qualified for the JEE Advanced. Out of the qualified candidates, only 1.73 lakh registered for the same who are going to appear for the exam.
The result for the JEE Advanced is expected by June 14, 2019. Those who qualify can secure a seat at IITs and many other institutes including –
Indian Institute of Science, Bangalore (IISc)
Indian Institutes of Science Education and Research (IISERs) located in
Berhampur, Bhopal, Kolkata, Mohali, Pune, Thiruvananthapuram and Tirupati
Indian Institute of Space Science and Technology (IIST), Thiruvananthapuram
Rajiv Gandhi Institute of Petroleum Technology (RGIPT), Rae Bareli
Indian Institute of Petroleum & Energy, Visakhapatnam
Rank lists are prepared based on the aggregate marks in JEE (Advanced) 2019 which means a total of marks obtained in Physics, Chemistry and Mathematics of paper I and paper II. In case multiple students secure the same score there will be tie-breakers.
Preference I: Candidates having higher positive marks will be awarded higher rank.
Preference II: Higher rank will be assigned to the candidate who has obtained higher marks in Mathematics.
Preference II: higher rank will be assigned to the candidate who has obtained higher marks in Physics.
This year, the cut-off for the unreserved category for JEE Advanced was 89.754 NTA score and for EWS and OBC students it was 78.217 and 74.316 respectively. For those from SC and ST category, a score of 74.316 and 54.012 respectively in JEE Main would make them eligible for JEE Advanced and for PwD category students the same is 0.113.
📣 The Indian Express is now on Telegram. Click here to join our channel (@indianexpress) and stay updated with the latest headlines
For all the latest Education News, download Indian Express App.