Written by
Priyanka Sahoo
| Mumbai |
Updated: January 2, 2018 5:20:23 am
With an aim to become a world class university by 2022, the Indian Institute of Technology (IIT), Bombay now hopes to bring in research funds to the tune of Rs 500 crore and to offer courses in subjects other than engineering. The institute also aims to increase its internal revenue to Rs150 crore by 2022, according to the IIT Bombay's Strategic Plan for 2017-2022.
The plan highlights the institute's intent to diversify from its core subjects of engineering and to offer courses in humanities as well as arts. The first ever five-year strategic plan, prepared in accordance with the direction of the Ministry of Human Resource Development (MHRD), sets specific targets to be achieved by 2022 in order "to provide a transformative education to create leaders and innovators, and generate new knowledge for society and industry."
Emphasis has been laid on increasing the funds received by the institute as well as adding new courses. According to the plan, the institute currently receives 45 per cent of its funds from non-MHRD and government sources.
"We have tried to emphasise on diversifying our funding sources. We are suggesting licensing our existing technology, having more interface with industry, city and state. A cell will be set up that can identify areas where the institute can contribute to the improvement of the city," said Rajan Banerjee, convenor of the strategic plan committee.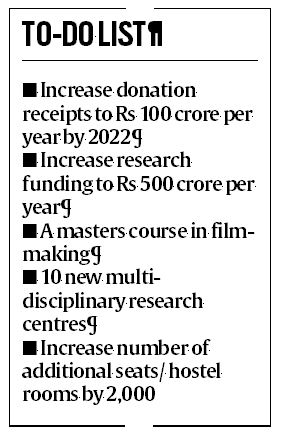 On the anvil is a new masters programme in film-making, a programme that is relevant for the large film industry in Mumbai. The institute will also consider new undergraduate programmes in existing disciplines, such as Mathematics, Earth Science, Biology, Management, Humanities and Social Sciences.
"The Industrial Design Centre will have to anchor the course. We already have some renowned filmmakers such as Mazhar Kamran as our full-time faculty," said Devang Khakhar, director, IIT-B.
"Engineering will always be the core at IIT-B, which has a reputation for its academics. We are trying to build on that and add more courses so that students coming in can choose from a basket of courses," said Khakhar.
In line with the MHRD's intention to increasing the visibility of women in IITs, the strategic plan has charted action points to make the institute more inclusive. "In addition to the supernumerary seats for women, we are looking at ways in which our women students and faculty can engage with girls in schools and colleges. We want to get the message across that IIT-B is a great destination for girls to pursue science," said Banerjee.
The institute, which is one of the premier educational institutes in the country, has identified 10 key areas to work on: enhance engagement with society and industry, broaden educational areas, improve internal support systems, enhance student experience, broaden funding base, attract international students and faculty, advance frontiers of knowledge, enhance diversity, enhance alumni engagement, and develop a cleaner and greener campus.
📣 The Indian Express is now on Telegram. Click here to join our channel (@indianexpress) and stay updated with the latest headlines
For all the latest Education News, download Indian Express App.