The year was 2009, and Rohit Chahal (32) and Deepak Negi (28) were potential presidential candidates for the Delhi University Students' Union (DUSU) polls. Chahal was contesting from the Akhil Bharatiya Vidyarthi Parishad (ABVP), the students' wing of the RSS, and Negi from the Congress counterpart, the National Students' Union of India (NSUI). But the presidential dreams of both men were curtailed after their nomination was cancelled by the university.
Chahal and Negi had printed posters and pasted them across the city — a violation of the Lyngdoh Committee's recommendations. This specific case is particularly important, given that no such action has been taken against any DUSU candidate since then — despite layers of posters covering the city every year as polls approach. This year, the polls are scheduled for September 12.
Headed by J M Lyngdoh, the panel had been set up in 2006 after the Supreme Court asked the HRD Ministry to reform student politics. The recommendations prohibited use of money and muscle power in student body polls. DU implemented the rules in 2007. But flouting rules is almost the norm, especially in DU where polls are often seen as a launchpad for a national political career. In fact, heavyweights such as Arun Jaitley and Ajay Maken made political forays thanks to DUSU polls.
Tough to implement
As polls approach, defaced walls, pamphlets being thrown out of SUVs, and freebies being distributed in colleges and hostels stand testimony to how tough it is to implement the recommendations.
Chahal, now the media in-charge of BJP's youth wing, still rues not being able to contest the polls. "There was no clarity on whether the new rules will be followed. Not just me; the entire ABVP panel was cancelled. But since then, no action has been taken." Negi, a lawyer and NSUI's national secretary UP in-charge, said, "I was even given my ballot number, but the university told me I had violated rules. Now, the university cannot see violations that are taking place."
Even the threat of punishment or disqualification does not rattle candidates. The Delhi Prevention of Defacement of Property Act, 2007, prohibits disfiguring of public property and bans the use of posters, banners and writing on the wall. The punishment is up to one year in jail or a fine of up to Rs 50,000 or both.
"It is a criminal offence, so any citizen can complain against destruction of public property. The corporations remove posters but every year, when DUSU polls approach, the numbers go up. It's just a student union poll but they destroy the entire city," said Yogendra Mann, the public relations officer of the North and East Delhi corporations.
Mann also asked how students get enough money to advertise on unipoles, when the cost to book the space, just for government offices, starts from Rs 1.2 lakh. "For private agencies, the cost is even higher," he said.
The figure is astronomical, considering that Lyngdoh rules allow each candidate to spend only Rs 5,000 on campaigning. But a candidate, who did not wish to be named, said each of them spends "close to Rs 10-20 lakh on printed posters of different sizes".
His justification: "Rs 5,000 is too less for campaigning in 51 colleges, which are spread across the city." In fact, on Friday, the ABVP officially said that it is practically impossible to reach the 1.2 lakh voters unless they use posters. Chahal elaborated: "There is very little time to campaign. Rs 5,000 isn't enough even if one uses the Metro to travel and campaign."
As per the rules, a candidate can campaign only after they file their nominations and the list has been finalised. This year, the final list will be declared on September 6. The model code of conduct is enforced a day before polls, which gives candidates just about five days to campaign. Not just the Lyngdoh panel, they also violates Supreme Court guidelines which prohibit posters without details of who printed them. Posters for DUSU polls only have the name of the organisation and the candidate.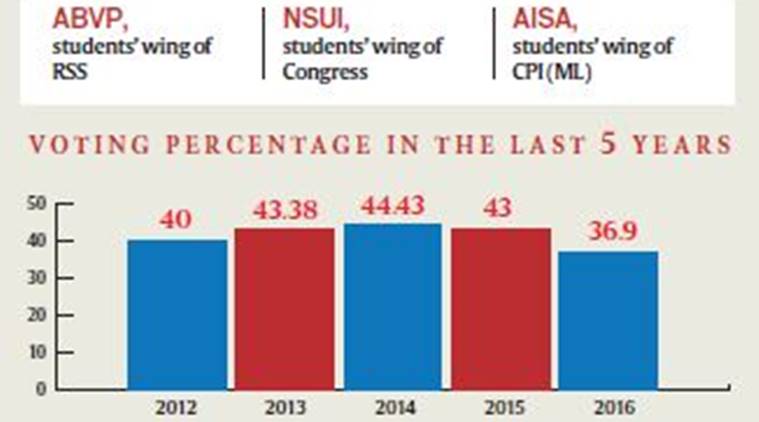 They also flout a July 2016 order by the National Green Tribunal, which had asked DU to conduct elections without wasting paper and to reinforce the Lyngdoh committee's recommendations. "The candidates can use two hand-made posters, which can be stuck only at spaces allotted by the university/colleges," the NGT order said.
"Like I was held accountable, it is important for perpetrators to be punished. The law cannot be selective; if DU does not take action this year, I will move court," Negi said.
Winds of change
Amid rampant violations, the Left-leaning All India Students' Association (AISA) has introduced a very specific campaign theme this year: "Our university space is not your dustbin, we stand against littering."
D S Rawat, who had been the DUSU Chief Election Officer (CEC) for the last three years and a returning officer for six years, conceded that there are loopholes in the system. "Until nominations, DU cannot do anything. Students generally use different spellings on the posters and nomination papers. How does a university substantiate that it is the same person?" he said, adding, "Even when legal is action initiated, punishment takes time. Two cases from 2015 have just come up in court."
This year, DU has appointed a new CEC, S B Babbar, who, on August 31, threatened action if the posters are not removed within 36 hours. "There were times that the university tried to take action but attempts were made to attack officials. Last year, someone came with a pistol. Police and the university have had to provide professors with security. The truth is that these students have political backing," an official said.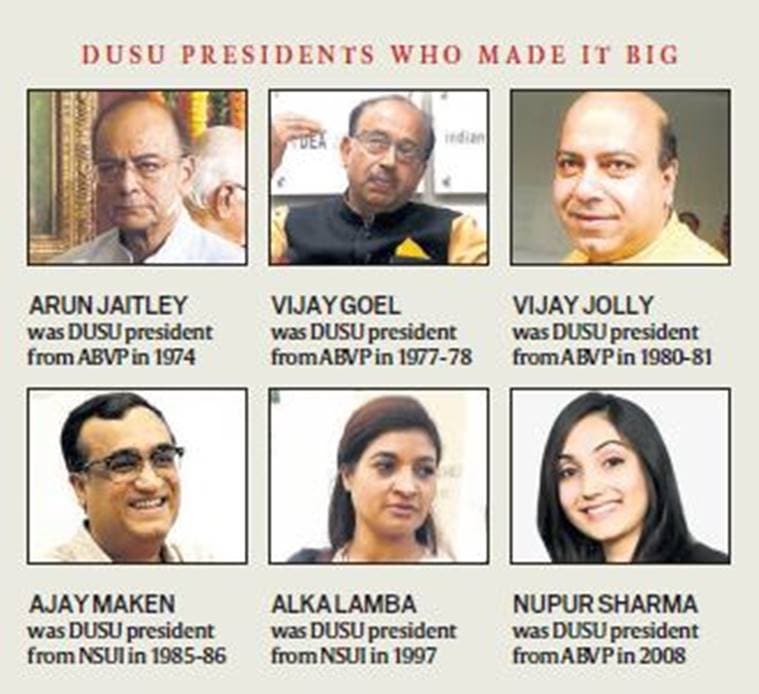 But some colleges are taking things into their own hands. In Miranda House, for instance, students have started a "No Poster Party" to send out the message: "Waste paper and you won't get our vote." In Kirori Mal College and Ram Lal Anand College, too, students have voiced similar concerns this year. But posters are just part of the problem. With days to go for polling, north and south campuses have become mini auto expos, with luxury cars — from Porsche to Audi — blocking roads and causing traffic jams. With music blaring, party volunteers atop the vehicles litter the streets with pamphlets. "Last year, trucks filled with goods, such as eatables and liquor, arrived at our hostels a night before the election," said Prabhat Kumar, a third-year student of English (Hons) from a North Campus college.
The issues
Like every year, concerns that rank high on the agenda of contenders are improving infrastructure in colleges and hostels, proper sports facilities, and ensuring women's safety. With this in mind, the ABVP even has a new theme this year: 'Women safe, clean environment and a friendly campus.' They also intend to take up the fight against "different hostel timings for men and women". The manifesto released by NSUI echoes this: "No moral policing or curbs on women's freedom".
Amit Tanwar, the outgoing DUSU president from the ABVP, added, "We realised that in the entire university, there are no public toilets. We have also demanded drinking water coolers at different locations."
Against the backdrop of the violence at Ramjas College this year, the ABVP also plans to fight against what it calls "urban Naxalism" and the "nexus between Communist forces and teachers". The NSUI also intends to touch upon the issue, but with a different aim: "Ensuring that there are no more violent protests and the perpetrators are held accountable".
The Left parties, meanwhile, said they will bring up Ramjas to rally against "goondaism" on campus — a poll plank that they hope will provide them some traction. While some Left-leaning outfits, especially AISA, have emerged as formidable alternatives to the ABVP and NSUI, they have not been able to win any seat in the central panel.
"Unlike ABVP and NSUI, the Left has limited resources. To be a formidable force, all Left-leaning, progressive student bodies should come together and form an alliance, like in JNU," said Prashant Mukherjee, state secretary of the Students' Federation of India.
A senior AISA leader said, "ABVP also has strong organisational support in off campus colleges. We need to first crack that." The other stark contrast between JNUSU and DUSU is the representation of women. The last time DUSU had a woman president was in 2008, when Nupur Sharma — now the Delhi BJP spokesperson — occupied the post. More often than not, women are picked for the post of vice-president or secretary. In JNU, on the other hand, all major student organisations have fielded women for the post of president for the upcoming polls.
"Student bodies use women just for the 'glamour quotient'. One can see it in the way they advertise. Last year, they put up Priyanka Chopra's picture on hoardings for Priyanka Chhawri, who was eventually elected the V-P," claimed a student who is also a member of the collective, Pinjra Tod.  Amrita Dhawan, who was DUSU president from NSUI in 2003-04 and is now the media panelist of the All India Congress Committee, agreed: "Being a woman, you have to prove your mettle for others to believe you can actually do something."