In hindsight, the Human Resource Development Ministry seems to have lost a lot of time initially in firefighting controversies, most of which were of its own making. Further, with the BJP often drafting ministers for duty in state elections, work in ministries has predictably suffered.
What's Done
The last one year has been the HRD Ministry's most productive since 2014. It was spent on fulfilling the BJP's manifesto promise of giving more autonomy to institutions of higher education. There's now a law in place that gives IIMs unprecedented levels of academic and administrative freedom. Besides, the UGC has passed a new regulation that grants different grades of autonomy to all institutions of higher learning based on their performance. It aims at liberating the performers from regulatory control.
With Indian universities failing to make a mark in international rankings, the government worked on a regulation to assist 20 institutions — 10 public and 10 private — in breaking into the global top-100 list. The 'Institutions of Eminence' are proposed to have greater autonomy compared to other higher education institutions. The 10 public institutions will also receive Rs 1,000 crore each from the ministry to improve ranking. The ministry made some strides in the direction of technology-enabled learning with launch of SWAYAM, which offers free online courses by teachers of reputable institutions.
Also read | Four years of Modi government — Finance: Tax net widened; private funds still elusive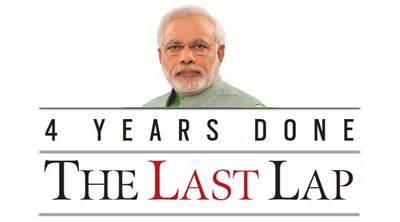 The Narendra Modi government has started seven new IIMs, six new IITs and two new IISERs. It has also set up the Higher Education Funding Agency for lending money to institutions for infrastructure development. Construction of toilets in all government schools and the conduct of the first National Achievement Survey (NAS) are two significant achievements in school education. The NAS is the government's first and India's largest sample survey of learning outcomes for Classes III, V and VIII.
The ministry, despite opposition from academics, has made Board examinations compulsory again for Class X in CBSE. The Right to Education Act has been amended by Parliament to extend the deadline for training all unqualified school teachers till March 2020. In its manifesto, the BJP also promised to introduce a mechanism to monitor performance of states under the Sarva Shiksha Abhiyan. This was fulfilled in the first year itself with the launch of the online platform 'ShaGun'.
What's in Progress
Had it not been for the Cabinet reshuffle of 2015, the new education policy would already have been in place. After Smriti Irani's ouster, the ministry, under Prakash Javadekar, decided to start again from scratch. A new committee was constituted in June 2017. The panel has already missed two deadlines. Javadekar has assured that the country will have a new education policy before 2019 elections.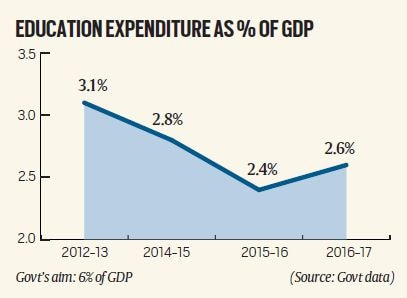 The transformation of UGC into a Higher Education Commission was among the big-bang reforms promised by BJP. The ministry is currently working on a draft legislation to set up a Higher Education Regulatory Council, which will eventually subsume all existing regulatory authorities such as UGC, AICTE and NCTE.
The National Testing Agency (NTA) is close to fruition. The government has the Cabinet's nod for its establishment and has already appointed its head. The NTA is envisioned as a single testing agency that will conduct all entrance exams to higher education. The ministry is also close to scrapping the no-detention policy of the Right to Education Act.
The amendment Bill now awaits Parliament's approval. Although the decision was criticised by academics, the Centre seems to have relented to pressure from states. The ministry is also in the process of scrapping the two-year B.Ed course and rolling out a four-year integrated programme.
What's Stuck
Two of BJP's biggest priorities in education have seen little progress. The party had promised to raise public spending on education to 6% of GDP. The government is nowhere close to meeting the target. In fact, public expenditure has been decreasing (see chart). Although promises were made on addressing the acute shortage of teachers, the ministry doesn't have much to show on this front either. As per official data, there are a total of 17,106 teaching positions at 41 UGC-funded central universities, of which 5,997 were vacant as of April 1, 2017. This roughly works out to 35 per cent vacancy.
The following promises, too, have not seen any progress over the last four years:
1) Universalisation of secondary education.
2) Thorough revision of school education content. This process cannot start until a new education policy is in place.
3) Revitalisation of midday meal scheme — budget allocation to this scheme has seen no significant improvement since 2014.
4) A multi-country student exchange programme for broadening horizons of school children.
5) A new programme for modernisation of madrasas.