While the online filling of admission forms is already on, the Indianexpress.com shares Delhi University's cut-offs of 2014 and 2015.
For the past few years, the percentage sets for various courses have been soaring. As per the University officials, in 2015, there were 28,999 aspirants who scored 90-95 per cent and 6,850 were in the 95-100 per cent bracket in five subjects.
With a marginal increase in CBSE Class 12 results 2016, it is expected that the cut-offs will be quite similar to last year's cut-offs.
Read: How to cope with exam failure
In 2015, the Shri Ram College of Commerce (SRCC) declared 97.37 per cent for B Com Honours for general category and 96.25 per cent for BA (Honours) Economics students.
Moti Lal Nehru college too kept its cut-off for B Com Honors at a 99.5% while in Maiteyi college it touched the 99 per cent mark.
Hindu College cut-off for Humanities kept the mark at 98 per cent, English (H) had a cut-off of 97.75 per cent
At CVS, the Computer Science (Honours) cut-off ranges from 95 to 100 per cent while at IP College, the cut-off for the course is between 97 to 100 per cent.
Read: Delhi University admissions 2016: Know everything from online registration, fees to cut-off dates
In Lady Shri Ram College (LSR), BA increased from 95.5 to 97 per cent, for English Honours and Journalism, respectively.
Over 2.7 lakh students had applied for admission to DU.
Here is the Delhi University's 2015 cut-off list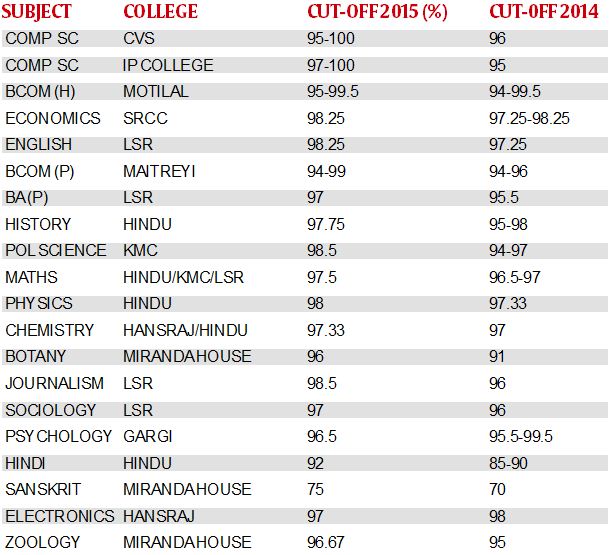 For more news on education, click here