The Central Board of Secondary Education (CBSE) Saturday released a list of vocational subjects for the examinations that will be conducted from February to March 2019. The candidates who will appear in the examinations can check the list on its official website, cbse.nic.in. The schedule and date of the examinations will be released later.
Earlier, in an official release, the board mentioned that while for years the annual exams were held in March, from next year onwards, it will be conducted in February. This is due to the Delhi High Court order (dated July 11, 2018) directing the Delhi University and CBSE to ensure from the commencing academic year, the result of CBSE, including re-evaluation, is taken into account while determining the cut-off date for admission to colleges of the University of Delhi.
READ | CBSE relaxes passing criteria for Class 10 students
Apart from the 40 different vocational subjects, the board will conduct exams for Typography and Computer Applications (English), Web applications, Graphics, Office Communication, etc in February as these subjects have larger practical component, and shorter theory papers.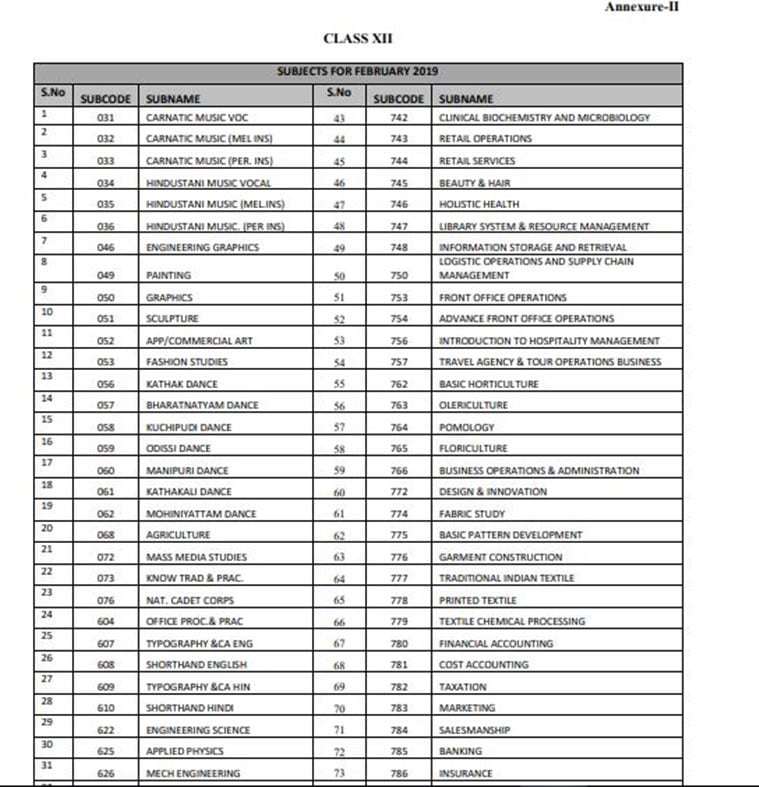 Due to the advancement of the datasheet, CBSE can release the main and re-evaluation results earlier to facilitate students to get admissions in degree courses in various universities in India, the board said in a media release. Last year the examinations were held from March to April, and a total of 10.76 lakh students registered for the exam out of which 10.20 lakh had appeared.