The return of CBSE Class X exams after eight years led to a massive decline in the performance of Delhi government schools, despite its push for improving learning levels over the past two years. The pass percentage in Delhi government schools this year was 69.32%. This is a sharp drop from last year, when Education Minister Manish Sisodia had said the pass percentage stood at 92.44%.
The national pass percentage this year is 86.70%, while the overall Delhi pass percentage (which includes private schools, government-aided schools, government schools and Kendriya Vidyalayas) is 78.62%. Private schools' pass percentage stood at 89.45%.
Government schools had performed better than private schools in the city in the Class XII results released Saturday, registering a pass percentage of 90.68%, up from 88.36% in 2017.
ALSO READ | CBSE 10th result: Board exams back after eight years, schools across country feel pinch
The last time students took the externally assessed board exams was in 2010. From 2011-2017, students had the option of writing either school-based or board-based exams, and grades were awarded instead of marks.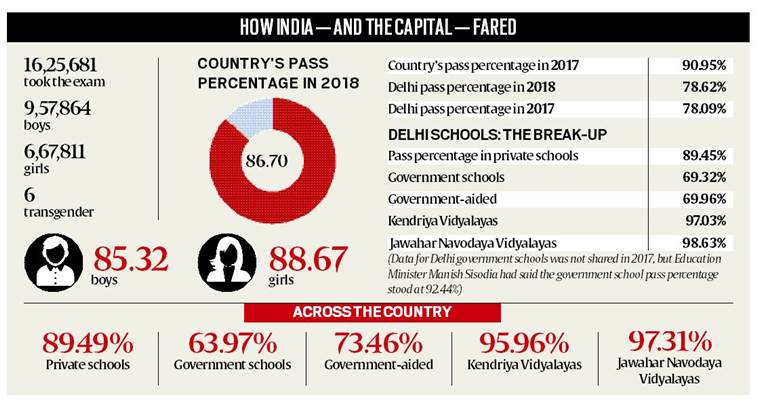 The overall pass percentage of Delhi region stood at 78.62%, a marginal increase from 78.09% last year.
The Aam Aadmi Party government has been pushing to improve learning levels in government schools with programmes such as Chunauti, launched in 2016. The government has also improved infrastructure and held numerous teacher-training programmes over the past three years.
Principals attributed the drop in performance to the fact that three chances were given to students in Class IX to clear exams.
ALSO READ | CBSE 10th results: SIT hands list of 60 students who received leaked papers to Board
"This poor percentage could be because this is the first big exam children are taking. Another reason, though, is that in Class IX, students are given three chances to clear papers they have failed in. But they don't manage to do well in Boards," said A K Jha, principal of Government Co-Ed Sarvodaya Vidyalaya, Sector 8, Rohini.
During the pre-board exams in February, the pass percentage in Delhi government schools was an alarming 31.5%.
Acknowledging that the year had been tough, Sisodia tweeted, "It was a tough year for all students as Board exams were happening for the first time after 10 years. Would specially like to congratulate teachers and principals of govt schools, who have worked very hard in improving the pass percentage from the pre-boards (30%), to boards (70%). Great work by the whole Team Education."