Boys and girls in rural India between 14 and 18 years of age are most likely to be in school or even college with access to a mobile phone, they may even have a bank account to their names but are most likely to struggle with elementary math and English. Only four out of ten can, on a map, point to the state they live in.
The latest Annual Status of Education Report (ASER), carried out by NGO Pratham and released in New Delhi on Tuesday, finds that while 86% of youth in the 14-18 age group are still in the formal education system (school or college) and 73% students had used a mobile phone within the last week, more than half of them (57%) struggle to do simple Class 2-level division.
Unlike earlier surveys, which measured learning levels in the 5-to-16 age group, ASER 2017 focused on 14- to 18-year-olds — those who have moved just beyond elementary school age and are on the threshold of adulthood. As they enter this crucial phase, do they have the required knowledge, skills and opportunities that prepares them for life?
Also Read | ASER report 2017: In villages, as they grow up, more girls drop out of school
The study attempts to answer this by looking at skills beyond foundational reading and arithmetic and focusing on four As — activity (what they are doing), ability (level of basic skills), awareness (their access to media, traditional and new) and aspirations.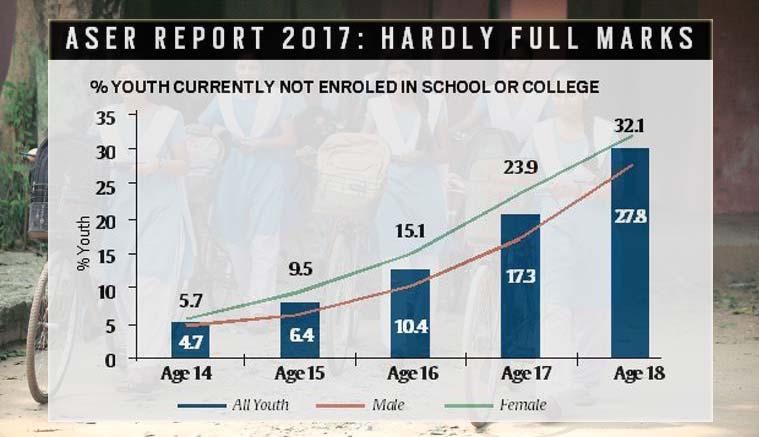 It finds that while the youth are high on aspiration (about 60% wanted to study beyond Class 12), they are short on vital, everyday skills that are needed to help them get to where they aspire.
A pointer to this aspiration is how most children in the age group continue to stay within the formal education system even though the Right to Education umbrella folds up at age 14: 86% of youth were in school or college. More than half (54%) of them were in Class 10 or below and only 14 not enrolled anywhere.
Also Read | Most 14 to 18-year-olds can use cellphones but cannot read basic texts: ASER 2017
About 60% said they wanted to study beyond Class 12.
But the study found that school education currently isn't equipping youngsters for life outside.
About 25 per cent of those in this age group couldn't read basic text fluently and 57% struggled when asked to divide a 3-digit number by a single digit.
This year, the survey picked simple tasks such as counting money, knowing weights and telling time.
One of the tasks was to look at a picture of a T-shirt on sale with a 10% discount and figure out how much to pay. Only 38% of them got it right.
When asked to calculate the length of an object when placed at the '0' mark in the ruler, about 86% of youth did so correctly but when placed elsewhere on the ruler, only 40% got the right answer. Also, only 64% could carry out simple financial tasks such as managing a given budget.
Also Read | Youths prefer Army, police jobs over agriculture: ASER report 2017
"Our education system is currently designed to get you to Class 10, 11 and college. But these academic skills don't seem to get transferred to life skills or everyday skills. It's time to connect the dots. It probably involves a relook at the curriculum. What the survey tell us is that this is a group that is not confident to engage, doesn't know math, doesn't want to stick their necks out. These skills that they are lacking in are important not just in terms of work but broader life itself," says Pratham CEO Rukmini Banerji.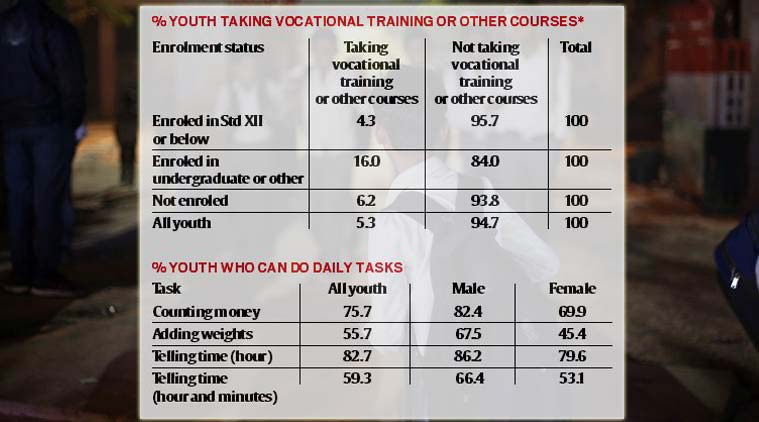 The survey also finds a glaring gender divide with boys outperforming girls in almost every task assigned to them, such as counting money and adding weights, and on many other parameters such as access to digital media.
While there is hardly any difference between enrollment levels of boys and girls at age 14 (when RTE is in effect), by age 18, when the State doesn't enforce compulsory education, 32% girls are not enrolled as compared to 28% boys. Which shows RTE played its part in helping girls stay in school.
Besides, girls and young women had far lower access to computers and the Internet when compared to boys – while 49% males had never used the Internet, the number among girls was 76%.
Speaking at a panel discussion after the release of the report, Chief Economic Adviser Arvind Subramanian spoke about how this "wedge" between girls and boys was "opening up dramatically".
"What's worrying is that while in normal ASERs (previous reports that surveyed 5- to 16-year-olds, we didn't see much difference in reading levels and math between boys and girls, here in almost every task assigned to them, there is a gender difference. What it probably tells you is that some of these daily tasks, such as calculating money, involve an exposure to a world outside their homes which these girls don't have access to," says Banerji.
Where girls outdo boys, however, is in financial participation, with 76.4% having their own bank accounts as compared to 71.9% for boys – e-transfers of scholarships and other financial benefits had ensured that close to 75% youth have their own bank accounts. But on all other parameters – depositing/withdrawing money, using an ATM, using Internet banking – boys fare better.
The survey also asked each sampled youth a series of questions to understand their access to media, both traditional and new, and found that, as expected, this is a digital generation, with 73% of young people using a mobile phone within the week and only 58% reading a newspaper.
The youth aren't too aware of their own surroundings, the survey found. When shown a map of India and asked to point their state on the map, only 42% could do so.
The study also shows how 42% of youth in the 14-18 age group "are working", regardless of whether they are enrolled in formal education or not. Of those who work, 79% work on their family farm and more than three-quarters of them do household chores daily.
Finally, the survey found that this is a group high on aspiration but with limited access to information and counselling. About 60% in the 14-18 age group wanted to study beyond Class 12, with 17.6% boys mentioning "Army/police" as their profession of choice and 25.1% girls preferring to be teachers. Both boys (12.8%) and girls (9.3%) mentioned "any government job".
For ASER 2017, about 2,000 volunteers visited more than 25,000 households in 1,641 villages, surveying more than 30,000 14- to 18-year-olds in 28 districts of the country.
📣 The Indian Express is now on Telegram. Click here to join our channel (@indianexpress) and stay updated with the latest headlines
For all the latest Education News, download Indian Express App.