With the new University Grants Commission (UGC) norms in place, several MPhil and PhD seats in Delhi University are set to go vacant this year. Under the new rules, an applicant has to score at least 50% in the entrance exam to be eligible for the interview. Since the eligibility criteria applies both to general as well as reserved category students, no SC, ST or OBC candidate has qualified for the interview in some courses.
UGC came up with the new rule in 2016, and it was passed in DU's Academic and Executive Councils (EC) last year. This is the first time that admissions are taking place under this rule.
For instance, in the department of Modern Indian Languages and Comparative Literature, there are 22 general category seats for PhD in Modern Indian Languages and Literary Studies.
Of these, nine are reserved for students who have qualified NET and Junior Research Fellowship. The other 16 are for students who have qualified through entrance test.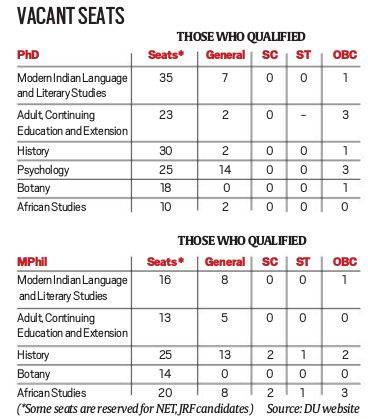 Only eight of 106 candidates who appeared for the exam managed to score over 50%. No SC, ST candidate has qualified, while only one OBC candidate qualified. The highest marks scored by an SC candidate is 94 out of 200; and 91 by a student in the ST category.
Students have been protesting against the move. "I do not know what to do. We did not know about these rules. Does this mean that students who come from deprived backgrounds should not study?" said a student who did not wish to be named.
Uma Devi, a Tamil teacher at the department, said, "This is going to be a problem. Students score poorly because many applicants are from other departments. The questions were focused on English and comparative literature… 50% in the entrance cannot be a criterion for eligibility. The situation is similar in the MPhil programme. The university needs to do something about it or many seats will go vacant."
The department had issued their admission list without following rules for MPhil aspirants, but had to withdraw it.
The situation is similar at the department of Adult, Continuing Education and Extension.
Of the six general category students who appeared for the entrance test, only two have scored 50%.
Three in the OBC category, and one in the person with disability category, have also cleared the test. No SC candidate cleared it. There are 23 seats in the department.
"There is no relaxation of marks for students in the reserved category, due to which this situation has arisen. Since it is a university ordinance, we cannot violate it," said VK Dixit, head of the adult education department.
The situation is similar in bigger departments such as History and Political Science. For Political Science, there are 10 candidates who meet the 50% entrance qualification, of which one is in the OBC category, one in SC and two in ST. There are a total of 16 seats for PhD.
The History department, which has 30 seats for PhD, has three eligible candidates.
Meanwhile, EC member Rajesh Jha has written to the Vice-Chancellor to review the matter.
"The overall situation has emerged as virtual denial of the opportunity to pursue MPhil, PhD. We request you to look into this matter affecting the students very adversely, and cancel the ongoing interviews for MPhil/PhD till the review of this anti-student and anti-social justice eligibility criteria," said Jha.
The Indian Express website has been rated GREEN for its credibility and trustworthiness by Newsguard, a global service that rates news sources for their journalistic standards.