In 2010, the National Aids Control Organisation (NACO) had proposed an ambitious initiative to set up Metro Blood Banks in four cities, including Delhi. The plan was to have state-of-the-art services that would bolster Delhi's transfusion services. But in May 2013, when NACO eventually sent the concept note to the Delhi health secretary, the 49-day AAP government had resigned. The file was stuck in limbo, and it wasn't until July 2016 that the project finally got the Cabinet nod. But prompted by several other delays, NACO decided to shift the project to Kolkata.
Incidentally, the AAP government, in its targets for 2017, had listed the Metro Blood Bank as a key project — spread over 65,000 square feet in Dwarka, with 21 divisions and 190 staff members. It would collect voluntary blood (as opposed to family or replacement blood donation), establish a postgraduate course in transfusion medicine and provide training to physicians.
"As the Government of National Capital Territory of Delhi took four years for selection of site, Cabinet approval, and approval of L-G", the "delay in decision making… deprived people of NCT of Delhi (of the project)," noted the Comptroller and Auditor General (CAG) in an audit of the state of blood transfusion services in the capital.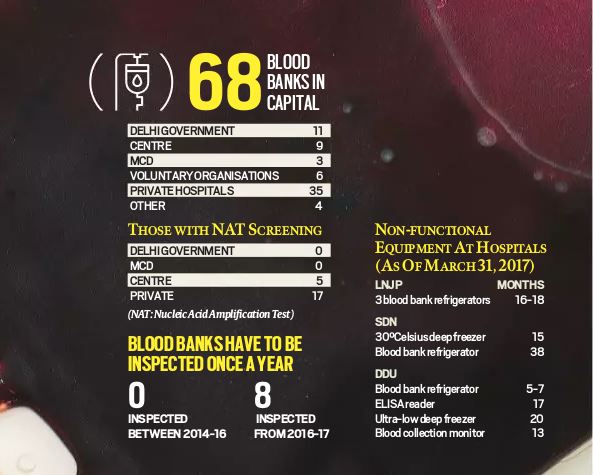 The audit, undertaken in April this year, also raised several other red-flags:
Of Delhi's 68 blood banks, 32 had been operating without a licence as of March 2017, including one for a decade and two for six years each.
There has been a steady dip in voluntary blood donation from 54.55% in 2014 to 45.2% by 2016. The NACO's target is 90% since voluntary donation minimises the risk of infection.
The plan to introduce the Nucleic Acid Amplification Test (NAT) in government hospitals — introduced in the West in the 1990s and considered the safest method to screen early donors — hasn't taken off in nine years.
Crucial equipment such as blood bank refrigerators have been non-functional for up to three years.
This, doctors and experts told The Indian Express, means that even though Delhi has surplus blood for its needs, the rate of transfusion-transmitted infections among donors is higher than the national average. For every 10,000 transfusions in the capital, there is a possibility of 21 cases of HIV transmission, 59 of hepatitis C, and 23 of syphilis, a 2016 NACO report found.
A member of the governing body of the National Blood Transfusion Council said, "This happens when someone donates blood and has no idea they are infected — this accounts for almost 99% of cases." This concern is reiterated in NACO's warning from its plan for 2017-24: While HIV prevalence is dipping across India and in states previously classified as 'high prevalence', rising infections have been found in hitherto 'low prevalence' states, including Delhi.
Who's the donor?
From 2014-17, the blood bank at Guru Teg Bahadur Hospital (GTBH) came the closest (72%) to NACO's target of 90% voluntary blood collections, found the CAG.
In comparison, Lok Nayak Hospital — which has one of the largest haemophilia (a genetic disorder that affects a body's ability to clot blood) centres in the country — collected only 6% of its blood voluntarily, as per CAG. Doctors said this is because the blood bank stopped functioning last June, and no camps have been organised since.
As per the World Health Organisation, "the safest blood donors are voluntary, non-remunerated blood donors" and its goal for all countries is to obtain "all their blood supplies" from voluntary donors — a resolution adopted in 1975. These voluntary donors are the "first line of defence" in preventing "blood-borne infections through… transfusion" like HIV, Hepatitis etc.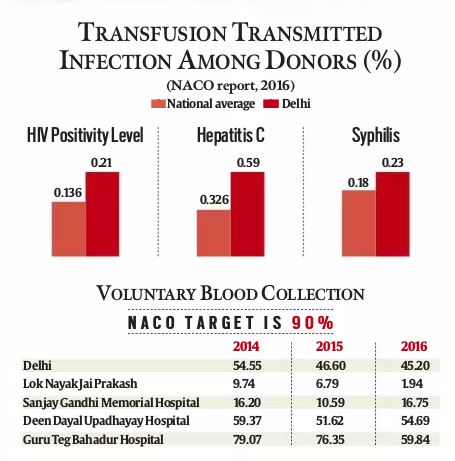 GTB Hospital still fell short by 25,188 units — roughly the amount of blood in 3,100 persons. "It is not mandatory here for any person to donate blood in lieu of receiving it, and we receive blood through voluntary donations or camps," said medical director Sunil Kumar.
Away from the main hospital complex with its bustling crowd and boards that warn of touts, the blood bank at GTBH has an air of efficient urgency about it. A board outside states 'donate blood, save lives'. The conversations inside reiterate this. "You don't realise how important blood banks are till a loved one needs it," said Sushil Malhotra (29), whose mother needs a transfusion after a car accident. Malhotra and his family will be donating blood to his mother.
"There is definitely a reason to worry… If blood banks are operating outside the ambit of the law, how can one not be afraid?" said a senior official of the Delhi health department, when asked about several centres running without a licence.
The 370-bed Swami Dayanand Hospital, the oldest under the East Corporation, did that for 10 years. The blood bank's licence expired in 2007 and was renewed recently. From 2014-16, it collected 6,967 units of blood without a full-time medical officer, failed to maintain proper records and used run-down equipment, found the audit.
Rules mandate that blood banks seek approval before separating blood into its components. But in spite of being flagged for inadequate staff it bought equipment in 2014 and then again in February 2015, at a cost of Rs 27.82 lakh for drawing platelets from donors. Both times, without approval. The audit also found that the 148 donors, who tested positive for diseases like HIV or Hepatitis, didn't receive counselling, since the blood bank didn't have any.
The CAG also found that the hospital was the only one in the capital still using "ELISA-III generation test kits for screening blood for Hepatitis-C as of March 2017". This, despite the Delhi government's orders in April 2011 that all blood banks carry out screening through the NAT or the more common fourth generation ELISA Kits — that can detect infections as soon as two weeks. The CAG report concluded that "delay in adherence to instructions" made recipients "susceptible to infection."
A senior doctor blamed the EDMC's "money and manpower crunch" for the problem. The hospital's former medical superintendent (MS), Dr M L Jaipal, refused to comment as he had "retired earlier this year". Present chief Dr Mukesh Kumar said he "didn't know about the issue and couldn't comment without speaking to the department", while additional MS Dr M P Singh said that "no changes in equipment at the blood bank had been planned yet".
Testing times
At the Drugs Control Department office a few kilometres away, which is supposed to inspect blood banks, officials said the situation has improved in the past few months. Licences for 27 blood banks have been renewed recently, and five run by the Centre await a joint inspection.
An official from the department said, "There was a major staff shortage and we couldn't conduct investigations required to give licences." The department has a sanctioned strength of 31 drug inspectors, of which 11 are vacant.
But even with licences in place, some problems persist. Take, for instance, the only locked door at the GTBH blood bank. A sign outside that says 'NAT testing' has an addition scribbled in ink: 'non- functional'. NAT was first introduced in Germany in 1997. Due to its ability to detect infections as early as four days, it was adopted worldwide.
In India, despite it not being mandatory, states are adopting it. Maharashtra, for instance, wrote to the Centre in January 2015 for its implementation. In Delhi, none of the government or MCD hospitals have NAT, while five of the nine Centre-run blood banks and 17 of the 39 private blood banks do, said the CAG report.
In November 2009, AIIMS conducted a large-scale evaluation of NAT, and the need "to increase availability of safer blood supply". The Delhi government also announced a plan to introduce NAT by outsourcing four major government-run blood banks that would attach smaller banks to itself. A meeting with 12 interested private diagnostics lab followed in December 2012. Minutes from the meeting hinted at the problems that would follow. "Opinion was divided on choice of method" — some advocating a technically superior, safer and more expensive option while others wanted a cheaper method. Requests for proposal were issued in March 2013, with bids to open a month later.
Dr Bharat Singh, who heads the state blood transfusion council (SBTC) – whose mandate it is to ensure transfusion is accessible and safe in the capital — witnessed the NAT discussions fizzle out. "NAT isn't mandatory, so no one bothers. People will talk about it in Delhi and try to introduce it here. But do you think that they will do it in Andaman and Nicobar Islands?" he said.
But the blood donation camps continued. From 2014-17, 3.9 lakh units were collected by 31 blood banks through 7,428 camps. Of these, the CAG selected five banks that conducted 652 camps for the audit. None were inspected by the SBTC, it found. The SBTC's role during the camps is to ensure hygiene, trained personnel and working equipment. It is also meant to address issues at blood banks — from licensing to staff crunch and equipment. But CAG found that the SBTC governing body, which was to meet six times from 2014-17, met only thrice. Its executive body had to meet once a month from 2014-17, but did so only twice. Meetings, the SBTC said, couldn't take place due to "frequent changes" in the governing body and "absence of agenda for discussion."
This isn't the case elsewhere. Take, for instance, the July 2017 order by the Maharashtra SBTC to blood banks directing them to stop replacement blood completely, after it found four hospitals largely depending on replacement donors, with just 20-30% blood coming voluntarily.
This isn't possible in Delhi, Singh argues — not with the staff and resources available. In 2009, NACO had created 12 posts for each SBTC. Singh's role as a SBTC director is an additional charge, apart from his role as senior pathologist at GTBH. For this, he said, he "receives no perks, no extra salary, just a phone" and two staffers. His March 2015 proposal for more manpower is now with the Planning Department and "still under process", said the audit. "This is all hawabaazi. You need staff, you need equipment. Neither the SBTC nor the Drugs department have any," he said.
The Indian Express website has been rated GREEN for its credibility and trustworthiness by Newsguard, a global service that rates news sources for their journalistic standards.