Gas balloons on birthdays are supposed to add fun and colour to the day. But there's a fair chance that these seemingly innocuous items can turn a party into a tragedy.
The sellers of levitating gas balloons, which are very popular among children, are increasingly using highly inflammable hydrogen instead of legally permitted and much safer helium. Shockingly, according to industry insiders, as many as "95 per cent" of levitating balloon sellers use hydrogen instead of helium. The reason: Hydrogen is much cheaper and more easily available as compared to helium. A seven cubic metre cylinder of helium costs Rs 12,000 while the same volume of hydrogen can be bought for a meagre Rs 1,310.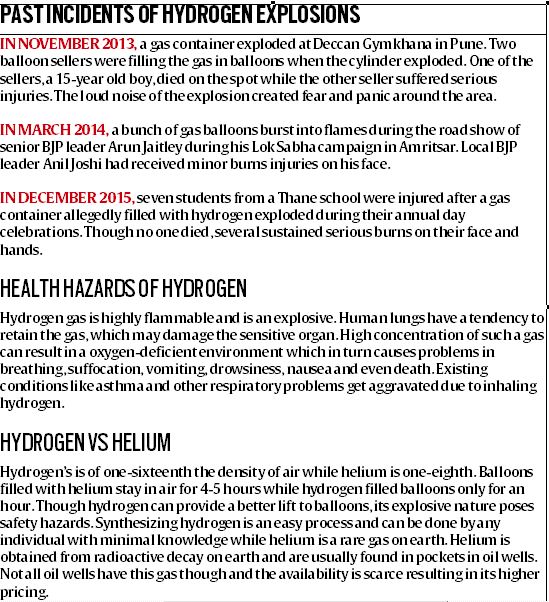 These balloons, clearly a health and safety hazard, are openly sold by roadside vendors who can be spotted outside almost every public park in the city. They are also used by event management firms who use these balloons filled with explosive gas in hundreds to light up a birthday party or anniversary. This particularly poses a great threat as these parties invariably involve lit candles which may cause an explosion. Many a time, these parties are conducted inside closed rooms.
[related-post]
During the course of one week, Pune Newsline spoke to dozens of balloon sellers, decoration firm owners and gas suppliers who sell these gasses freely. It was found that these firms or roadside vendors buy these gases from authorised "chemical and industrial gases suppliers" who are supposed to sell these gases to be used in factories and hospitals. There are about half-a-dozen such firms across the city including in Nana Peth, Chandan Nagar and Pimpri where hydrogen is sold to the balloon vendors without no or very little documentation or verification.
"We sell hydrogen to these people who have been selling balloons traditionally. They were selling it in Mumbai or elsewhere and have now shifted to Pune. Others who were making the gas using crude chemicals now buy it from us. We know many of them personally," says one of the vendors.
Balloon-sellers opt for hydrogen instead of helium because of high profit margin involved. A seven cubic metre cylinder that costs Rs 1,310 can inflate as many as 6,00 balloons of average size (costing Rs 1 each) which are then sold for Rs 20-25 each. Profit margin with helium is much less, say vendors, as the same volume of the gas has to be bought for Rs 12,000 and is generally sold for Rs 60 per piece which in turn makes the product uncompetitive in a market flooded with cheaper hydrogen balloons.
Sanjeev Mangwani, owner of Balloons Decor, a Kalewadi-based decoration firm which takes pride in supplying only helium balloons, says, "Even if we categorically advise buyers against hydrogen balloons, they press for them arguing 'bass 10 min ka to kaam hai' (it's only a 10 minute job). They don't realise that when hundreds of hydrogen balloons are involved, especially for an indoor party, the room has the potential to explode. These balloons can kill."
According to Mangwani, many a time, the event management firms take the customers for a ride in a bid to increase profits. "Most of the times the hosts are not aware what gas the supplier is using. Event managers use hydrogen balloons to increase their profit margin. If the parents insist that they want helium balloons, they still may get hydrogen ones because there's no way the customer can verify," he says, adding that it's the responsibility of the government bodies to see hydrogen is not used for recreational purposes.
The family of a 11-year-old Tanay Gondil, a resident of Ashok Nagar in Pune, learnt this the hard way when the boy suffered burn injuries at a birthday party where hundreds of hydrogen balloons were used for decoration and children were playing with them. The incident happened in Bangalore when Tanay was visiting his uncle to participate in the birthday party in September 2015.
"We had organised the party at a club house in Bangalore. Since kids love gas balloons, we had ordered 300 of them and thought they were helium ones. The order for them was given by an event planner. While the kids were playing with them, one of the balloons burst after drifting and touched an overhead bulb. It caused a chain reaction and several balloons burst one after the other. There were several sparks of fire which fell on the little kids playing. My nephew got injuries on his face and hands. Another girl got her hands burnt. A table cloth had caught fire too. We rushed the kids to a clinic. Although the injuries were minor, it could have been worse," said Vipul Redey, Tanay's uncle who had organised the birthday party.
Those selling the balloons aren't safe either. According to Bandu Rege (38) (name changed), who sells hydrogen balloons in Shivajinagar area, he lost his nephew and an eye in an accident few years ago."A gas cylinder had exploded which resulted into severe burn injuries to my 15-year-old nephew and also injured my left eye," said Rege.
The gas cylinders are often kept unprotected outside the jhuggis and the users may not have any expertise or necessary equipments to handle an explosive gas."Hydrogen is known to cause kidney and lung diseases. These people who belong to very poor class often suffer from these ailments as they don't use a mask or glove while handling the gas," said Mangwani.