TO PROVIDE the much-needed impetus to bolster projects for city's development, the Pune Municipal Corporation (PMC) administration has proposed to set up a 'City Transformation Unit', comprising IIT and IIM graduates, who would assist the civic body in implementing the Rs 31,110 crore-worth projects that are expected to be launched this financial year.
In a proposal tabled at the standing committee meet, Municipal Commissioner Kunal Kumar said on Tuesday that the PMC would start implementing the mega infrastructure project worth Rs 31,110 crore in 2016-17, which is expected to be completed in next three to five years.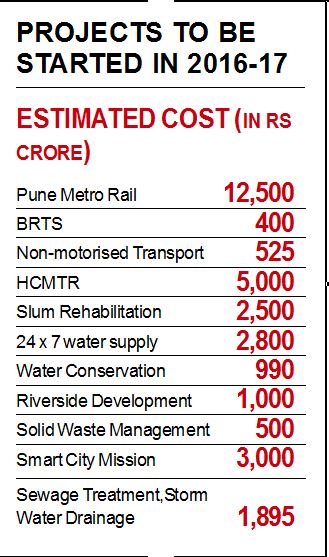 "The City Transformation Unit (CTU) would act as knowledge partner to the civic administration in implementing the civic projects. It would work towards ensuring quality work and maintain coordination among the civic departments as well as various agencies involved in the implementation of projects," he said, adding, it would also help in ensuring that the projects are completed on time.
[related-post]
The experts in the CTU will coordinate with various civic, government departments and agencies to implement the project. They would assist the PMC in conducting survey and reviewing the project implementation.
The CTU would be set up through the Pune City Connect, a non-profit organisation formed with an objective of contributing towards the development of the city. With this, there would be no financial liability with the PMC as it would fall under the Corporate Social Responsibility (CSR). "There would be a selection process wherein graduates would be roped in from the IIT and IIM for the City Transformation Unit," he said.
The municipal commissioner would decide on the outline for the CTU depending on the implementation of civic projects. The municipal commissioner would have the powers to decide on the responsibilities and designate work. The CTU would work under the powers of the municipal commissioner but the honorarium to the members would be given by the Pune City Connect with no burden on the civic body.
The PMC has already signed an agreement with the Pune City Connect last year so that the organisation gets a platform to contribute towards the development of the city.