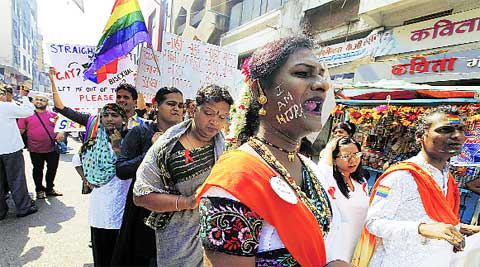 The Lesbian Gay Bisexual Transgender (LGBT) community is clearly a concerned lot. Although 219 of 262 psychiatrists responded in a favourable manner to a one-question survey by saying homosexuality was not a disorder, the 'no show' by the remaining has left several members of the community puzzled.
"We want to know how psychiatrists feel about sexual relations among homosexuals," said Bindumadhav Khire, president of Samapathik Trust, a sexual health organisation that works towards addressing health issues faced by Lesbians, Gays, Bisexual, Transgender, Hijra and inter-sex communities, said. He demanded that the Indian Psychiatric Society submit a statement within a month clarifying their stance on homosexuality.
At the annual national conference of psychiatrists held in Pune from January 17-19, the LGBT community had distributed a form seeking responses from medicos on whether Section 377 of IPC should be read down to exclude intercourse, done in private between consenting adults, irrespective of biological sex, sexual orientation and gender identity.
"We gave these leaflets to 1,712 doctors . A total of 262 forms were submitted, of which 219 responded and said homosexuality is not a disorder," Khire said. Four declined to comment while 32 gave a negative response. The remaining forms were left blank.
Although the community feels the response was heartening, what has raised doubts is an interview in a section of the media by former President of the Indian Psychiatric Society Dr Indira Sharma who has been quoted as reportedly saying "homosexuality is unnatural". However, Dr Vidyadhar Watve, vice president of the Indian Psychiatric Society, said Sharma had been "misquoted" and pointed out that psychiatrists wholeheartedly supported the fact that homosexuality was a natural variant and not a disorder.
Most of the surveys do not generate a response of more than 10-15 per cent. The sample size may have been small, but a large number of psychiatrists have expressed solidarity with the LGBT community and said homosexuality was not a disorder. Psychiatrist Dr Bhooshan Shukla was among those who filed a review petition pertaining to the SC verdict on IPC Section 377.