THE Maharashtra Hill Station Policy is 20 years old but only two hills stations, Amby Valley Sahara Lake city and Lavasa, are functional in the state and the district. Also, three proposals are in the pipeline. The State Development Department has issued a notification for the third hill station as recently as May 13, with a list of 19 rules.
With such stringent rules and regulations, the town planning department does not forsee developers coming forward, after the fate of the earlier proposals.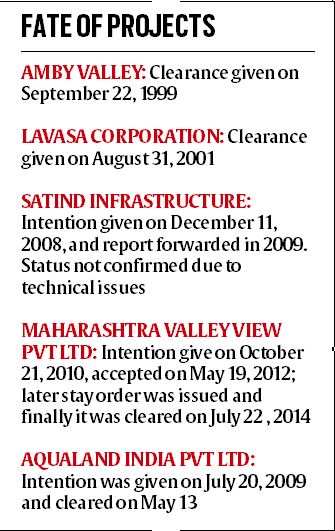 "There is huge investment and development involved in hill stations and the risk factor is equally high. The clearances from the environment department take too long, and so most developers, after proposing it, back out. Incidentally, Pune is the only district in the state having two hill stations. Three proposals are lined up but are yet to get clearances,'' said a senior town planning department official.
The hill station policy was formulated by the state government in 1996 after it realised that large tracts of land could be developed and it would decongest the hill stations of Mahabaleshwar and Matheran. The state government, under the Maharashtra Regional Town Planning Act, had on November 26, 1996, framed special regulations for development of tourist resorts, holiday homes, townships in hilly areas. Hill station regulations fall under Section 20 (4) of the MRTP Act and form part of the 14 regional plans in the state, including that of Pune district. "However other than Pune, there have not been any takers for this policy,'' said a senior town planning official.
The rules stipulate that developers must have in their possession huge tracts of land, nearly 400 hectares or 1000 acres, and environmental clearances. It also says that only 30 per cent of the total area can be used for construction. But there have not been many takers of this policy.
"Where is the land for such policies when there are so many constructions even on the hilly belts? Pune is among the prime locations and now with the other policies such as special townships, SEZs and the new industrial policy, the hill station policy is not being explored,'' said a senior government official.
Moreover with large tracts of land required, villagers had to be willing to give up their land to the developer and could not even be sure of any rehabilitation policy, added the official.
After the environmental issues faced by Lavasa, the three developers who evinced interest in developing hill stations in the Mulshi area are now at different levels of clearances. There were issues which came up after Lavasa and the three proposed projects in Maval, Mulshi and Velhe belts, by Satind Infrastructure Private Ltd, Aqualand India Private Ltd and Maharashtra Valley View Private Limited, respectively, have just been given approvals but not got environment clearances and have many rules and riders to follow.
Satind Infrastructure was looking at three villages, Talbela, Salcar and Mazgaon, and Aqualand was to focus on Mulshi and Warak. Maharashtra Valley was to mainly develop villages in Mulshi taluka. Town planning officials said that the lack in takers was because the three proposals took a long time to get a go ahead.