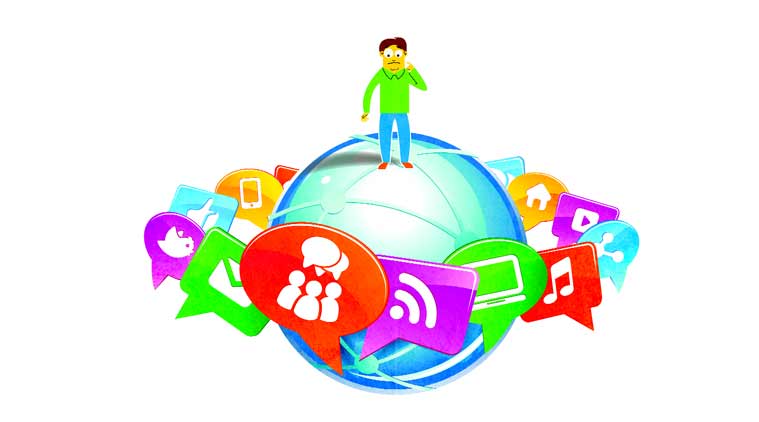 Internet is an incredible tool sustaining new trends and technological advancements with each passing day. And here, the highest point, undoubtedly and widely accepted, seems to be the social networking sites which are to stay for eternity. The name suggests; it is a place that associates diverse communities irrespective of any discrimination. The tremendous range of societal addicts conceives this arena as a platform to stay connected anytime and every time. But these social guardians tend to forget the home-hearth bond for no warranted reason.
Undoubtedly, these social networking sites like. Twitter, Facebook, LinkedIn to name a few, portray a larger-than-life attitude and prove beneficial in all walks of life, be it for a student, a professional, a retired personnel as well. But more often than not, the social mob calls for a safe reminder. Having all things considered, you better cherish or else simply perish!!!!The choice is yours. -Ankita Dalwani, Class IX, St Xavier's High School, Borivali (E)
Social networking sites is a true blessing for today's generation. It certainly has proved to be very useful for us. But have we ever thought about its disadvantages. Here are some advantages as well as some disadvantages of using social networking sites.
[related-post]
Advantages: Worldwide connectivity. Social sites like Facebook, Twitter, Instagram etc are the fastest and the most convenient ways to be connected to our loved ones no matter how far they are from us. These connections can help one with a variety of things like seeking a new job, locating assistance, making or receiving advice etc. Free advertising. Whether you are non-profit organization who needs to get the word out about your upcoming fundraiser or a business owner marketing a new product or service, there's no better way to get your message in front of millions of people by posting it online.
Disadvantages: Cyber bullying. Use of social networks can expose individuals to harassment or inappropriate contact from others. Risks of fraud or identity theft. Whether you like it or not, the information you post on the Internet is available to almost anyone who is clever enough to access it. This leads to a number of cyber fraud or identity theft case. Time waster. Use of internet has proved to be a time waster in 60% of kids. -Anushka Ashok Pandit, Class VIII, St Lawrence High School, Borivali (W)
Whether it is Facebook or Twitter, almost every social networking sites have millions of users involved and indulged in networking. Social networking sites have been a boon in terms of connectivity all over the world. It has brought about a revolutionary change in real time sharing of information. Also people's interest has taken a new direction leading to technological development in every field. Also advertising has taken a new step.
However the other side of the coin states that crime rate has increased tremendously with social networking sites. Fraud users create a lot of nuisance and some cases show that netizens get mentally stressed, leaving no exception for children who are badly affected due to mental stress.
All in all social networking sites are a miracle for business and also provide vast opportunity to learners. But, fake account users create lot of crisis in daily activities. -Arnav Chavan, Class IX , St Xavier's High School, Borivali (E)
In the last five years, various social networking sites have taken the virtual world by storm. Now we have more friends on these sites than in real life. Facebook, Twitter and Orkut have reshaped our lives like never before. Advantages of such sites are that the world has shrunk. We can have friends all over the world. Sitting at our homes, we can share ideas, feelings, pictures and details of our lives with people living in another continents and get instant feedback. This has indeed enriched our lives. Through tweets we are getting awareness about the current happenings across the world. It is no doubt that the advantages of social networking sites have outnumbered the disadvantages, but we still have to consider the downside of these sites too. In this new age world, nothing is private anymore. We have invaded everyone's privacy and this is not a nice thing. -Arnav Shah, Class VIII, Ryan Global School, Andheri
Social networking sites are very important need in our day to day life for students, parents, people in common, avail themselves for information, chatting or talk, study various maps. It has become a part of our life. These sites are available, in computers, laptops, smart phones, mobile phones. In earlier days students were reading novels, story books, encyclopedia, general knowledge books to collect information and now, in this generation students are diverting themselves to social networking. Even our parents, grandparents, siblings, relatives are messaging each other by Facebook, E-mails, etc rather than giving/posting letters by couriers. It was the most beautiful and enjoyable movements in our life when we were waiting for letters. More disadvantages are lack of emotional connection, people's instigation, humiliation, personal meet-ups, communication skills, make you disconnected. Facilitates laziness, create a skewed self-image, reduces family closeness and causes distractions in life. -Gayatri Ware, Class VIII, St Joseph's High School, New Panvel
Social networking sites are popular amongst student. Some of the popular social networking websites are Face book, Twitter, Google, etc. Almost all the students would definitely have a profile in those sites. Facebook like sites will be taken up by students as for fun but some may start using it as fun and gets addicted to it. The main advantage of social networking site is that it helps in establishing connection with people, friends and relatives. It helps in sharing one's view, share pictures and lots of other stuffs. It helps students interacting with one another and share ideas. This helps in improving student's creativity. The major disadvantages of using social networking websites are the students get addicted to it. They used to spend hours in those social networking sites which can obviously degrade the student's academic performance. -Jay Monpra, Class IX,  St Francis High School, Vasai
When we are thinking about trying online networking, we probably have some questions about its merit and demerit. We have many convincing advantages of social networking sites such as worldwide connectivity, people are just a click away! We can seek new job, advertise, share pictures, audio, video, documents etc. There is also a stroke of right to information and right of speech or expression in these sites as citizen can know more about country's welfare by following the pages of media channels, famous personalities, etc. The world comes closer. As all say everything has its darker side, there are severe demerits of online networking like cyber bullying and crime against children. Minors get a bad influence from such sites. It increases the risk of fraud and identity theft by fake accounts and more often a time waster. Since social networking is relatively young online trend, we should know its terms and be sure about its privacy and safety and take responsibility of our own integrity. -Kavni Mashruwala, IX, St Lawrence High School, Borivli (W)
Social Networking Sites connect people from over the world. This is one of its main advantages. Down the lane maybe after 10 years when you want to search your classmate you can easily get in contact with them on Facebook , Whatsapp and other Social Networking Sites. The disadvantages of social networking sites are that they hamper the creativity of the children. Teenagers, adults all addicted to these sites. Spending hours updating the status, photos, profile pictures. Accounts are hacked leading to misuse of personal information led to dangerous consequences. Students lose interest in their studies. However social networking sites help you connect with people having similar likes as yours. It connects you with family members in any corner of the world. In my opinion social networking sites have more benefits if their usage is appropriate .There should be parental control on the accounts of the kids. -Misbah Gilani, X-D, St.Joseph's High School, New Panvel [Ssc]
Social Networking sites are allow us to communicate, share ideas, activities, events, play games, listen music thus helping us to create our own virtual social space where we identify ourselves as one unique among the others. It is undeniably a great source of entertainment, news and global awareness.
Nevertheless, their essentiality cannot be neglected but one must brood over the thought that it is here to stay. So let us submit our moral self to continue its improvement and enhancement for our social lives. -Yesha Sanghvi, Class VIII D, St Xavier's High School, Borivali (E)
Social media sites are increasing day by day. The users of social media sites are also increasing. Through social media, users can communicate to each other. At the same time, they can communicate with sharing pictures or images or voice messages.
These social networking sites are used in the whole world because of their benefits. Communication is the main advantage of it. Users can also express their views and feelings. Users may also take out their talent by participating in various different contests or activities.
At the other side, people may make fake accounts of users, because its not hard at all to do so. Security on personal data is also lacking behind in these social networking sites.. Users also waste their time on these sites when they are addicted to it. They also can be upset by something or the other in these sites.
So overall, social networking sites have a great impact on the whole world today and all age groups. -Raunak Singh, Grade 7, Ryan Global School, Andheri
📣 The Indian Express is now on Telegram. Click here to join our channel (@indianexpress) and stay updated with the latest headlines
For all the latest Mumbai News, download Indian Express App.
The Indian Express website has been rated GREEN for its credibility and trustworthiness by Newsguard, a global service that rates news sources for their journalistic standards.