Written by
Mihika Basu
| Mumbai |
Updated: March 11, 2015 12:11:02 am
When the foundation stone for the Prince of Wales Museum, now the Chhatrapati Shivaji Maharaj Vastu Sangrahalaya (CSMVS), was laid on November 11, 1905, by the Prince of Wales (later King George V), it also marked the beginnings of the library that became an integral part when the museum was thrown open on January 10, 1922.
One of the oldest reference libraries in the country, the library at CSMVS has managed to remain the primary source of information for archaeologists, historians, artists, heritage conservationists and students, despite the onslaught of the Internet and social media, say officials at the museum.
"This is a reference library where researchers and scholars can find all important reference books and latest publications on art, history, archeology, heritage and culture," said S Mukherjee, director, CSMVS.
[related-post]
"Since we are a reference library, noted scholars and researchers access the library for primary information. We also get students from various colleges, including our own students of Post Graduate Diploma in Museology," he added.
What started off as a modest library with around 5,000 books has now grown into a rich collection of over 30,000 books and 5000 periodicals and journals.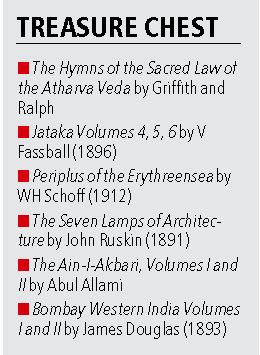 There is a massive collection of 200 rare books and manuscripts and these can be accessed only with special permission. The oldest among these include 'Travels in India During the Years 1760, 1781, 1782, 1783' by William Hodges and 'Jataka, Volume 4,5 6' by V Fassball among others. While the pages in some of these books are worn out, the process of restoring them is currently underway.
The library, is divided into two primary sections.
The first floor stores journals, which includes Marg, Artibus Asia, Annals of Bhandarkar, Journal of Bombay Asiatic Society, Islamic Culture, Journal of Indian Museums, Indian Journal of History of Science, Epigraphia Indica, The Indian Antiquary, Rooplekha, Rupam, National Geographic and Oriental Art.
The floor also houses the rare books that are stored carefully.
The ground floor, which includes computer facilities and reading tables, has books segregated into dedicated sections covering paintings, Ancient History, Archaeology, Geography, Sanskrit literature, Indian Civilisation, Zoology, Mahabharata and Ramayana, Mughal period, British period, customs, language and folklore, Sociology, Economics, Hinduism, Vedic religion, Buddhism, Jainism, Mythology, Religion and Philosophy, Library Science, Textiles and Handicrafts, pottery, terracotta and jewellery, coins, sculptures, temple architecture, Indian, Western and Mughal Art.
While the library was refurbished in 2013 with the help of funds from the Kala Ghoda Association, it is currently engaged in digitisation of its collection.
"I started using the library since I was studying for my BA in history in 2012. I am currently pursuing my masters in history and I am simultaneously pursuing my PG diploma from the museum. I am working on my dissertation on museum exhibition and this library is a one-stop information platform,"said Ajay Salunkhe, a student.
Sofiya Karanjia, who teaches art and design at Rachana Sansad, is another regular. "It is not an ordinary library and has a huge resource in art and culture from the beginning of the 20th century."
The museum staff consider the library as "a robust back-end resource". The curatorial staff consult the source material for writing books, catalogues, guide books and research papers. "
"It is an integral part of the museum as we need research and references for our collections. We need to refer to the books here constantly so that we can effectively communicate about the collection to our visitor"," said Bilwa Kulkarni, education officer, CSMVS.
Even in the Internet age when information is readily available by entering the correct terms in a search engine, the library is quite popular among its users.
"The Internet and social media revolution has a discernible impact on physically accessing books, youngsters want to take shortcuts which is definitely a cause for concern. However, it is heartening to see that people still do come to the library," said Mukherjee.
mihika.basu@expressindia.com
The Indian Express website has been rated GREEN for its credibility and trustworthiness by Newsguard, a global service that rates news sources for their journalistic standards.