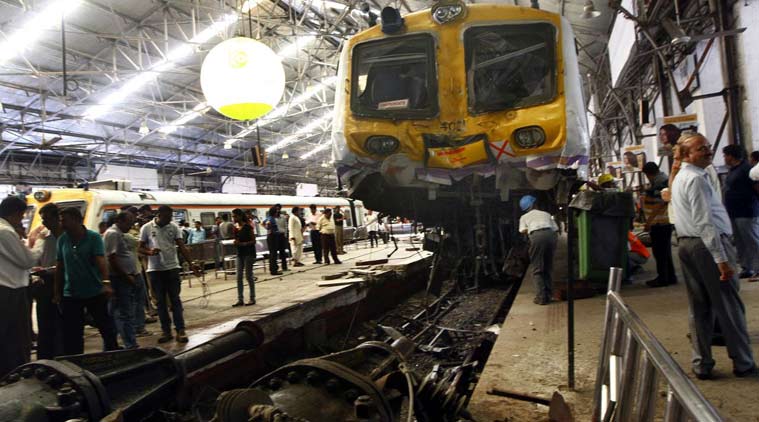 Railways Minister Suresh Prabhu today ordered a probe into the freak accident at Churchgate Station here wherein a local train crashed into the dead end, injuring five passengers and disrupting suburban services on the Western Railway line.
"Ordered inquiry into freak accident at Churchgate. All lapses of any kind… responsibility will be fixed, action will be taken," he tweeted.
Following the incident, Western Railway (WR) had launched an inquiry and suspended motorman L S Tiwari, guard Ajay Gohil and loco inspector M G Verma of the locomotive yesterday.
[related-post]
The speeding train, coming from Bhayander, rammed into the dead end on platform number 3 of Churchgate station at about 11.20 AM, as the motorman failed to stop the train in time. As a result, its first coach jumped onto the south end concourse of the platform.
Due to the impact, the wheels of the first coach were seen hanging in the air, ripping apart all the technical equipment in its lower part and also the overhead wire on upper side.
According to Shailendra Kumar, Divisional Railway Manager (DRM), Mumbai Division the reason for the motorman not being able to halt the train in time is yet to be ascertained.
In order to check whether Tiwari was drunk, a breath analyser test was conducted, which proved negative. However, for further assurance, his blood sample has been collected, the DRM had said.
The mangled coach was removed from the track and work to restore services for train operations from platform number 3 were still on.
Meanwhile, DRM Shailendra Kumar said that restoration operations at platform number 3 in Churchgate have been completed and local train services are likely to resume soon after 11 AM.
Kumar, who supervised the overnight operations after the accident on specific instructions given by General Manager (WR) S K Sood said that at least 20 suburban services were cancelled since this morning as restoration work was underway and the platform was blocked.