Mumbai Rains, Mumbai Local Train Status, Weather Forecast Highlights: After four consecutive days of heavy rainfall, Mumbai on Wednesday breathed a sigh of relief as the skies cleared. The intensity of rain is likely to further decrease on Thursday. Transportation services in the city, including rain and road, are running smoothly. The city has already received an average rainfall of 840.7mm in July.
The Indian Meteorological Department (IMD) has predicted that the rains will pick up again on Friday, when a few places will witness heavy to very heavy rainfall.
Also read | Marooned in Mumbai: Residents try to pick up pieces

Since July 1, there have been 62 rain-related deaths reported across Maharashtra. On Tuesday, the city received 184.3 mm of rainfall, the highest recorded in a single day in the last four years.
Live Blog
Mumbai rains, weather forecast Highlights: Heavy to very heavy rain in predicted in the city today. Follow the latest news below. Read this in Hindi.
Mumbai pothole accidents: Congress launches campaign to ridicule BMC
Mumbai Congress president Sanjay Nirupam on Thursday launched a campaign to mock the civic body Brihanmumbai Municipal Corporation (BMC) over accident deaths due pothole-ridden roads. The condition of roads in Mumbai deteriorates in the rainy season, leading to deaths of commuters, especially putting two-wheeler riders. Recently, a woman pillion rider lost her life after she was run over by a bus. Meanwhile, the Congress leader has alleged that the Shiv Sena-led BMC has 'miserably failed' to deal with the potholes that have been responsible for the death of four people in various accidents in the city and suburbs, PTI reports.
Python rescued at BKC police station
An approximately nine-foot Rock python found in Mumbai while police were patrolling at night. The snake has been handed over to the forest department (Express Photos/Pradip Das)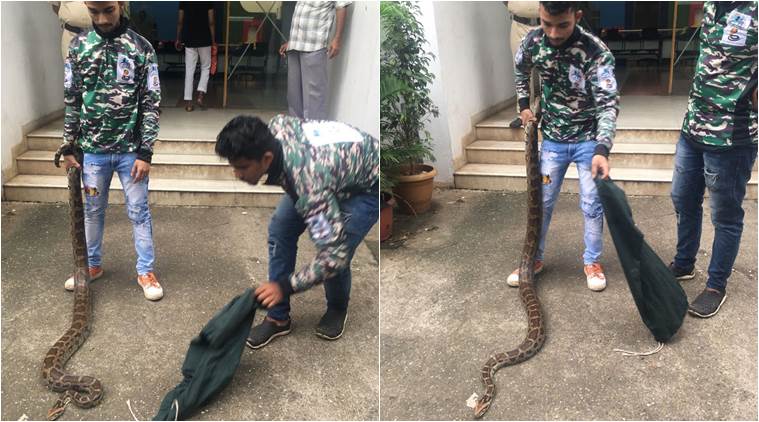 Opinion: From the dramatic rescue in Thailand to the unrelenting monsoon in Mumbai
Shailaja Bajpai writes: "There was just so much water you wanted that face mask worn by the boys in Tham Luang or the life-saving jackets on reporters floating around Mumbai. Deep down those cavernous caves of Thailand, waist-high water ebbed and flowed as the divers inched forward to rescue the Wild Boars, one by one. Far away on the western coast of India, 90 per cent of the rain that normally falls during July, has already drenched maximum city, so NDTV 24×7 claimed. Maharashtra was bloated with torrential rainfall that had nowhere to go but to flood the fields, the cities, the highways (ABP, Zee News)." Read the column 'Telescope: Telling a soggy tale'.


Cartoon by Mika
For more cartoons, visit https://bit.ly/2KgA3YZ
Express Editorial: Writ in the rain
"The anticipated calamitous outcomes of Mumbai's ham-handed response to environmentalists' concerns are not in the distant future; they're simply playing out in the distant suburbs. Whether it is the systematic destruction of mangroves, the failed plan to revive the Mithi River, concrete intrusions into the Sanjay Gandhi National Park or the entirely absent affordable housing, the day of reckoning has come."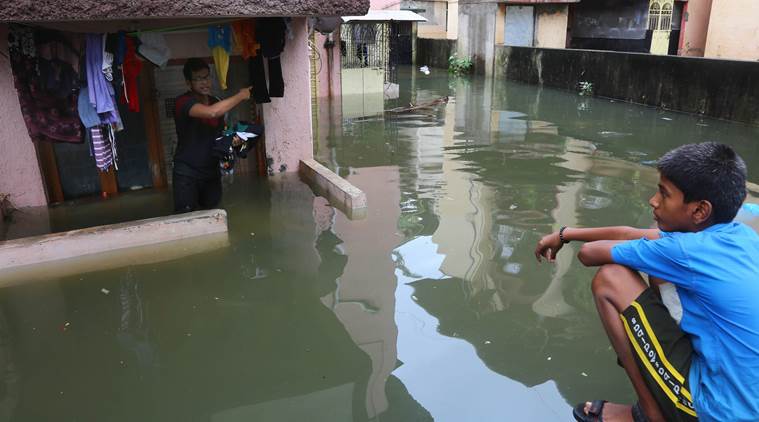 A resident of Vishal Nagar outside his flooded ground-floor flat. (Express Photo/Prashant Nadkar)

Residents deal with waterlogging, low supplies
Incessant rainfall till Wednesday left the satellite townships of Vasai, Virar and Nallasopara – located around 50 km off Mumbai – flooded and residents marooned. While the rain has stopped, residents are still trying to deal with waterlogging.
Read | Day after in Vasai: water in homes, supplies run dry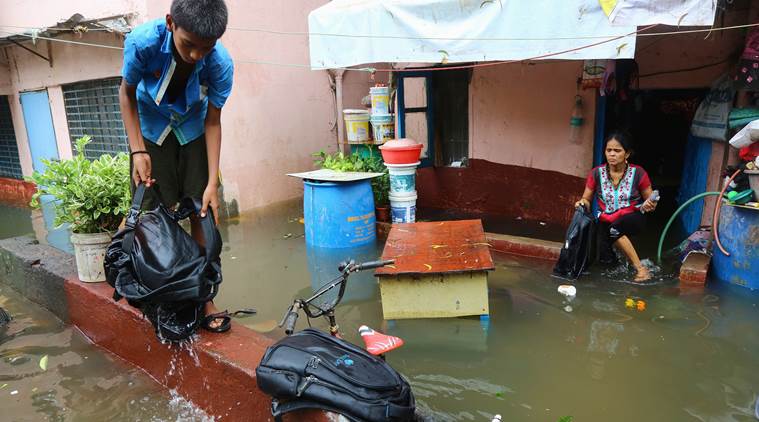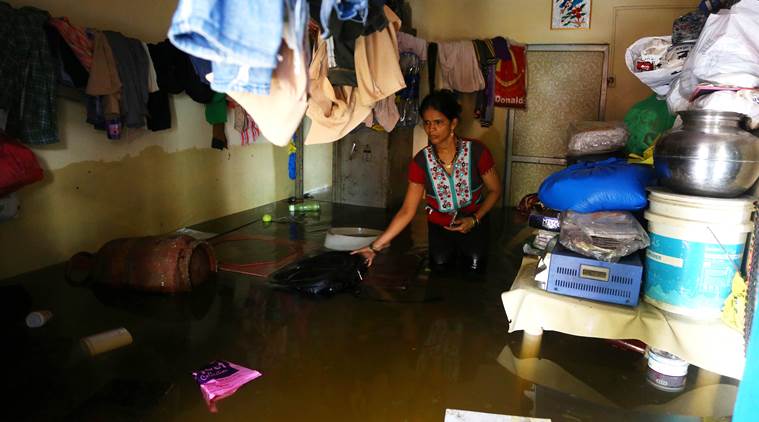 (Express Photos/Prashant Nadkar)
On Tuesday, Mumbai recived heaviest single-day rain in 4 years
Mumbai received 184.3 mm of rainfall on Tuesday, the highest amount of rainfall recorded in a single day in the last four years. The Santacruz observatory on Wednesday recorded 868.9 mm over the first 11 days of July, already higher than the 840.7 mm average for the entire month over the last 30 years. Read more here.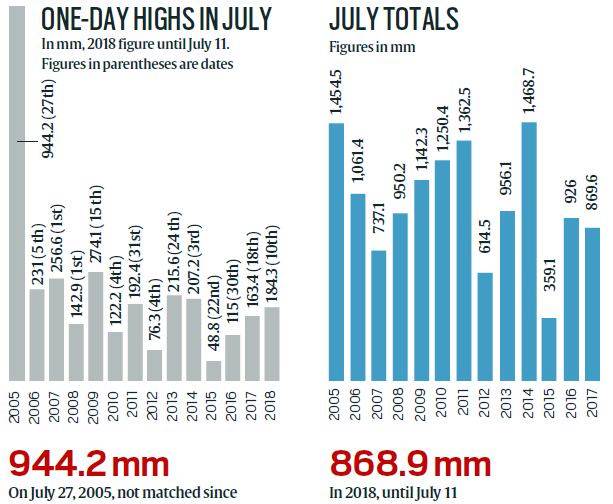 Weather forecast on Thursday: Cloudy skies with intermittent rain
Cloudy skies with intermittent rain — this is the weather forecast for today. The IMD has predicted that the intensity of rain will further decrease today, but will pick up again tomorrow. Mumbai is witnessing a temporary relief from the rain, which caused havoc earlier this week. Stay tuned through the day as we bring you the latest news and updates!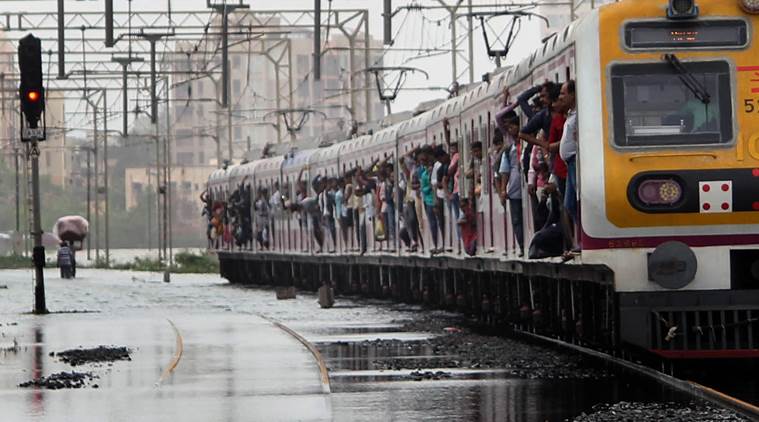 Waterlogging along railway track (Express Photo/Ganesh Tendulkar)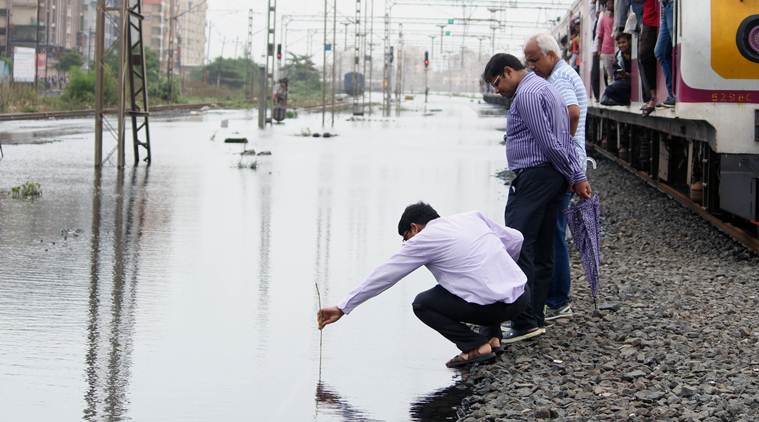 Railway officer checks water-level at railway track near Nallasopara station on Wednesday. (Express photo by Ganesh Tendulkar)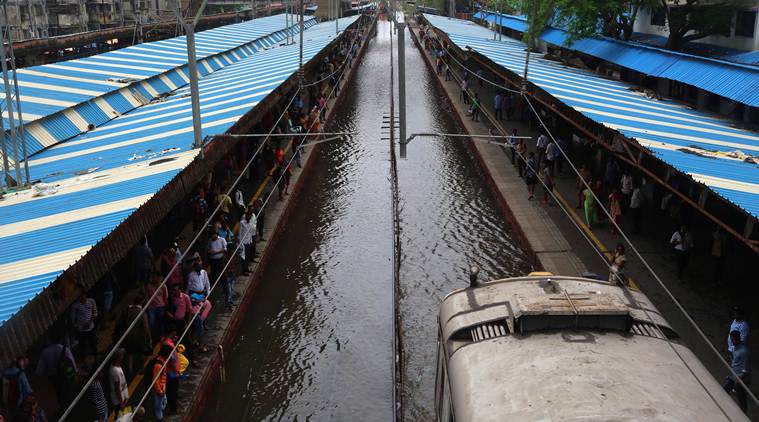 Railway tracks at Nallasopara station remained submerged on Wednesday. (Express photo by Prashant Nadkar)
Union minister Kiren Rijiju reviews rescue efforts by NDRF in Mumbai
Today I reviewed the NDRF rescue operation efforts in Mumbai region. @NDRFHQ is fully equipped and trained to deal with floods and other Natural Disasters within the country as well as our neighbours. pic.twitter.com/yqgxhRiG2w

— Kiren Rijiju (@KirenRijiju) July 11, 2018
Disaster Management Unit of the BMC will take a call on declaring holiday for schools, colleges in Mumbai: Minister Vinod Tawde
Maharashtra Education Minister Vinod Tawde, who is also Guardian Minister for Mumbai, held a meeting of officials of various agencies including the railway, police, BMC, MMRDA (Mumbai Metropolitan Region Development Authority) at the civic headquarters in south Mumbai.
"Disaster Management Unit of the BMC has now been entrusted to take a call on declaring holiday for schools and colleges in the city (in event of heavy rains). Officials of the disaster management cell of the BMC will hold a meeting in the morning at 5 am (on a day of heavy rain) and will decide by 6 am whether holiday should be declared for all schools, including those affiliated to CBSE, ICSE board, and colleges or not. All schools will have to follow directives of this cell," Tawde told reporters after the meeting.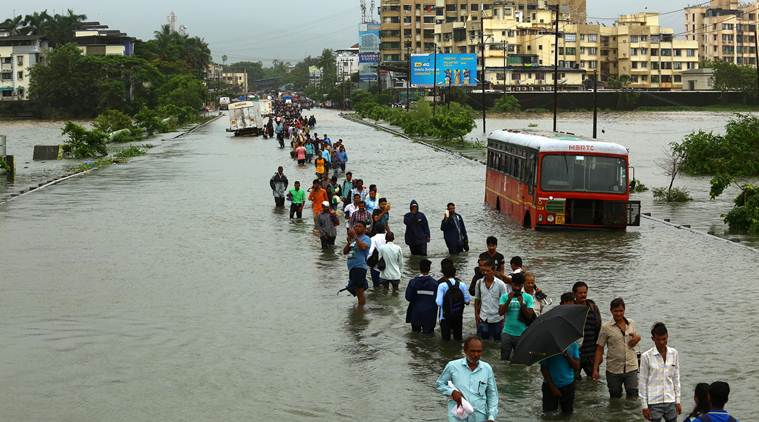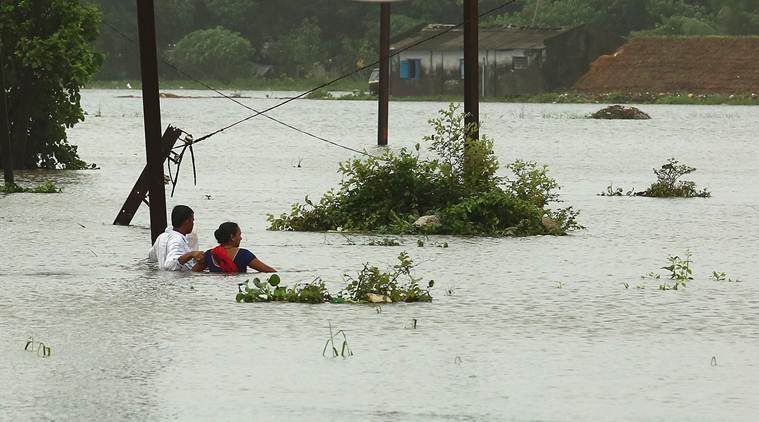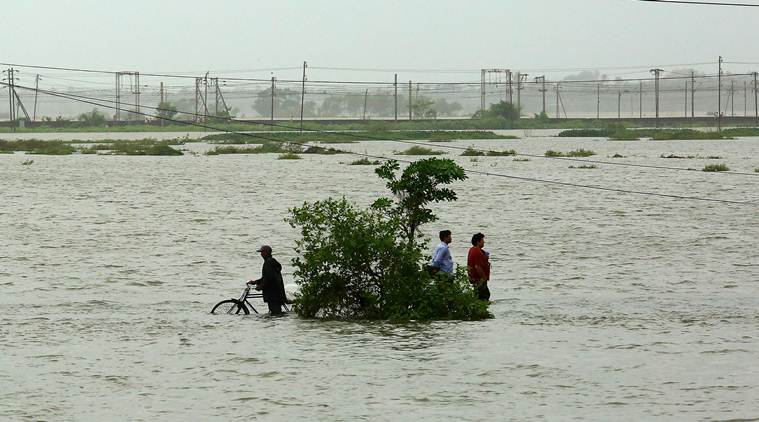 Residents of Evershine City and Vasant Nagari wading through flood waters to reach Vasai station. (Express photo by Prashant Nadkar)
Heavy rains lead to waterlogging in several parts in Mumbai
BMC's Disaster Management department held meeting in Mumbai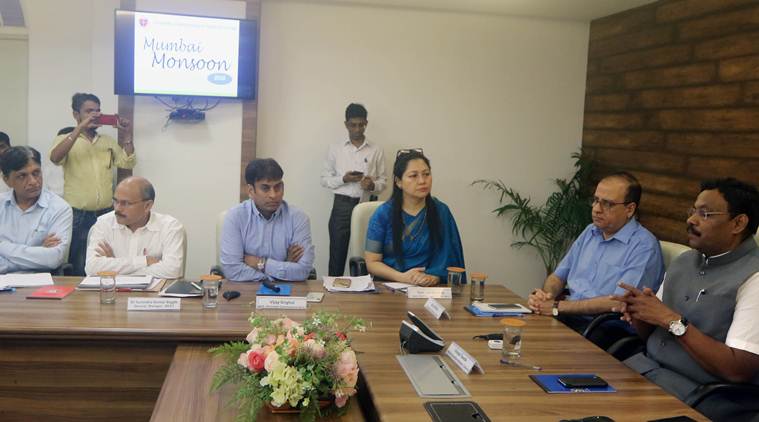 Maharashtra Minister Vinod Tawde at a meeting with Ajoy Mehta BMC commisioner and other officers at BMC's Disaster Management office in Mumbai. (Express Photo by Ganesh Shirshekar)
Massive traffic jam due to bad road conditions after heavy rains in Mumbai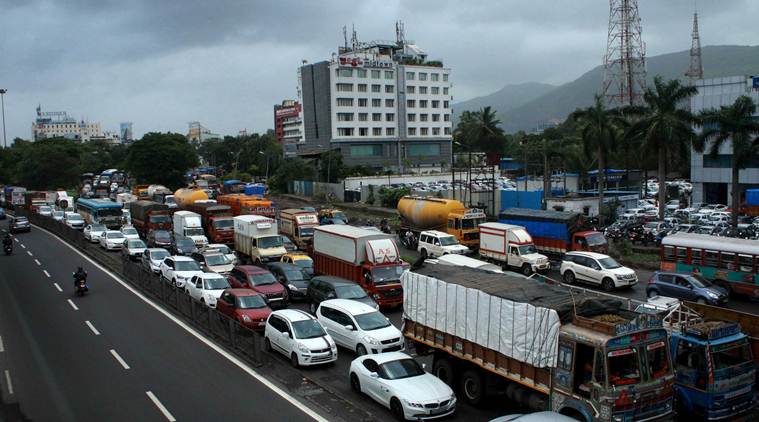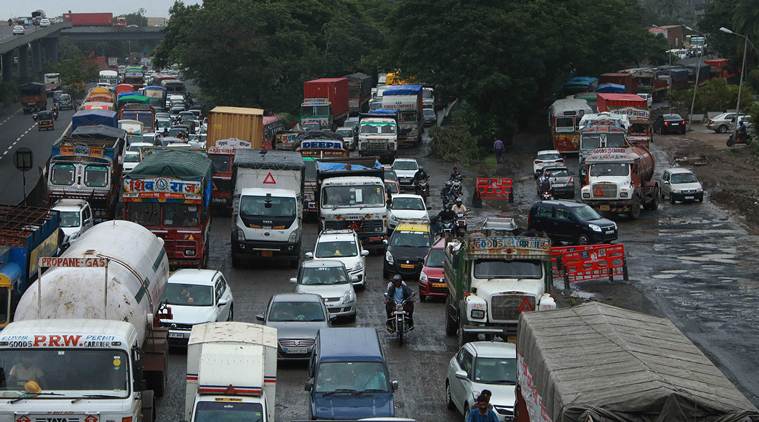 Traffic snarl on Sion-Panvel Highway at Turbhe, Sanpada and Juinagar on Wednesday morning due to bad road conditions after heavy rains in the city. (Express Photo by Amit Chakravarty)
Maharashtra Minister Vinod Tawde on heavy rains in Mumbai
Light rain was predicted for Andheri & other areas in the city whereas Virar, Chembur, Nala Sopara were predicted to receive heavy rains. These areas have a problem of water-logging. Due to heavy rain & high tide, water could not recede: Maharashtra Minister Vinod Tawde #Mumbai pic.twitter.com/8bgqbCuIcm

— ANI (@ANI) July 11, 2018
Mumbai's suburban trains resume service
Mumbai's suburban trains from Churchgate to Dahanu Road have resumed service. Services between Churchgate- Bhayandar and Virar-Dahanu Road are running normally while trains between Vasai Road - Virar are being run on restricted speed. All four lines between Vasai Road and Virar have been opened.
Mumbai will receive rains for the next 3-4 days: MeT department
It will rain for next 3-4 days in Mumbai and Konkan region but the intensity will decrease and on 13-14 July intensity might go up again. In the coming 3- 4 days it will rain in north-west India and the temperature will drop, it may start raining in Delhi-NCR from tonight: Charan Singh from MeT deparment was quoted by ANI.