A chartered aircraft crashed in Mumbai's Ghatkopar on Thursday killing five people including a passerby. The UY Aviation Pvt Ltd King Air C-90 aircraft VT-UPZ was sold to the operator by the Uttar Pradesh government and was on a test flight when it met with the accident.
Both the pilots and two Aircraft Maintenance Engineers (AMEs) on board were killed in the fatal accident, and their bodies have been taken to Rajawadi Hospital. A senior DGCA official said that a team is on its way for a preliminary investigation. The Aircraft Accident Investigation Bureau (AAIB) will do a detailed investigation of the crash. The National Disaster Response Force (NDRF) has also been pressed into service.
"The chartered plane which crashed in Mumbai does not belong to the UP government. The state government had sold it to Mumbai's UY Aviation. The deal was done after the plane had met with an accident in Allahabad," said Principal Secretary Information Avnish Awasthi. (With inputs from ENS Mumbai)
Also Read | Chartered aircraft crashes in Ghatkopar, five dead
See Photos: Mumbai chartered plane crash kills five
Live Blog
Five people have died in the fatal Mumbai plane crash. Follow LIVE Highlights HERE. Read in IE Tamil, IE Malayalam, IE Bengali
Husband of technician killed onboard blames aviation company for incident
The incident could have been averted. Maria had told me that the flight won't be flown due to bad weather. The aviation company is responsible for this unfortunate incident: P Kuthariya, Husband of the pilot killed in the chartered plane crash.
Aircraft undergoing repairs was certified 'fit to fly'
According to sources in the Mumbai Police, UY Aviation Pvt Ltd King Air C-90 plane VT-UPZ that crashed at Ghatkopar was undergoing repairs and maintenance work for the past one year. It was recently certified fit to fly, today morning it took its first test flight post the repairs.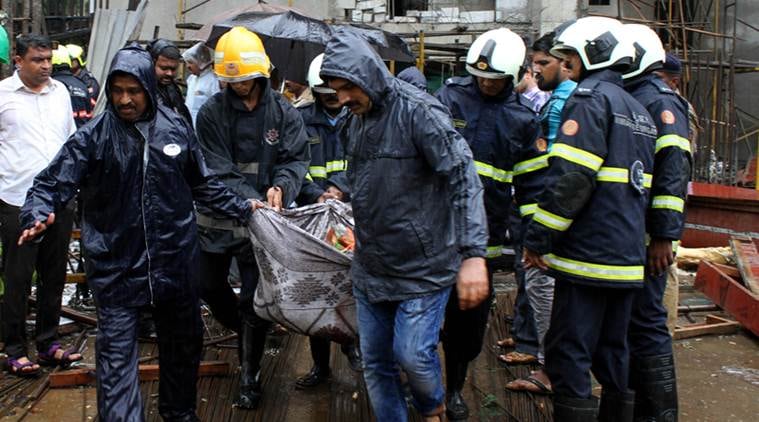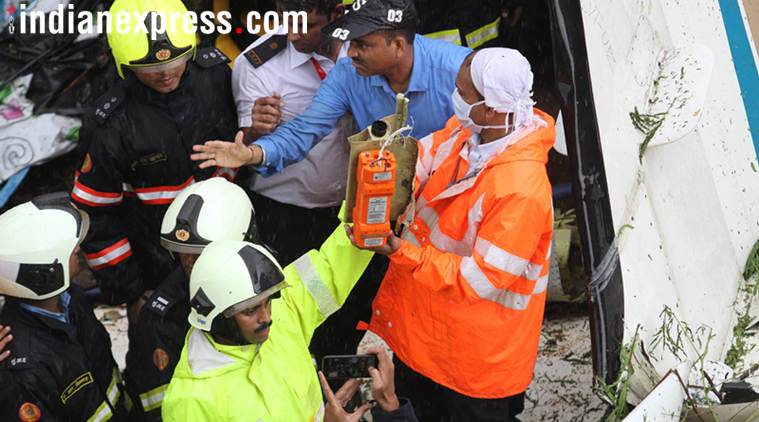 CM Devendra Fadnavis visited the crash site in the evening
CM @Dev_Fadnavis visits private aircraft VT-UPZ crash site in Ghatkopar, Mumbai to inspect relief operations being carried out.
CM expressed grief over loss of life and assured all type of necessary assistance from GoM. pic.twitter.com/2dRQPtaAf1

— CMO Maharashtra (@CMOMaharashtra) June 28, 2018
Chartered aircraft crashes in Mumbai
A chartered aircraft with four persons onboard crashed at a construction site in Ghatkopar, Mumbai near Sarvodaya Hospital. All four have been killed in the crash and their bodies have been taken to Rajawadi Hospital.
Two other people, who suffered injuries, have been rushed to the hospital. Read more here
See footage of deadly Mumbai Plane Crash
According to officials from UY Aviations, both the pilot and co-pilot had years of experienced clocking more than 1000 hours of flying. The officials said that they were in contact with the families all the four deceased which included two pilots and two AMEs. In pics, Surabhi Gupta and Manish Pandey, the two Engineers onboard. (Source: Juhu Airport)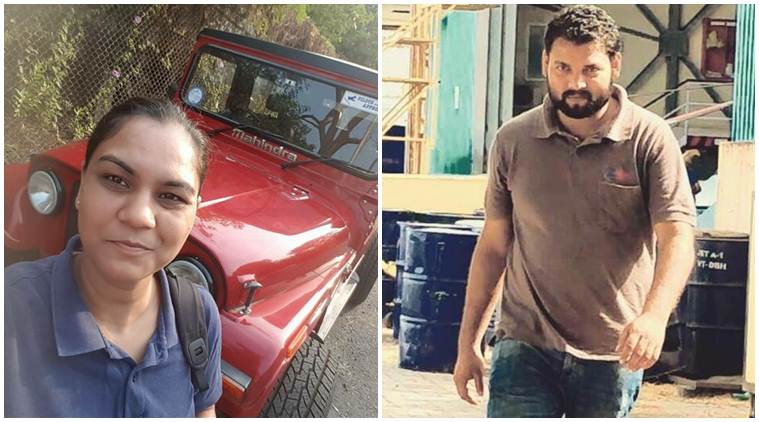 CM Devendra Fadnavis visits crash site
Maharashtra Chief Minister Devendra Fadnavis has reached the crash site in Ghatkopar where the chartered plane crashed around 1.45 pm earlier today, killing five people.
Final pictures of the aircraft minutes before it crashed
Mumbai Police releases details
Time of incident reported: @ 1345 hrs
Update reported: @ 1613 hrs
Incident : Chartered Air Craft Crashed Level- L0
Details: Chartered Air Craft of UI Company crashed at Old Malik Estate, Near telephone exchange, Prithvi building, Jeev Daya Lane,Ghatkopar(W).
Update info took from Shri Londhe ( C P Control) : Total five brought dead 1) Captain Pradeep Rajput - M, 2) Captain Mariya - F, 3) Surbhi ( Engineer)- F, 4) Manish (Technician)- M, 5) Unknown and 3 injured Names - 1) Lovekush Kumar, 21 yrs- M, 2 ) Naresh Kumar Nisad, 24 yrs- M, 3) Prashant Mahakal, 23 yrs-M, all are stable.
Suresh Prabhu on Mumbai Plane Crash
Saddened to hear the news about the aircraft crash in Mumbai.
Have directed DGCA to conduct an investigation into the plane crash at the earliest. I'm in constant touch with on ground developments.

— Suresh Prabhu (@sureshpprabhu) June 28, 2018
Witness narrates the plane collided with tree on ground before burning
According to laborers working in the under construction building where the chartered plane crashed in Ghatkopar, the plane collided with a tree while coming down and an imminent blast worsened the situation.
Plane was in operation for 22 years before crashing today
"The pilot and the co-pilot were our employees and both have great flying experience. The pilot has flown over 5000 hours while the co-pilot used to fly with Jet Airways before. The engineers were from Indamer Aviation Limited. We are in touch with the family and also with DGCA and the local police. Our team is on the site. The flight has been in operation for the last 22 years and recently procured by us. It was with Indamer for maintenance and we took it on a test flight today as we were to start operations soon. The flight was in the air for an hour and was just about to land at Juhu when the accident occured," said Anil Chauhan, head of operations, UY Aviation.
Fire teders and NDRF conducrt rescue operations
A fire brigade official said, "Our control room got call at 1.15 pm informing a plane crash. Our jawans were immediately rushed to the site to launch the rescue operation Four fire engines and as many water tankers were rushed t douse the fire that occurred after the plane crashed."
Investigators recover aircraft black box from crash site in Ghatkopar
The investigators recovered the black box of the aircraft, however, details on the conditions of the black box is awaited. Meanwhile, DCP Shivaji Umap said, ' All bodies are charred and beyond recognition.'
Mumbaiplanecrash- Black box found. This is critical to the investigation and will help find the last communication the pilot had with the ATC before the plane crashed.@IndianExpress pic.twitter.com/KJgD8nW4Ej

— Rashmi Rajput (@RashmiRajput123) June 28, 2018
Two injured from the crash impact now stable
Two people reportedly injured due to the impact of the blast after the plane crashed include Luvkush kumar, 21, who suffered Minor foot injury and Nareshkumar Nishad, 24, who suffered burns on Face.
Luvkush Kumar gaud who was injured in the blast impact after the crash is now stable. (Express Photo)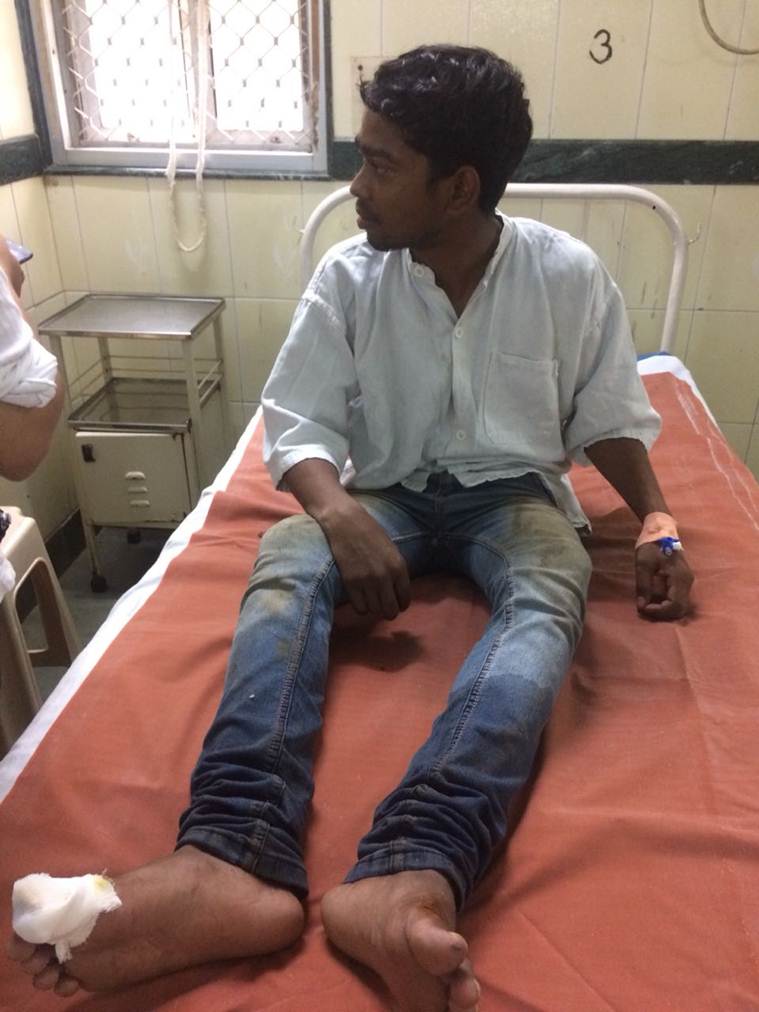 Rescue operation and search for black box on
A senior police official said,' As this was an under construction site, we are still trying to find trapped victims. Also the search for the black box is on.' Meanwhile, cops from Juhu Police station are at the UY Aviation office for questioning. the four people on board the crashed aircraft in Ghatkopar were Capt P S Rajput, Co-pilot Maria Zuberi, AME Surbhi and aircraft technician Manish Pandey.
Here is everything you need to know about Beechcraft King Air C90 aircraft
The chartered aircraft that crashed in Mumbai's Ghatkopar on Thursday afternoon is a Beechcraft King Air C90 model. The twin-turboprop aircraft was previously registered to the Uttar Pradesh government but was sold in 2014 to a Mumbai-based company, UY aviation. The plane was carrying two pilots and two technicians, and took off from Juhu airport for a test flight, a DGCA official said.
READ | Mumbai plane crash: Here is everything you need to know about Beechcraft King Air C90 aircraft
Suresh Prabhu directs officials to rush to spot
Civil Aviation Minister Suresh Prabhu also asked officials to rush to the spot to assist in the relief operations, an official in the ministry said. He said the minister also asked the investigation authorities to ascertain the cause of the crash. The small aircraft crashed in Sarvodya Nagar of Ghatkopar area in Mumbai at around 1.30 pm. Police, fire brigade and disaster management teams rushed to the spot, Akhilesh Singh, Deputy Commissioner of Police (Zone-7) told PTI. Four fire engines have reached the spot, a BMC official said.
DGCA team reaches crash site
A DGCA team is on its way for a preliminary investigation. The Aircraft Accident Investigation Bureau (AAIB) will do a detailed investigation.
Five people dead, bodies recovered
The crash took place near Sarvodaya Hospital. There were four people in the aircraft — two pilots and two aircraft maintenance engineers. All four have been killed in the crash and their bodies have been taken to Rajawadi Hospital.