Over 30 student activists associated with All India Students' Association (AISA), Students Federation Of India (SFI) and Communist Party of India (Marxist-Leninists) Liberation were allegedly detained and beaten up by the Matunga police on Saturday evening. While students claim they just wanted to submit an application to stage a protest, police have alleged that they were forcibly trying to enter the police station and were creating a ruckus.
Hundreds of students gathered near Dadar railway station to stage a protest in support of students of Pune's Ferguson College and Hyderabad Central University on Saturday evening, however police did not allow then to gather there.
"We asked many first year students and those residing far-off places to leave and around 30 of us were headed to Matunga Police station. We had made a written application seeking permission to protest and why we are not being allowed to stage a peaceful protest. We told them it is our right and they cannot stop us from doing so," said one of the protesting students Abhilasha Srivastava.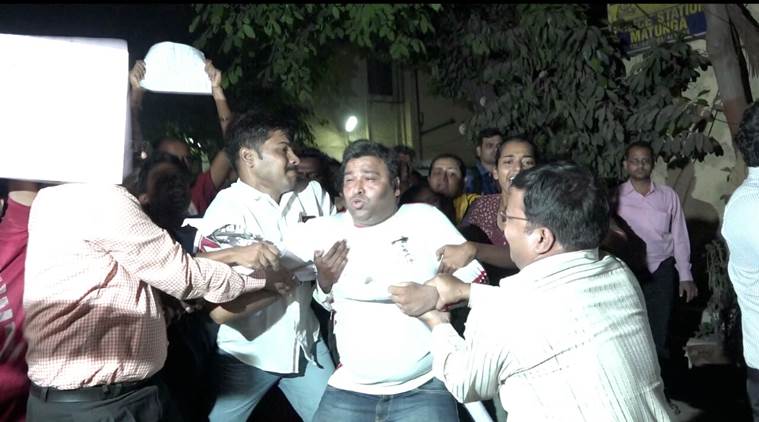 Another student Dhananjay Kangude said, they went to the police station with an intention to find out why they are being denied permission to protest. "Last time too they cancelled permission to protest. We just wanted to find out why they doing this, when we had assured that it would be a peaceful gathering. The senior police inspector however refused to talk to us and asked us to leave instead," said Kangude.
Students claim that when they refused to leave the premises, the police personnel yelled at them and also beat them up.
Srivastava added, "One of our comrades who argued with the senior police inspector was kicked by one of the officers. When we all protested against this, the girls were pushed out, and boys were detained and beaten up. We had to call our state leadership and lawyers for help."
"Hundred per cent there is no use of force. The students did not have permission to protest at Dadar raiilway station. They had applied to the police station and were requested not to go ahead with it today as there is a Shiv Jayanti bandobast," said Ashok Dudhe, Deputy Commissioner of Police, Zone IV. He added that the students did not agree to the request and gathered at the police station and chanted slogans. Students were still being held by the police when he was contacted.
On March 2, student activists were detained at the Matunga police station for allegedly gathering outside Dadar railway station with an intention to stage a protest. The students had alleged that despite giving an application to stage a peaceful protest, the police cancelled the permission at the last minute and detained them.
📣 The Indian Express is now on Telegram. Click here to join our channel (@indianexpress) and stay updated with the latest headlines
For all the latest Mumbai News, download Indian Express App.
The Indian Express website has been rated GREEN for its credibility and trustworthiness by Newsguard, a global service that rates news sources for their journalistic standards.