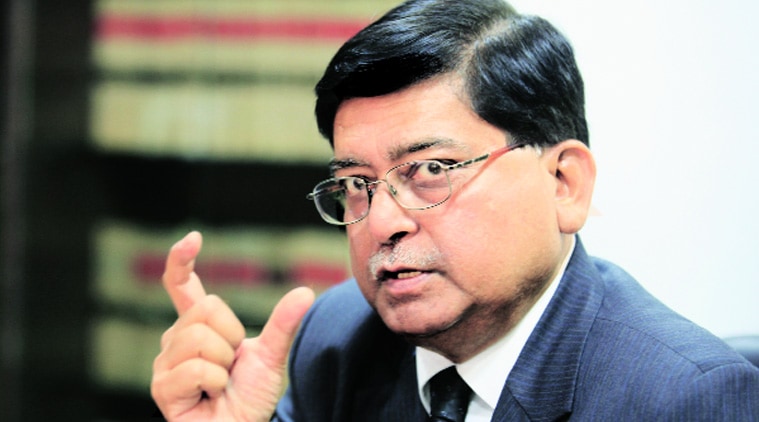 Additional Chief Secretary (Home) Dr Amitabh Rajan has been keen to push through a series of reforms in police transfers, postings, in procurement norms and has been moving towards greater transparency in these processes. With experience in direct taxes, indirect taxes, CVC, the Enforcement Directorate, the Department of Personnel and two stints as district collector in Maharashtra at the start of his career, Rajan holds a PhD in jurisprudence and law. Now, two months from retirement, Rajan spoke at an Idea Exchange on a range of issue.
Zeeshan Shaikh: What are the problems in implementing the apex court orders on police reforms? Why have the recommendations been diluted so much?
Let's start with the judgement given by the Supreme Court in 2006, in Prakash Singh and another V/s the Union of India. Why have these directives given in 2006 not been implemented virtually by any state? One reason is that the directives came on the basis of the National Police Commission's reports. That report was drafted long back. And it was primarily drafted with the police being interested in it and therefore, the assumption was that the government is a culprit.
Nobody can give directives to legislature. Maharashtra was a late starter and that has some advantage too. You could see the other states' laws and make a comparative study. One of the directives that has to be implemented is on the transfer business. Through the Police Establishment Board, in Maharashtra, the lower level is made autonomous, the DG can do everything. For DySP and above, the problem arises. It was said that these postings would be decided by the Establishment Board and the government would have normally accepted. It means a very subtle thing in jurisprudence. No state has this clause except the Karnataka Act. The Karnataka Act had it and when they did something wrong, two persons went to court in 2013.
Shubhangi Khapre: Are you saying that in other states, the Police Establishment Board is the final authority?
No state's Police Establishment Board is the final authority and nowhere is this power normally given. In Karnataka, this question came up in the High Court because 2 ADGs were superceded. And, ultimately the court held that if you remove these clauses, the eminent domain goes. Suppose recommendations come for ten names or a particular group of names, you may choose anything, but you can't pick anybody else to add to that list. If there are 3 or 4, you can jumble with the given list. You cannot add a script of your own. You have to refer back to the government of India and they usually reject it. Even if you do add names, you shall have to give reasons as to why. And Police Act says all representation should come to the Establishment Board. Not to ministers.
If you ask me in one sentence what is still to be done, I would say, what you have to do is to put that clause on transfer business so that ultimately what Supreme Court said correctly to bring in eminent domain is upheld. I am pointing this out to the new government.
Second thing is laws do not matter unless institution building is done properly. So request to the new government is, that here is the opportunity, if you want to put a social scientist on the advisory board, let it be Director of Tata Institute of Social Sciences. If you want some technocrat, let it be director of IIT. This makes it impersonal and when the person comes, institutional wisdom also comes.
Also, when you create institutions, see to it that they are housed in good buildings. If you put Police Complaints Authority building somewhere in the corner, it sends a wrong message. All over the world, these independent police complaints authorities have massive buildings with research facilities.
Shubhangi Khapre: On transfers, what we observed in the last 5-7 years was that apart from the conflict between the political leadership and the police establishment, there is also friction between the IPS and the IAS. And the question raised by the Home Minister was if we have to give the entire authority to the police department or IAS, then do we even need a Home Minister?
Home minister or any minister is supposed to do bigger things. Transfer has become an instrument of governance. In all good countries, such recommendations come through a body and a panel is given to you.
Shaji Vikraman: You think coalition government made things more difficult when it comes to execution, when it comes to implementing the reforms...
If you see national and international experience, there is no problem with coalitions per se. The problem arises because a department like Home should be run by the chief minister. There are reasons for it. First of all, it is a secretive type of department. It is the major arm of criminal justice administration, lot of account to human rights and sensitivity, to which the CM is responsible anyway.
Also, inter departmental proposals will be cleared faster. I'll give you an example now. I have suggested 45 amendments. The CM will get 45 files and he can take it up one by one.  You know files get held up for many many months. I'll give you an example. There was a committee set up under me on conviction rates. Conviction in 1997 in Maharashtra was 33% which is not very good. In 2012, it reached 8% . When that happened, naturally, people made a hue and cry and I recommended that you should set up a committee under me, law secretary, DGP and Director of Prosecution. There were two issues. One is the court management system and one is the prosecution.
When you ask why conviction rate is low, the policemen will say lawyers. When you ask the law department, they will say if you give me a wretched investigation…  Now this volleyball game goes on.
The Malimath committee thought on that and CrPC was amended and Section 25A was added. It was said that there will be a director of prosecution as it happens in all civilised countries. It will be under the home department and it will not be split. Directorate of prosecution will be under one person. He will be a judicial person and not a policeman. And it will be like a law secretary ranked person. The entire pyramid will be under him — assessment of court cases, appointment of lawyers, evaluating their performance, giving contracts to the lawyers, everything will be done by him. In Maharashtra, sessions plus cases are still being held by the law department. And the low level cases are with the directorate of prosecution. As a result the system is not accountable. We did a report, the document was signed by the law secretary, it was signed by the DGP. There are some 12 suggestions on improving the legislations.
The report is open. This file has to be transformed into a cabinet note. Our new chief minister has announced in Nagpur that we are going to have it. Legal processes should be time bound.
Shaji Vikraman: How should we maintain a balance between protection to bureaucrats and transparency?
When there is an anti corruption case, we have to go by the provision of the Prevention of Corruption Act. A public servant should be protected. The all India pattern is that if CBI wants to inquire against a public servant, they have no barrier, they inquire and investigate and before they file the FIR, they take permission to make the arrest. In Maharashtra there is a double insulation. There is an additional barrier — the Open Inquiry Syndrome. In 1981, there was a circular issued by the government of Maharashtra. First of all it is not a law, it is a circular. And it says that before Anti Corruption Bureau begins a probe they should first ascertain facts.  But if they happen to be Class I officers, there are some layers provided in the provisions and politicians are not mentioned in this. And it was the General Administrative Department that issued this circular, not the Home department.
In 2014, in Supreme Court, in the case called Subramanium Swamy versus CBI, a five-bench judgment was passed and a 132 page order was given. In which, the first barrier was called as arbitrary and discriminatory. It's a marvellous judgment that has all sides and their arguments represented and included all the known tantrums. The 1981 circular is not in harmony with the May 2014 judgment.
Kavitha Iyer: Would the strengthening of the Lokayukta also go in the same direction?
The Lokayukta Act will be different. It will basically have three features. First, we do not want the ACB to be totally with the Lokayukta, The Lokayukta will be a multi-membered body and there won't be any Upa-Lokayukta. They will have two wings, prosecution wing and the judiciary wing. If you're a complainant, you will have two choices to either go to the ACB or the Lokayukta. If the Lokayukta believes that there is something wrong, he can order an inquiry through the ACB or independently. The reason why the ACB should not be autonomous is that no authority should be too powerful in democracy. This is an Act that requires a public discussion, just like the Public Grievances Bill.
Shaji Vikraman: How different is this Lokayukta from the Karnataka one?
It is not different. It is on the same lines. The Lokayukta will get quality cases, the ACB will get the load cases. If you see the ACB website, they mostly deal with Class III and Class II officers.  The quality cases will be given to the Lokayukta.
Smita Nair: Would this not contradict what you earlier said, that anybody with any type of complaint could approach the Lokayukta?
When the complaint goes to the Lokayukta, he can mark it down to the ACB, there is this procedure.
Smita Nair: But wouldn't I approach the Lokayukta because I do not trust the ACB?
Then you will have to give reasons, such as that they are prolonging the inquiries and not moving forward.
Shalini Nair: Why did your department take up to September-October to sanction an open inquiry against Sunil Tatkare, Ajit Pawar and others?
The procedure is that the ACB is with the Home Department. Rule is that before they have an open inquiry, they have to take the permission of the chief minister through the Home Minister. I went through the Chitale report and the CAG had also done an audit in the similar period in May. In February this year, Chitale report came to us.
Shalini Nair: My question is regarding the time. Why did it happen around the time of the elections?
This came to me on August 27 and our norm is that we atleast keep it to ten days, not more. Because these cases have to go. If they last longer, the force will be longer.
Smita Nair: Was there political will in the earlier government on procurements? Everything seems to be delayed for the last three years.
If nothing moved then how did things happen?
Smita Nair: The CCTV project has not moved. Also, after 26/11, the recommendations were not executed.
Police modernization is an annual plan that gets implemented. The only problem that we have is the centralised procurement. There are technical items that need to come through other agencies. Bulletproof jackets are specialized items. In the past three years, Naxal policy was implemented; there was a complete turnaround. The way the elections were handled this year is also a success.
CCTV project is a well publicised event. The tenders have come and gone. The CCTV is a major component, not just fitting cameras but a complete surveillance programme like the one in London. There are three problems why those tenders that are in London and Dubai do not come to Mumbai. One, because our binding security clauses are rejected by their financial advisors and second because of corruption in the system. The third problem is our own bureaucratic problem, this concerns the fact that money will not be given until after the project is completed. However, a concession needs to be made by the finance department because given the size of this project, the tender would require money or at least a concession to liquidate money for the project. So the revenue model we proposed was stifling. So you had to give them more concessions.  Ultimately, the concessions were given and the tenders came in.
Srinath Rao: Was there any conflict in the Police Establishment Board when you were selecting Rakesh Maria for the post of Mumbai Police Commissioner?
Our role there was to recommend. In high-level posts like these, it is very simple. You see the records, you scrutinise the service details, you check whether there are any records against the candidate, you compile the ten-year averages of their reports. In this case, we did 30 years because this is an important post. And the decision is taken by the Chief Minister. It is the prerogative of the Chief Minister to choose the DGP or persons of that level. In this case, we sat together, we did the clerical work of putting things together. They sat together, the Chief Minister and the Home Minister, and they chose. Anybody who chooses is responsible for the consequences.
Zeeshan Shaikh: The PM's 15-point programme said that some degree of preference should be given to minorities in police recruitment. Isn't it the state's responsibilty to ensure that the number of minorities in the police force increases?
Is there a reservation? Is there a preferential formula? These are items which are to be discussed in legislature. As an officer I can only say that we go by service rules, we take care of SC and ST reservation and other reservations which have been prescribed under law. We will follow rules. If there any change in democracy, it should come through the legislature.
Shaji Vikraman: What are your thoughts on the state of security preparedness in Maharashtra?
Security is a big issue. The RD Pradhan committee gave a report and it was implemented. There was a committee set up to review it. There would always be scope for improvement.
In Maharashtra, the biggest threat is from the sea. The sea is turbulent. According to Intelligence reports, internationally the problem is piracy, even though it has dipped for some time. The coast, maybe, is secure. Coastal security in terms of the coast guard requires a lot of improvement and coastal policing is a thoughtless space. Coastal policing has a scheme with certain timelines and parameters. My first priority has always been towards that end.
The second security threat is still Naxalism.
But I am particularly concerned about communal situations turning into a problem. Luckily, nothing major has happened. For instance, recently this festival went during elections and it could have turned into a real bad situation. It was handled quite well. So most of our internal security vigilance these days is on the relations between groups of people. If I have to give you one message, it would be that we should see the crime situation in communal conflicts very perceptively. There are certain pockets in the state where there is an issue. But luckily, till now, and also because of the very strong work done by the police, that has not happened. We have improved our analytics — the information, the intelligence, rejecting unwanted information, collating, and others.
During the elections, on the Naxal front, we had a lot of problems. Earlier during the Lok Sabha election, the Naxals were diverted. During this time they were targeting us because it was only Maharashtra. Haryana never mattered to them. And it was their 10th anniversary of being settled as CPI Maoists. Ten thousand people are working there, doing a very dangerous and difficult job. I personally visit them every month to talk to them, find out details and then return. There is a lot of frustration among the Naxal cadres. It is a thing to be watched.
(Transcribed by AAthira Vasudevan, Srinath Rao & Rohit Alok