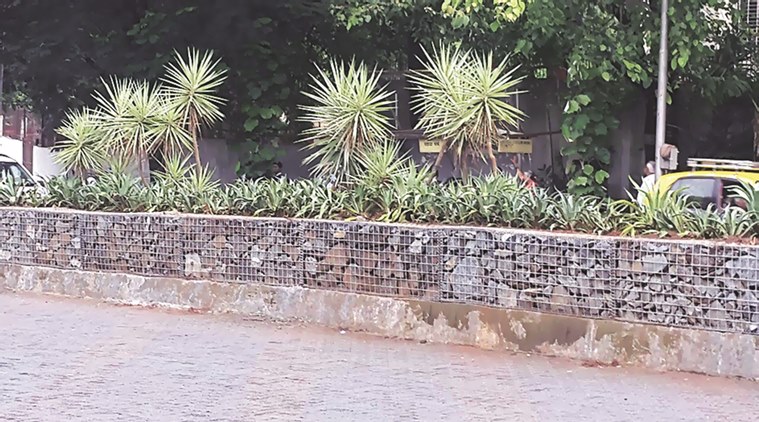 To ensure that encroachers do not return to a footpath cleared of illegally built structures, the Brihanmumbai Municipal Corporation (BMC) has beautified the area along the pavement on the Wadala bridge.
Officials from the civic body's F North ward office said the beautification drive included plantation of small trees, development of flower beds along the pavement and use of a gabion wall for the central median instead of the usual cement-concrete dividers.
"Gabions are used as supports for the central median. They are installed on a concrete base for stability and lined with geotexile on the internal face. This has ensured proper drainage for the medians," said Keshav Ubale, assistant municipal commissioner of F North Ward. Gabion walls are typically textured surfaces with a rock face or battered stones packed into a cylindrical or cubic cage.
In February, Ubale led the demolition of over 275 brick and cement shanties built illegally on the footpath of Wadala bridge and in existence there for a couple of decades.
The demolition drive was completed in 48 hours by the civic body and police officials.
Around 120 encroachers with adequate documents were rehabilitated in Mahul as Project Affected Persons (PAPs), said a civic official.
The beautification work was handed to a builder who would maintain the area for one year after completion of the work.
"The use of gabion for central median is unique thing and probably first such experiment in the city. Since gabions are bound together as a monolithic unit, the wire mesh is extremely strong under tension. The wire mesh shell is not simply a container for the stone filling, but a reinforcement of the entire structure," said Ubale, adding, the civic body has also planted tress in the area.
Residents welcomed the beautification move. "It is a good move by the BMC. They have beautified the central median, traffic island and footpath," said Rahul Daga, secretary of Friends of Wadala East, a residents' group, which had written to the civic authorities about the illegal encroachment on the footpath.
Watch Video: What's making news
Daga added that the civic body should take against some encroachers.
"Few encroachers have returned and the civic body should remove them immediately. The BMC should continue a sustained campaign to ensure that there is not a single encroacher on the footpath," he said.