Fever, diabetes, hypertension and dog bites are what ails most residents of Mumbai, according to a first-ever survey conducted by the Brihanmumbai Municipal Corporation (BMC) to understand the top diseases that people suffer from. What, however, surprised the civic health officials is the unusually high number of cases of mental illness recorded in tertiary care hospitals. Data analysed in KEM, Sion, Nair and Cooper hospitals indicated that 31.14 per cent or 1.7 lakh patients suffered from mental disorders.
The survey, conducted on 72.6 lakh people of the city between October 2015 to September 2017, showed that while BMC dispensaries, as well as peripheral and tertiary-care hospitals, reported 4.04 lakh cases of diabetes, the figure for hypertension was 3.55 lakh. About 33 per cent of the patients across BMC peripheral hospitals had fever, followed by 19.8 per cent of the residents who were diagnosed with diabetes and 16 per cent with hypertension. As many as 64,934 cases of dog or animal bites were also recorded, which constituted 9.87 per cent of total disease burden across government dispensaries. Dog bites was the fourth highest cause of morbidity in BMC-run dispensaries.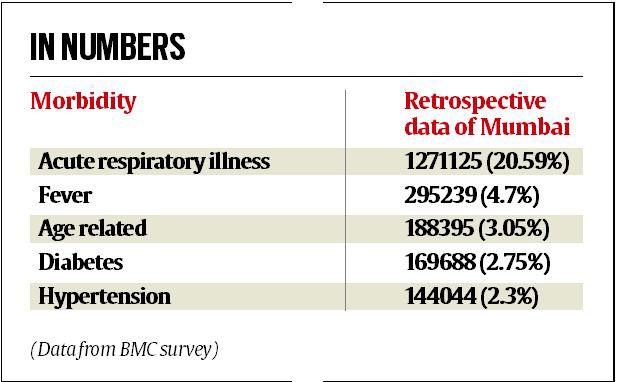 Further, the survey found that at 7.4 per cent, cases of ischemic heart diseases accounted for fourth highest disease burden in major hospitals. "Through this survey, we realised how many cases of mental illness are being reported at major hospitals. We need to look into treatment options," said Dr Avinash Supe, director of tertiary hospitals in BMC. He added that following the report, the civic body has realised there is a need to strengthen primary healthcare centres to treat diabetes and hypertension.
"This is the first time a morbidity pattern has been conducted in Mumbai. We need to plan policy intervention to treat the burden of NCD (non-communicable disease). This study will also shape future policies," said BMC Additional Municipal Commissioner Idzes Kundan. She added that the morbidity pattern varied from area to area in Mumbai. "Some areas had high burden of tuberculosis, while other witnessed higher cases of NCDs," she said.
Apart from non-communicable diseases, malaria and dengue accounted for top morbidities in dispensaries. Kundan said another survey will now be undertaken to audit prescriptions given by doctors in BMC-run centres. "We have realised that tertiary care centres face a large number of cases pertaining to certain diseases, say mental illness, because they have the facility to treat the same as opposed to nearby centres that do not," she added. Moreover, civic officials are conducting a gap analysis in dispensaries to understand where the primary health facilities lacked. This survey will now be used to shift the burden of patients from major hospitals to primary centres.