FOLLOWING THE footsteps of Samajwadi Party president Mulayam Singh Yadav, whose relatives are contesting the upcoming panchayat polls, at least 12 ministers from the state have fielded their kin in the elections.
The most sought after is posts in the district development council (zila panchayat). These members later on elect the council chairperson, who gets a red beacon car and funds worth crores besides having control over all district departments. Posts in the block development council are next in the list. These members later on elect the block head.
Minister for Secondary Education Mehboob Ali has fielded four relatives in Amroha district. Ali's son Pervez Ali, wife Sakina Begum, nephew Nawazish Ali and brother's wife Fatima Ali — are aspiring for the posts of members in Amroha District Development Council (DDC). One of them will later contest for the DDC chairperson.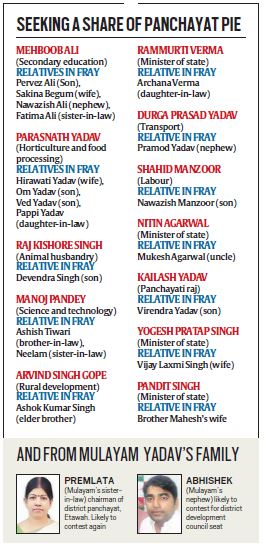 Horticulture and Food Processing Minister Parasnath Yadav from Jaunpur is fielding his two sons — Om Yadav and Ved Yadav. Pappi Yadav, the wife of the minister's other son Lucky Yadav is also contesting for the post of a DDC member. Parasnath's wife Hirawati Yadav is contesting for the post of a block development council member.
Animal Husbandry Minister Raj Kishore Singh's son Devendra Pratap Singh alias Shanu is also contesting for a DDC member post in Basti. Whie Rural Development Minister Arvind Singh Gope has fielded his elder brother Ashok Kumar Singh in Barabanki for a DDC member post, Minister Rammurti Verma — named in alleged murder of journlist Jagendra Singh — has fielded his daughter-in-law Archana Verma for a DDC member post in Shahjahanpur.
State Transport Minister Durga Prasad Yadav's nephew Pramod Yadav is contesting for a DDC member post in Azamgarh while Labour Minister Shahid Manzoor's son Nawazish Manzoor is ready to contest in Meerut. Mukesh Agarwal, uncle of MoS for Health Nitin Agarwal, is contesting f or a DDC member post in Hardoi.
Science and Technology Minister Manoj Pandey has fielded two of his relatives — brother-in-law Ashish Tiwari and brother Anurag Pandey's wife Neelam — for BDC members' posts in Rae Bareli. On the other hand, Panchayati Raj Minister Kailash Yadav's son Virendra Yadav is contesting for a DDC member post in Ghazipur.
In Gonda, two ministers have fielded their relatives. While Yogesh Pratap Singh has fielded his wife Vijay Laxmi Singh, Pandit Singh has fielded his brother Mahesh Singh's wife for DDC members' posts.
📣 The Indian Express is now on Telegram. Click here to join our channel (@indianexpress) and stay updated with the latest headlines
For all the latest Lucknow News, download Indian Express App.