Stuck near Dhaula Kuan flyover for close to half-an-hour, the ambulance had nowhere to go. It had rained for barely two hours, but the waterlogging made it seem far worse. With traffic reduced to a snail's pace of 10 kmph, even those who wanted to give way couldn't. This was on Thursday, when the city received 20 mm of rain.
Delhi receives an average of 635 mm of rain between June and September each year — far less than metros such as Mumbai (2,234 mm) and Kolkata (1,248 mm). Yet every monsoon in Delhi sees roads turn into rivulets, and sewage flowing back into people's toilets, even in upscale colonies.
Responsible for ensuring this doesn't happen are the three Municipal Corporations of Delhi, ruled by the BJP, and the Public Works Department (PWD), which comes under the AAP government. Their job is to ensure cleaning of stormwater drains — meant to carry monsoon run-off to the Yamuna — of silt, plastic and other waste. While MCDs are responsible for drainage on roads up to 60 feet wide, the PWD is responsible for wider ones. There are eight other authorities under whom smaller areas fall.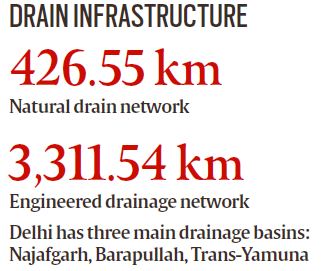 In 2004, a PIL was filed in the Delhi High Court, asking that it monitor waterlogging in the city. Since then, the HC has passed several orders under 17 different Chief Justices, emphasising on timely desilting and appointing a nodal agency to ensure Delhi does not get inundated. Nothing has worked. Each year, the traffic police prepares a list of spots that are prone to waterlogging and traffic snarls. This year, it features 156 areas.
Government officials and road design and drainage experts told The Indian Express that multiplicity of authorities, poor road design, shoddy upkeep and no accountability mean there is no end to Delhi's waterlogging woes.
Take, for instance, Dhaula Kuan, which is on the traffic police list owing to poor design, said S Velmurugan, principal scientist, Central Road Research Institute (CRRI). "This is a problem not just with Dhaula Kuan flyover, but several other flyovers in Delhi. The slope of the road is towards the intersection in the middle, which will lead to water accumulation… In these situations, scientific planning of drainage is needed to release water. Pipes to drain water should be at a distance of 10 metres from each other, but they are 25-30 metres apart," he said.
Officials said 2.5 lakh vehicles use the flyover daily. During peak hours, close to 15,000 cars cross the stretch in an hour.
According to P K Sarkar, a former faculty member at the department of transport planning, School of Planning and Architecture, after a big flyover is constructed in countries like Japan, artificial rain is induced to check waterlogging points and drains, and correct the design flaws.
In Delhi, though, visits to several problem points show how corrective actions are few and far between.
Adchini T-point: On the traffic police list, the T-point at Adchini sees vehicles coming from three directions — AIIMS, Ber Sarai and IIT-Delhi. A bottleneck because of a narrow road and on-the-road parking towards Lado Sarai adds to the congestion.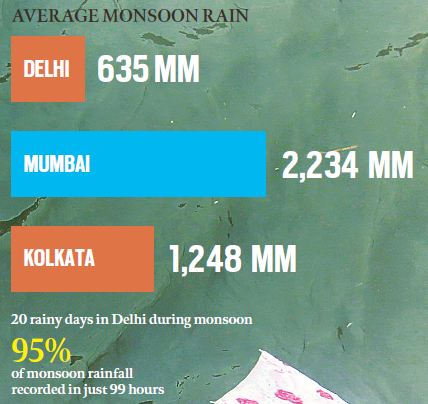 For years, the stretch has featured on waterlogging lists made by PWD and traffic police. Rains on Saturday were no different — waterlogging was seen at the intersection and towards the medians, and vehicles crawled, especially on
the 1-km stretch from the traffic junction to Qutub Golf Course.
A senior South Corporation official said workers who carry out desilting in the area often complain that households throw plastic into the drains. "Flow of water is disrupted and it either enters houses, or sewage finds its way into bigger drains and decreases their carrying capacity."
"Storm drains take water directly into water reservoirs through underground pipes but in South Delhi, water bodies like Neela Hauz are dead because of urbanisation and concretisation," the official added.
Vinay Parashar, a resident, points to another problem, "Workers desilt drains, but what is the point when they leave debris on the road and it flows back in?"
Ber Sarai market, IIT flyover: The two-decade-old Ber Sarai Market is home to bookshops and eateries that draw students from AIIMS, JNU and other institutes. During the rain, water accumulates in the market, with shopkeepers struggling to keep books dry.
Secretary of the market association Manoj Kumar said, "Last year, we complained about waterlogging several times, but only one drain was cleaned. Workers, too, want extra money. If we don't pay, they leave debris by the roadside."
From the market to the IIT flyover, there are at least five points where water accumulates. On Saturday, at least a foot of stagnant water was seen near the flyover.
Experts said the city's poor drainage network damages roads, causing potholes that further lead to waterlogging. "A good road with improper drainage will last for a shorter duration than a substandard road with a good drainage system," said S M Sarin, former director scientist at CRRI.
The outskirts: Areas on the fringes are the worst hit, with Wazirabad and Mubarakpur experiencing a flood-like situation, often with more than three feet of water accumulating in the lanes. At some places such as Kirari, the water level is so high that people walk on boundary walls of under-construction buildings as they fear drowning.
North MCD standing committee member Poonam Parashar Jha said, "I told MCD officials to use motors and drain the water, but nothing has been done. Residents fear coming out of their homes. The condition here is so bad that we are supplying food door-to-door in some areas."
This, despite civic officials stating that the three corporations — South, East and North — had finished 90% of desilting work before the monsoon. Control rooms of civic bodies, meanwhile, continue to receive an average of 100 complaints on days it rains, officials said.
Delhi Congress chief Ajay Maken said data on the government's website puts a "question mark" on the working of the AAP government. "Desilting should have been completed by June 15, but only 17% work was done. The Delhi government then fixed June 30 as the target for finishing work, but by June 29, only 37% was complete. By July 27, only 39% desilting was done," he alleged.
AAP MLA and former transport minister Saurabh Bhardwaj, meanwhile, said the MCDs and PWD defied orders with impunity because of the ongoing blame-game between the two. Bhardwaj was part of the Privilege Committee of the Delhi Assembly that conducted a study before the monsoon to check if the status of desilting on paper matched that on the ground.
Committee members visited 100 spots. "We found that PWD drains are marginally better than MCD ones as they are not directly connected to homes. But both agencies have not done their job properly. As there isn't one single authority responsible to clear the mess, it is easy for officials to pass the buck," he said.
It also visited sites where private contractors were hired to clean drains. In two such areas, it was found that the work was done only on paper. "There is a narrative that government officials don't work. But these private agencies were hired specifically for this project. What was their excuse? Residents said they have not seen anyone clean the drain in 15 years," Bhardwaj said.
Anatomy of the problem
In 2012, the then Chief Minister Sheila Dikshit asked IIT-Delhi to come up with a drainage master plan, the first since 1976. IIT submitted the draft plan in 2016, and the final report in 2018.
The findings were alarming. While Delhi has 426.55 km of natural drainage lines, and 3,311.54 km of engineered stormwater drains, many were compromised. Some were encroached upon, and others choked with debris and garbage. Many other drains have sewage flowing in them, either because households do not have sewer connections or because the Delhi Jal Board — which handles all sewage lines in the city — had punctured holes in their sewage lines and diverted the flow into stormwater drains to ease pressure and blockages.
"One can expect some waterlogging if the city gets continuous rain over hours, amounting to 200-250 mm. But if an hour or more of light rain is causing snarls, it shows that the drainage system has not been fixed and that stormwater drains are carrying domestic sewage," said P K Sarkar.
According to a 2015 NGT committee report, of the 201 natural drains that existed in the city in 1976, 44 could not be traced anymore. The report also points to how multiplicity of authorities made it difficult to even find data, and over 100,000 hours spent just collecting data needed to create a model for efficient drainage.
Effects of urbanisation
Delhi, according to the India Meteorological Department data, has close to 30 days of rain through the year. Close to 20 of these are during the monsoon. Data also shows that 95% of monsoon rainfall is recorded in just 99 hours.
Delhi also suffers from water scarcity, with its groundwater level touching alarming depths in the past decade-and-a-half.
The solution, experts said, isn't all that complex. Thoroughly cleaning drains and proper rainwater harvesting can help with waterlogging and low groundwater levels, by diverting water to local ponds and harvesting pits. Except, of the 611 water bodies listed in Delhi, 274 have dried up and 190 cannot be revived, according to a survey by the Delhi Parks and Gardens Society.
The IIT-Delhi report, too, suggests that small depressions be created in parks and open areas where water can be diverted, as concretisation of roads and paving over of drains means water cannot seep into the ground anymore.
Environmentalist Padmawati Dwivedi, a resident of Sarvodaya Enclave, is a vocal critic of concretisation. "Instead of cementing roads end-to-end, there can be interlocking tiles or grass pavers that are permeable and allow groundwater recharge," she said.
Environment activist Diwan Singh, who lives in Dwarka, recently revived two lakes in the area with the help of residents by isolating and cleaning stormwater drains and diverting the water to where the original lake was.
R K Agrawal, PWD engineer-in-chief, said multiplicity of agencies is a major problem. "We have installed motors to flush out water, but it is a temporary solution. The drainage system is old… We are hoping that a master plan for the city's drainage will be soon implemented."
PWD superintendent engineer Sanjeev Rastogi, who has worked on waterlogging and groundwater recharge for 25 years, said, "Rainwater harvesting is a solution, but it will work only if drains are sewage-free. We have already conducted successful experiments at Lady Hardinge Hospital and Mandoli Jail."
What IIT-Delhi report recommends
* Storm drains be treated as key public assets, no encroachment allowed
* No natural or artificial storm drain be allowed to carry sewage. Only treated sewage of acceptable quality, as per CPCB norms, be allowed
* DJB's practice of puncturing sewer lines and draining sewage into storm drains be stopped
* No sewage be allowed to enter storm drains from unauthorised colonies
* Road sweeping process be completely overhauled. Segments of road from where more silt is being received be reviewed and afforestation be taken up to reduce silt
* Access points to covered drains be provided at appropriate distance to facilitate desilting
* Desilting schedule be publicly displayed
* All stormwater drains be put under a single agency
The Indian Express website has been rated GREEN for its credibility and trustworthiness by Newsguard, a global service that rates news sources for their journalistic standards.