Delhi-NCR witnessed the highest fine particulate matter (PM 2.5) levels in five years this year in September, according to air quality data collated by the Ministry of Earth Sciences' SAFAR stations. Five out of 10 stations recorded more high PM 2.5 days on average this year as opposed to only two stations in 2014 — Noida and Mathura Road.
The average PM 2.5 levels in Delhi, during September, spiked from 54 µg/m3 in 2011 to 88 µg/m3 in 2015. The five new areas with high PM 2.5 included, Ayanagar, Lodhi road, T3, Gurgaon and Dheerpur. Scientists attributed this to a combination of weather parameters — high temperatures and poor monsoons this year — assuming emission levels did not alter much.
According to Dr. Gufran Beig, project director of the Pune-based SAFAR, "This year, Delhi saw the hottest September in 146 years. That when combined with low rainfall, leads to an extremely dry soil. When the soil absorbs less water than usual, there is a higher chance of it getting suspended in the air." Dr. Beig added that September witnessed frequent dust storms which, despite being mild, also spewed more particles into the air. He said pollution levels in September, which is sliced between a rainy period and the onset of winter, is more of a reflection of the impact of local emissions than those from other sources.
[related-post]
Scientists added that the twin weather conditions interestingly worked to reduce October particulate matter levels this year, to much lower than last year's average. In October, the average PM 2.5 was 119 µg/m3 this year, which was higher than the September figures, but considerably less than the 150 µg/m3 average last year.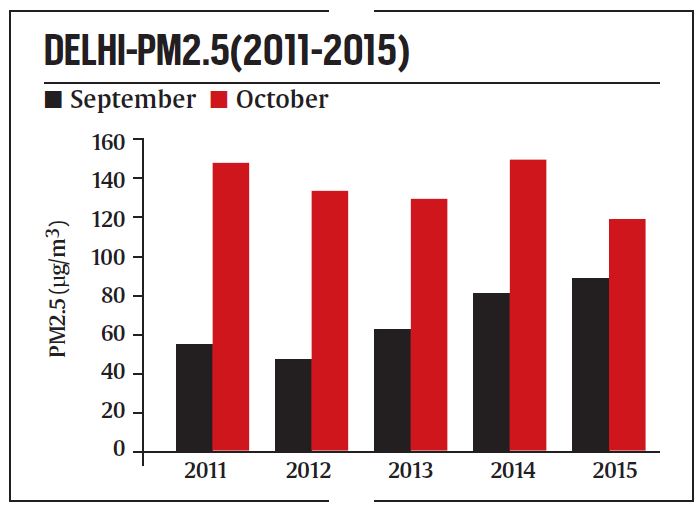 "Every year in October, temperatures start to fall rapidly leading to the onset of winters. This year that dip has been much slower because this has been a warm year so far. When temperatures fall they bring down the thickness of what is known as the boundary layer, a protective layer in the atmosphere. This layer traps the particulate matter and is usually two to three kilometres thick. This layer comes down by 400 metres to a kilometre in October when the temperatures fall. So the same pollutants are trapped in a thinner layer, which makes the concentration of pollutants higher," Dr. Beig said. This year, since the temperature changes were not so much, and October was much warmer than usual, the width of the boundary level did not reduce, and the concentration of pollutants did not increase.
This Dr. Beig said possibly countered the effect of the dry soil in adding to the particulate concentration.
With Diwali round the corner, when particulate matter concentrations see a sharp spike, Dr, Beig said a delicate balance of weather and continuing dry soil will decide the fate of pollution in November since background emissions will remain "more or less same". He said if emission sources are controlled, the impact of weather on air pollution can be considerably mitigated. "The continued warming of the planet is bound to increase the episodes of extreme pollution, which we have already started to experience. The root cause of deteriorating air quality is emissions," Dr. Beig explained.
📣 The Indian Express is now on Telegram. Click here to join our channel (@indianexpress) and stay updated with the latest headlines
For all the latest Delhi News, download Indian Express App.
The Indian Express website has been rated GREEN for its credibility and trustworthiness by Newsguard, a global service that rates news sources for their journalistic standards.