A portion of the road under the IIT-Delhi flyover caved in due to heavy rain on Saturday, with officials from the Public Works Department (PWD) saying repair work has started and that the cavity will be filled by Sunday morning.
A PWD official attributed the "deep cavity" to a leak in a water supply line. "Staff were working to repair potholes when they saw that there was a huge cavity. This happened on Saturday morning and traffic was shut before any accidents took place," he said.
Another PWD official said such cave-ins can take place in the rainy season. "There is a leakage in a pipeline under the road, and this leads to erosion of earth below. The road crust might be able to handle it for some time but eventually, it gives way and caves in," said the official, adding that the cavity was deep as the pipeline was also quite deep.
Currently, the caved-in portion has been barricaded by police and water supply through the pipeline has been stopped.
An official said the pipeline will be repaired on Saturday night and staff will work through the night to fill the cavity: "The best option is to fill the cavity with sand and add water to make it compact. After that, the granular base and sub-base will be laid."
Once the cavity is filled with sand and the road is deemed 'traffic-worthy', officials said the road will be open to traffic. It might take an additional day or two to complete the repair work.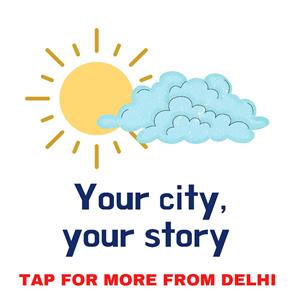 At least five such incidents have taken place in Delhi this year. One such cave-in was seen in Dwarka. Officials said that unlike the IIT cave in, the one in Dwarka was not as deep and that it happened without any warning.
A similar incident was reported from Khan Market earlier this week, when heavy rain created a dent in a manhole and led to a cave-in.
Since the road serves as an important junction in South Delhi, it caused massive traffic snarls till late evening, with the jam extending till Adhchini. The Delhi Traffic Police tweeted an alert, asking people to avoid the route: "Due to the collapse of the road near IIT Red Light, traffic going from Adhchini to IIT has been diverted to Adhchini to Katwaria Sarai. Please refrain from using this route."
Those coming from Adhchini side were asked to take a left to go towards Outer Ring Road. Those coming from the AIIMS side had to take a left, while vehicles coming from Munirka were either asked to get on the IIT flyover. Vehicles coming from Panchsheel flyover were asked to take the IIT flyover or turn left from the signal.
The Indian Express website has been rated GREEN for its credibility and trustworthiness by Newsguard, a global service that rates news sources for their journalistic standards.