Keeping in line with their promises of providing subsidised electricity and water, the AAP government has, after five months of brainstorming, developed a strategy to cap total subsidy at Rs 2,000 crore.
For electricity, the government is debating reducing the rate per unit to Rs 2 or Rs 2.40 for consumption till 200 units and Rs 3 or Rs 3.60 for consumption up to 400 units. This is slated to cost the government Rs 1,600 crore a year in subsidy.
Sources told Newsline that the government has, over five months, strategised the implementation of their promise of subsidised electricity. The new rates will be in effect within three to four months of government formation.
[related-post]
Giving a 50 per cent subsidy to domestic consumers in the 1-400 unit bracket was one of AAP's big pre-poll promises.
Presently, the rates for consumption of up to 200 units of electricity is Rs 4 and Rs 5.95 for between 201 and 400 units. An analysis by the party has shown that there are approximately 35 lakh households that consume electricity, of which 80 per cent consume till up to 400 units. The rest, sources said, exceed the 400 unit bracket. The government's strategy for subsidised electricity will cater only to those who fall in the 'up to' 400 units consumption bracket.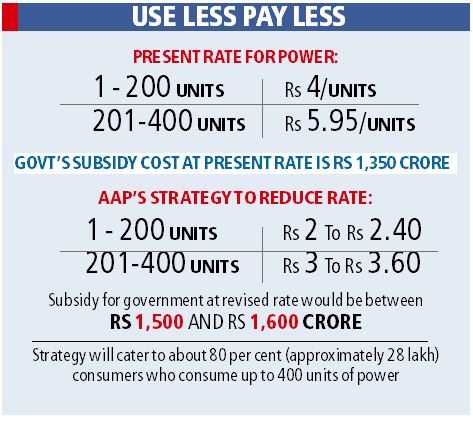 Sources said that , presently, the total subsidy on electricity works out to Rs 1,350 crore. With the Delhi Electricity Regulatory Commission (DERC) having increased the tariff rates by 22 per cent, the government has had to factor in another Rs 350 crore subsidy.
Sources said with the DERC, which is planning to increase rates by another 10 per cent for financial year 2015-2016, the government will have to factor in another Rs 350 crore at the present rate.
Sources said the government is planning to cap the subsidy at a maximum of Rs 2,000 crore a year for electricity, water and other facilities that are required of the Delhi government.
"If the budget is at Rs 40,000 crore a year, we need to limit the subsidy at 5 per cent. This is going to be our challenge and our strategy will be worked around it,"  an AAP source said.
On the issue of water, the government is planning to replicate the Chennai model of giving incentives for encouraging water recycling and water harvesting. The Chennai model presently gives a rebate on house tax for every house that uses a water recycling unit.
Sources said the government will come down heavily on water theft which is presently estimated at 40 per cent. "We will have to ensure that water theft is reduced drastically. This will help us save 150 million gallons of water a day," said the source.
The Indian Express website has been rated GREEN for its credibility and trustworthiness by Newsguard, a global service that rates news sources for their journalistic standards.