Written by
Shikha Sharma
| New Delhi |
September 22, 2015 2:09:26 am
On a Monday morning in the beginning of September, students of Delhi University reached their colleges in North Campus to find two colourful words — Pinjra tod — scrawled across campus gates, walls and sidewalks. The words, which mean 'break the cage', was a response to an online campaign started by student activists from different colleges and universities against sexist rules in women's hostels, particularly those that disallow women from staying out late.
The campaign, which began in early August, comprises of women from DU, Jamia Millia Islamia, Ambedkar University, National Law University and Jawaharlal Nehru University. It grew out of a Facebook page where women hostel and PG residents shared their bitter experiences with guards, wardens, principals and landlords.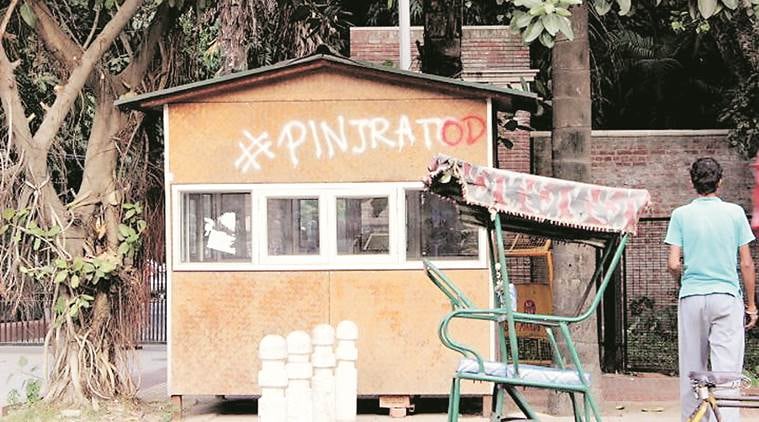 "For far too long, women's personal freedom has been curtailed in the name of safety. State institutions and universities need to understand that they cannot protect women by undermining their autonomy. The campaign's name resonates with the situation women hostelers in different colleges and universities find themselves in today – 'big walls, huge metal gates, locking of gates at night, numerous security guards, constant checking of Id-cards, a plethora of arbitrary and regressive restrictions'. The idea is to raise our voices against it," said Devangana Kalita, one of the founding members of Pinjra Tod:Break the Hostel Locks.
Through signature campaigns, online petitions and meetings, the movement has been gathering steam. Members of the group have adopted 'guerrilla' tactics – they spray-paint messages of resistance on the campus' streets and pavements in the wee hours of the morning. Functioning mostly through word-of-mouth and social media, the group has been networking for a month now and will soon mobilise student support at a jan sunwai (public hearing) planned for October 10.
"Through the campaign, we are trying to address four issues — unnecessary restrictions on women, moral policing in the name of concern, need for creation of more egalitarian and affordable spaces where women can stay, and proper implementation of anti-sexual harassment laws. If the environment is more enabling, we believe women don't have to be caged at all. State authorities have to stop acting like khap panchayats that seek to control and regulate the lives of young adult women in the name of 'protection' and 'safety'," added Kalita.
The Indian Express website has been rated GREEN for its credibility and trustworthiness by Newsguard, a global service that rates news sources for their journalistic standards.