Written by
Abhinav Rajput
| New Delhi |
Updated: May 30, 2018 2:19:45 am
The corporations will charge three times more for surface parking than at multi-level facilities, besides disallowing parking within 25 metres from roundabouts and traffic intersections, the South body has said.
The civic bodies will also be building a dedicated space for transit parking, which will be a halt and go zone for commercial vehicles and application-based car service, starting from markets in Lajpat Nagar and Greater Kailash.
Deputy Commissioner of the R P Cell of South corporation, P S Jha, said the SDMC plans to build transit parking in south Delhi markets. "Transit parking in Greater Kailash and Lajpat Nagar's Central markets will be ready soon, and a similar facility will be developed in other areas," he said.
Jha said the South body, the nodal agency for implementing parking plans, has submitted the proposal to the transport department with these recommendations before the parking policy gets notified.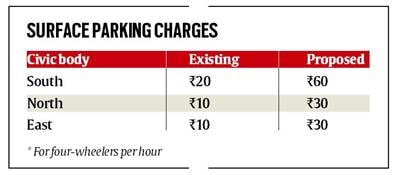 "During an internal survey by the South DMC, it was found that people avoid multi-level facilities because surface parking rate was almost the same as multi-level parking. Hence, people preferred parking near the market. Also, surface parking is more convenient. The new initiative will help decongest city roads," he said.
Presently, the South corporation charges Rs 10 per hour for multi-level parking with a maximum cap of Rs 50 for a day for four-wheelers, while the rate of surface parking is Rs 20 per hour with Rs 10 for every additional hour with a cap of Rs 200. The North and East charge Rs 10 per hour and Rs 10 for every additional hour, with a capping of Rs 200 for 24 hours.
The new rates (see box) will be applicable when the draft policy is implemented.
The government has proposed Delhi Maintenance and Management of Parking Rules, 2017, which is yet to be notified.
Once approved, parking provisions have to be implemented by all three corporations. The SDMC, however, will charge only for parking of commercial vehicles and buses on roads, along with app-based cars such as Ola and Uber, an official said.
The rules direct agencies handling parking lots to prepare and implement area-specific integrated parking plans within three months from the notification of these rules.
📣 The Indian Express is now on Telegram. Click here to join our channel (@indianexpress) and stay updated with the latest headlines
For all the latest Delhi News, download Indian Express App.
The Indian Express website has been rated GREEN for its credibility and trustworthiness by Newsguard, a global service that rates news sources for their journalistic standards.